What Is Niger Delta Avengers? Nigerian President Buhari Threatened With Death Warrant Ahead Of Visit To Oil Region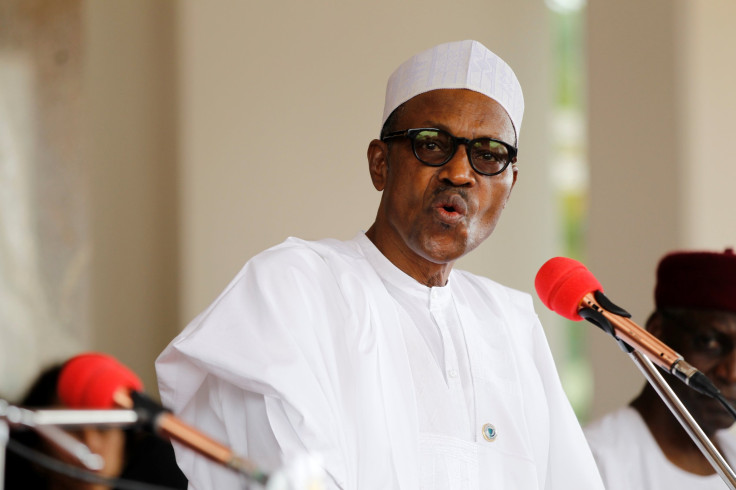 A rebel group has threatened to kill Nigerian President Muhammadu Buhari if he follows through on a planned trip to the oil-rich Niger Delta region. The Niger Delta Avengers warned in a statement Wednesday that they would kill Buhari or any of his representatives if the trip goes as scheduled after the Nigerian military reportedly killed some of their members.
The revolt in southern Nigeria has gained ground as the military has been busy fighting the Islamic extremist insurgency by Boko Haram in the northeast. Buhari is expected to visit the Delta Thursday, weeks after the Avengers blew up a major Chevron-operated offshore oil platform in the region. The attack partially halted oil production, forcing Chevron and Royal Dutch Shell to shut down at least two plants that produce more than 35,000 barrels per day.
"This is Niger Delta Avengers. ... The army will hear from us, you are all monsters but you must pay," said a statement the group released Wednesday. "Buhari do not step your foot in our land because we heard you want to visit Ogoni land. Before coming, you should sign your death warrant because we will kill you. If you don't come and decide to send representatives, you should also sign their death warrant. Any Niger Delta elder working against our people should also sign their death warrant."
The Niger Delta Avengers are supporters and former rebels of the Movement for the Emancipation of the Niger Delta, which was known for attacking pipelines and facilities in Nigeria's oil-rich southern swampland until a peace deal in 2009. Buhari reportedly upset the rebels after taking office a year ago by ending generous pipeline protection contracts.
"The Avengers may not be a defined group of people, except for a core of maybe 100-150 people or so," Dirk Steffen, from the Denmark-based Risk Intelligence firm, told Agence France-Presse.
Nigeria Overview | FindTheData
The rebels have demanded a sovereign nation for the Niger Delta people and have claimed other attacks in the region. Nigeria budgeted for 2.2 million oil barrels per day this year, but dropped its projections to 1.4 million bpd because of the recent attacks, according to the country's junior oil minister, Emmanuel Kachikwu.
"With the heavy presence of 100 gunboats, 4 warships and jet bombers, NDA blew up Chevron oil wells RMP 23 and RMP 24 3:44 a.m. this morning," the group tweeted May 25.
Buhari is expected to visit Ogoniland in the Niger Delta, his first trip there since taking office a year ago, as part of an effort to clean up areas heavily polluted by oil spills. He has said the recent attacks will not deter his government and that security forces would "apprehend the perpetrators and their sponsors and bring them to justice."
Buhari's government had sought a meeting with the rebel leaders, who refused to discuss their demands.
"The Niger Delta stakeholders meeting is an insult to the people of Niger Delta. What we need is a Sovereign State not pipeline Contracts... Watch out something big is about to happen and it will shock the whole world," the group tweeted Friday.
Buhari, from Nigeria's majority Muslim north, is somewhat unpopular in the south, where Christian politicians have long ruled and were ousted from the federal government by Buhari's All Progressives Congress during the 2015 elections. Leaders of the former ruling party, People's Democratic Party, have been investigated by Buhari's administration for alleged graft, angering some in the south.
"The Avengers and other groups that have popped up in recent months are likely getting some support from former and current PDP members," Philippe de Pontet, sub-Saharan Africa analyst at risk consultancy firm Eurasia Group, said in a recent report. "It was always expected that there would be backlash to the Buhari administration in the region. If anything, the surprise is that the first 10 months of Buhari's term were as quiet as they were."
© Copyright IBTimes 2023. All rights reserved.