What Is The Official Secrets Act? Journalists Arrested In Myanmar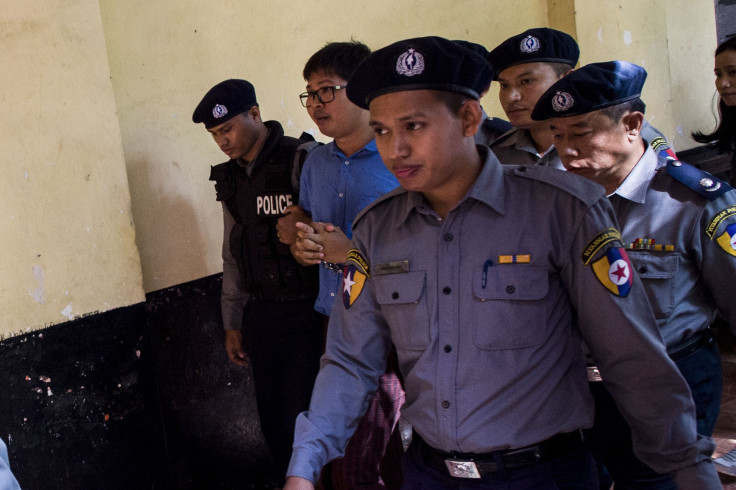 Authorities in Myanmar sought to press charges against two Reuters journalists during a Wednesday court appearance. Prosecutors want to charge Wa Lone, 31, and Kyaw Soe Oo, 27, under the country's Official Secrets Act.
Both reporters were arrested Dec. 12.
The Official Secrets Act is a British law dating back to 1923, according to the International Center for Not for Profit Law (ICNL).
The specific charges authorities want to level against the two journalists come from the law's Section 3.1 which deals with people accused of giving over information that could be "useful to an enemy," Reuters reported.
"If any person for any purpose prejudicial to the safety or interest of the State obtains, collects, records or publishes or communicates to any other person any secret official code or password, or any sketch, plan, model, article or note or other document or information which is calculated to be or might be or is intended to be, directly or indirectly, useful to an enemy," they could be punished with time in prison, that particular section of the law states.
Myanmar's government alleged the reporters were arrested because they "illegally acquired information with the intention to share it with foreign media," according to CNN.
"They arrested us and took action against us because were were trying to reveal the truth," Wa Lone said, according to Reuters.
The pair was arrested after they were invited to have dinner with police officers, when the officers handed them documents, family members said. They were covering the Rohingya crisis in the state of Rakhine, where some 650,000 people have fled persecution, violence and what the United Nations called "ethnic cleansing."
"We view this as a whole unwarranted, blatant attack on press freedom," said Reuters president and editor-in-chief Stephen J. Adler. "Our colleagues should be allowed to return to their jobs reporting on events in Myanmar. We believe time is of the essence and we continue to call for Wa Lone and Kyaw Soe OO's prompt release."
The United States Embassy also weighed in on the situation, calling for the journalists to be released.
"For democracy to succeed and flourish, journalists must be able to do their jobs," the embassy said in a statement, according to Reuters. "We call for their immediate release."
"Wa Lone and Kyaw Soe Oo must be immediately and unconditionally released," James Gomez, Amnesty International's Director for Southeast Asia and the Pacific said in a statement. "They have done absolutely nothing but carrying out their legitimate work as journalists. This is clearly an attempt by the authorities to silence investigations into military violations and crimes against Rohingya in Rakhine State and to scare other journalists away from doing the same."
Should the reporters be charged and convicted, they could face up to 14 years in prison, according to their lawyer, Khin Maung Zaw.
© Copyright IBTimes 2023. All rights reserved.
FOLLOW MORE IBT NEWS ON THE BELOW CHANNELS