What Is Rat-Bite Fever? 5 Facts About The Disease That Killed 10-Year-Old Aidan Pankey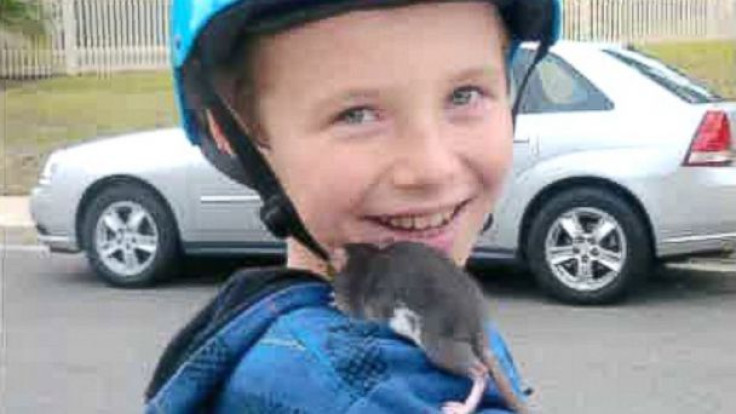 A California family is suing a national pet-store chain for the death of their 10-year-old son, who died after his new pet rat infected him with streptobacillus moniliformis, also known as rat-bite fever. Aidan Pankey died last June from the illness two weeks after his grandmother bought him a rat from Petco, KTLA reports.
"[Aidan] appeared lethargic, pale, and could barely walk," the lawsuit filed by the family against Petco describes. Aidan, who started experiencing "flu-like symptoms," woke up on the night of June 11, 2013, with a fever and stomach problems and died a few hours later at a children's hospital.
"I put him to bed after a day at the doctor's office, and the next thing I knew, it just was too late," Sharon Pankey, the boy's grandmother, told ABC News. "I went into his room and he couldn't speak. He was unstable on his feet. I got him down to my room and he collapsed on the floor. I called 911 because it was scaring me that his breathing was shallow and he seemed to be losing his ability to function."
The San Diego Medical Examiner's office confirmed Aidan died from streptobacillus moniliformis – a systemic illness that causes fever, rigors and polyarthralgias. While the illness carries a mortality rate of 13 percent if left untreated, its symptoms are nonspecific, which may prevent an early diagnosis
Signs and symptoms
According to the U.S. Centers for Disease Control, there are two forms of rat-bite fever: streptobacillus moniliformis and spirillum minus. In the United States, the most common form of the illness is caused by streptobacillus moniliformis. The latter is commonly found in Asia.
Symptoms and signs of streptobacillary RBF include fever, vomiting, headache, muscle and joint pain, and a rash. These usually occur 3 to 10 days after exposure to an infected rodent but can be delayed up to three weeks.
After the onset of fever, a red, bumpy rash may appear on the hands and feet. Joints can become swollen, red and painful.
Who is at risk?
Rat-bite fever exposure is typically caused by a bite or a scratch from an infected rodent. Even handling an infected rodent or consuming food contaminated with the bacteria could result in transmission of the disease. The illness isn't contagious between humans.
Treatment
Once diagnosed, rat-bite fever can be treated with antibiotics, most likely penicillin. Without treatment, the illness could be fatal or cause infections involving the heart, brain or lungs.
Prevention
The best way to avoid contracting the illness is to avoid contact with rats or rat-contaminated dwellings altogether. If contact can't be avoided, then wearing protective gloves and regular hand washing to avoid hand-to-mouth contamination can decrease one's risk of exposure.
History of the disease
Rat-bite fever was first described in India more than 2,300 years ago. It was first reported in the U.S. in 1839. In North America, streptobacillus moniliformis has been known to infect laboratory technicians and the poor. Since rats have become popular pets, children now account for more than 50 percent of cases in the U.S.
© Copyright IBTimes 2023. All rights reserved.