What Supreme's $2 Billion Sale Means For The Apparel Company
KEY POINTS
Streetwear vendor Supreme has been bought by V.F. Corp., owner of Vans and Timberland. It hopes to adopt Supreme's unconventional marketing to connect with consumers
Supreme's current founder will remain with the company, along with the rest of senior leadership
Supreme is known for scarcity-based marketing and stunts such as putting its logo on bricks and crowbars to sell
V.F. Corp. (VFC) on Monday acquired New York-based apparel brand Supreme for $2.1 billion. Supreme is known for its streetwear, scarcity-based marketing, and publicity stunts in which it puts its logo on objects like bricks and crowbars that now sell for hundreds of dollars.
In a cash deal, Denver-based V.F. Corp. acquired a majority stake from a combination of the private-equity firm The Carlyle Group, Google Partners and assorted smaller investors, Bloomberg reports. The Carlyle Group bought a roughly 50% stake back in 2017 for $500 million, doubling their investment with this latest sale.
The deal for Supreme is expected to be completed by the end of the year. It is the largest acquisition for V.F. Corp. since 2011, when it acquired Timberland for $2.3 billion. V.F. Corp. also owns Vans and North Face.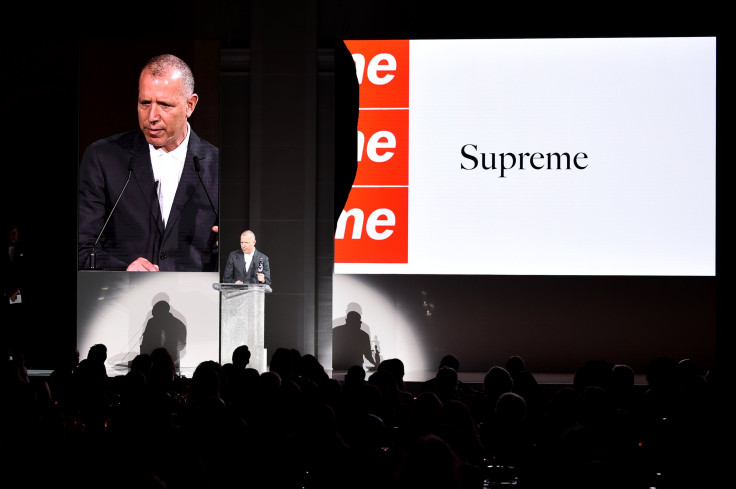 V.F. Corp. CEO Steve Rendle told Bloomberg that he hoped to improve online sales, noting Supreme's "agility" in connecting with customers.
"We've been on a journey the last four years to evolve our portfolio to really align with where we saw the market and more importantly the consumer going," Rendle said. "Supreme fits so well into our evolved portfolio."
Shares of V.F. Corp. gained 13.68% as of 1:25 p.m. ET on Monday. The company saw its biggest gains since the day after Black Monday in 1987.
Supreme's corporate leadership will remain in place under the company's founder James Jebbia, who will receive a portion of the profits from the deal in equity over time, the Wall Street Journal reports.
"This partnership will maintain our unique culture and independence, while allowing us to grow on the same path we've been on since 1994," Jebbia said in a statement.
© Copyright IBTimes 2023. All rights reserved.