What's Happening In Aleppo? Syrian Military Says Rebel Control Over East Aleppo Reduced To 2%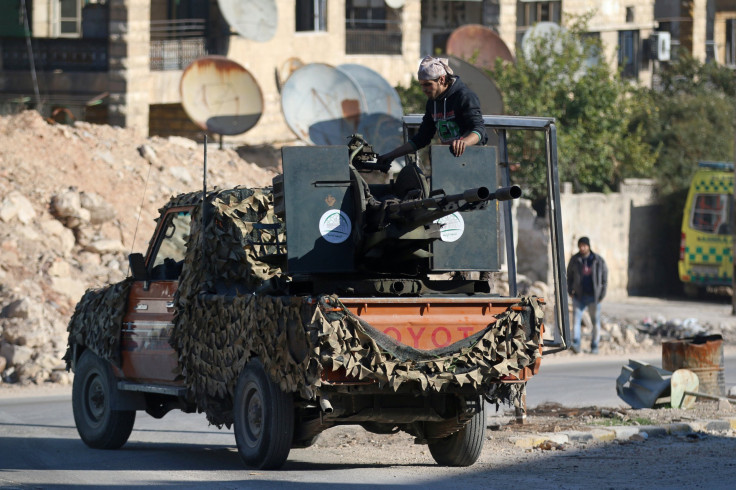 The Syrian military said Monday troops had regained control of 98 percent of previously rebel-held eastern Aleppo. Forces loyal to President Bashar Assad claimed to have recaptured al-Fardous, one of the largest neighborhoods in the city which has been under rebel control since 2012.
Lieutenant General Zaid al-Saleh reportedly said the battle for Aleppo had entered its "final steps" and told the rebel fighters still in the city to "surrender or die."
The announcement came shortly after Russian Defense Ministry said the Syrian government had retaken 95 percent of Aleppo. Nearly 100,000 civilians have fled the city -- once Syria's industrial and financial center -- since the fighting started, the ministry added.
U.K. based monitoring group Syrian Observatory for Human Rights said at least 10,000 civilians had fled the city in the past 24 hours.
The monitoring group's chief Rami Abdurrahman reportedly said fighting was still ongoing in areas that the Syrian government claimed was under its control. Syrian troops backed by Russian forces launched an offensive to retake the besieged city from rebel control. The efforts to retake Aleppo began Nov. 26 with continuous airstrikes severely damaging the city's hospitals.
Rebel officials told Reuters Sunday they received a U.S.-backed proposal approved by Russia that would allow the rebels to leave the battered city with their families and other civilians. However, Moscow denied reaching such an agreement with Washington.
"The issue of withdrawing militants is the subject of separate agreements. This agreement has not yet been reached, largely because the United States insists on unacceptable terms," Russia's Deputy Foreign Minister Sergei Ryabkov reportedly said.
He added that talks between Russian and U.S. experts and diplomats on reaching a consensus on Aleppo would continue in Geneva. He also said Moscow was working on creating safe corridors for civilians fleeing the city.
Assad said earlier the recapture of Aleppo would be a milestone in the Syrian war, which began five years ago.
"To be realistic, this does not mean the end of the war in Syria, but a huge step toward that end," the president told Syrian newspaper Al Watan. "It does not end until all terrorists have been completely eliminated ... and we will continue the war against them."
© Copyright IBTimes 2023. All rights reserved.