What's Happening In Palmyra? Syrian Army And Russia Battle ISIS For Historic City Where Islamic State Destroyed Ancient Ruins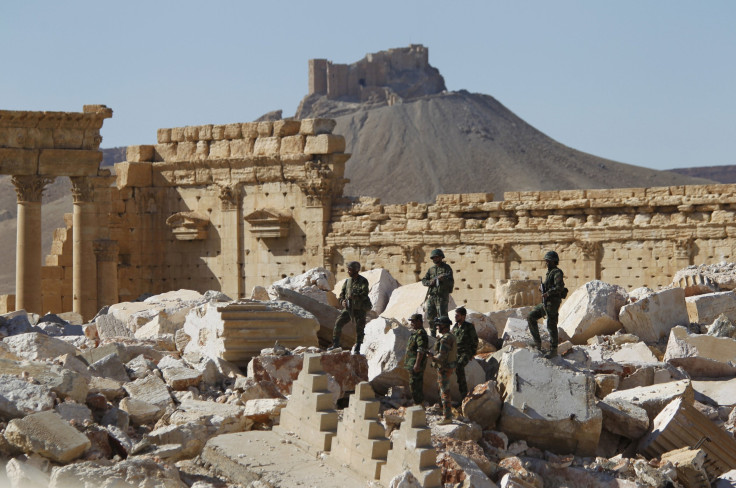 The Syrian army and its allies assaulted Wednesday positions held by the Islamic State group, also known as ISIS, in the historical, centrally located city of Palmyra, where pro-government forces recaptured an ancient citadel and were expected to stage a major operation to retake the area.
Russian-backed Syrian troops and allied militia fighters advanced toward the city's southwest and began to wrest control of nearby positions from the jihadists, who initially captured the city in May 2015. Soldiers, backed by Russian airstrikes, retook Palmyra in March 2016, but ISIS recaptured the city in December as the Syrian army and its allies staged a separate, successful campaign to retake Aleppo from various militant groups that seized the northwestern city early on in the country's six-year civil war. As of Wednesday, pro-government sources said it was only a matter of time before Palmyra was again under Syrian President Bashar Assad's control.
"The army's entry to the city will begin very soon," a Syrian military source told Reuters, which cited additional reports in media outlets partisan to Hezbollah, the powerful Lebanese Shiite militant group fighting on Assad's behalf, and combat footage posted on a Telegram account apparently run by ISIS.
During the jihadists' first period of rule over the ancient city of Palmyra, known as Tadmur in Arabic, they destroyed a number of historical sites including an arch that dated back 1800 years. When ISIS occupied the area again in December, it demolished the iconic Tetrapylon monument and the facade of the Roman Theater. The militants have razed statues and structures deemed contrary to their ultraconservative Islamic ideology in both Syria and neighboring Iraq, where a separate, U.S.-backed campaign led by the Iraqi army has also begun expelling ISIS fighters.
Since massive anti-government protests transformed into an armed insurgency against the state in 2011, the Syrian army has fought against various opposition groups for control of the country. Western countries, as well as Turkey and Arab Gulf nations, have supported rebel forces, which attained a number of strategic victories early on, but have since been gutted by infighting and the splintering off of jihadist groups such as Tahrir al-Sham, formerly known as Jabhat Fatah al-Sham and al-Qaeda's Nusra Front before that, and ISIS. Russia's 2015 intervention has bolstered the Syrian army and its allies, allowing pro-government forces to recapture virtually every major city center in Syria.
© Copyright IBTimes 2023. All rights reserved.