When Will Trump-Putin Meeting Happen? Russia-US Relations May Improve Under Trump Administration As Leaders Plan To Speak By Phone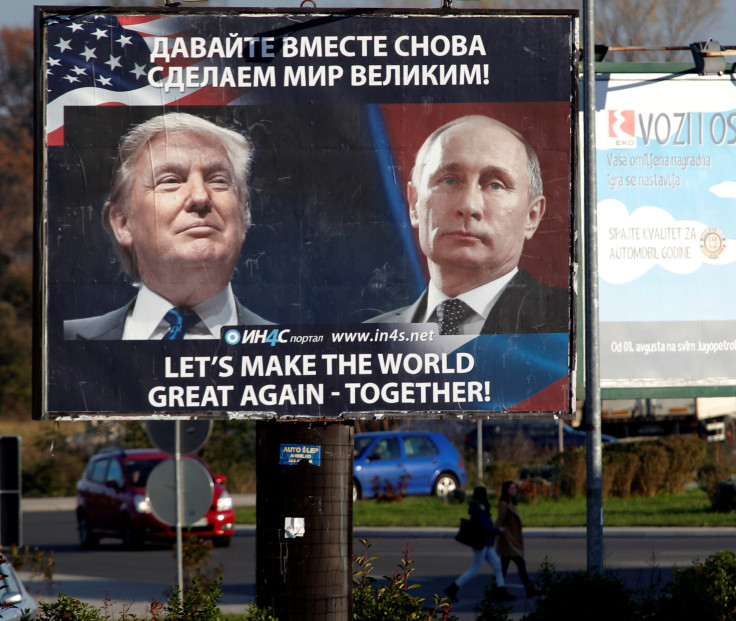 President Donald Trump will speak to his Russian counterpart Vladimir Putin by phone on Saturday, a report by the Russian state-run news agency TASS, citing the Kremlin, confirmed Friday. This will be the first conversation between the two leaders since Trump assumed office last week.
"Yes, I confirm this," Kremlin spokesman Dmitry Peskov told TASS Friday, following U.S. reports about the phone call. However, the report did not mention any further details about when the two leaders are likely to meet.
U.S.-Russia ties, which deteriorated during the preceding Barack Obama administration, may improve during the Trump administration. Both Trump and Putin have indicated a number of times that they would work closely to improve the relationship between the two countries.
"Following the difficult relations we had under Barack Obama, President Putin is ready to meet in the interests of global security and stability," Russian Foreign Minister Sergey Lavrov reportedly said Wednesday. "We share the position expressed by President Trump for re-establishing normal relations. This means we need to work in a business-like way."
In a Thursday interview with Fox News, Trump said improved ties between Moscow and Washington would benefit both countries.
"I don't know Putin, but if we can get along with Russia that's a great thing, it's good for Russia, it's good for us," Trump reportedly said. "We go out together and knock the hell out of ISIS [the Islamic State group]. Because that's the real sickness, you know the whole ISIS thing is the real sickness."
The U.S. Congress had imposed another round of sanctions against Russia under the Obama administration after intelligence agencies confirmed that Moscow was behind the hackings related to the 2016 race that intended to sway the election in Trump's favor.
The real estate mogul, however, announced earlier this month he plans to lift the Moscow restrictions in exchange for a nuclear arms reduction.
In an interview published in the Times of London, Trump said: "… Let's see if we can make some good deals with Russia. For one thing, I think nuclear weapons should be way down and reduced very substantially, that's part of it. But Russia's hurting very badly right now because of sanctions, but I think something can happen that a lot of people are gonna benefit."
© Copyright IBTimes 2022. All rights reserved.
FOLLOW MORE IBT NEWS ON THE BELOW CHANNELS