Who Is Angelo Mozilo? Former Countrywide Exec To Face Civil Case Amid Bank Of America Settlement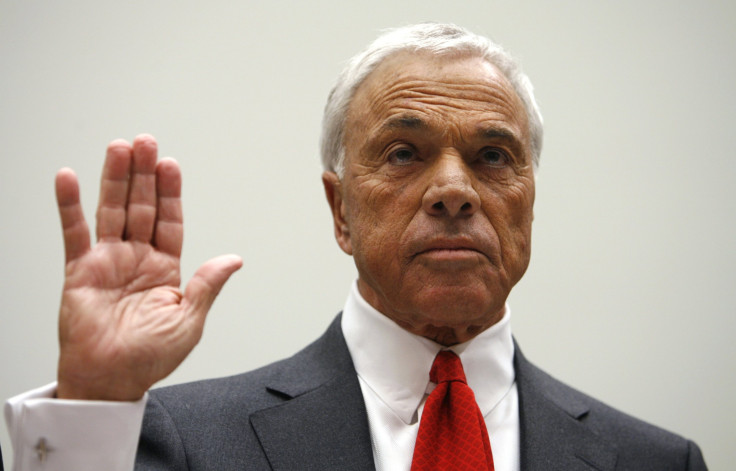 Federal prosecutors are poised to pursue a civil case against Angelo Mozilo, the disgraced Countrywide Financial co-founder, according to multiple sources. Mozilo is widely regarded as the archetype of the corporate misbehavior that led to the 2008 U.S. financial crisis.
The civil lawsuit follows a U.S. Securities and Exchange Commission announcement on Thursday that Bank of America Corp. (NYSE:BAC) has agreed to pay a record-breaking $16.65 billion settlement over allegations that it tricked investors into buying subprime loans.
With the Bank of America settlement in place, the U.S. attorney's office is targeting Mozilo and as many as 10 other former Countrywide executives, Bloomberg reports. Bank of America acquired Countrywide in 2008 in a bid to capitalize on its mortgage industry competitor's flagging reputation, but the Countrywide deal has resulted in continuous financial setback for the bank.
Since 2010, Bank of America has paid out more than $55 billion in fines related to Countrywide's misdeeds. Thursday's $16.65 billion settlement appears to be the company's final -- and most costly -- bid at restitution.
In a statement Thursday, Mozilo's lawyer, David Siegel, declined to "comment on reported rumors concerning any investigation."
"There is no sound or fair basis, in law or fact, to pursue any claim against Angelo Mozilo," Siegel said. "This story has gone on more than long enough; Mr. Mozilo stands virtually alone among banking and mortgage executives to actually have been pursued by this government and already paid a record penalty."
Mozilo's representatives also claim that he has a serious illness, a revelation that has yet to delay legal proceedings, the New York Times reported. Regardless, a source told Bloomberg that any suit against Mozilo, who's now 75, or his former compatriots at Countrywide, could be more than a month away.
Founded in 1969 by Mozilo and David Loeb, Countrywide became the nation's biggest mortgage lender by 1992. Mozilo profited immensely during the U.S. housing boom of the late '90s and early 2000s, pocketing $535 million from 1999 to 2008. However, Countrywide suffered a reversal of fortune in 2007, following a collapse of the subprime mortgage market.
By 2008, investigators had identified Mozilo and Countrywide as the epicenter of the ongoing financial crisis, Bloomberg notes. In a 2011 deposition during a lawsuit between Countrywide and MBIA Inc., Mozilo denied that he or his company were responsible for the housing crisis, referring to the situation as a "cataclysmic situation, unprecedented in the history of this country."
The "record penalty" described by Mozilo's lawyer refers to the $67.5 million settlement reached between Mozilo and the SEC in 2010 amid claims that he encouraged investors to purchase loans despite knowing they were vulnerable. The settlement included a $22.5 million fine and the forfeiture of $45 million in profit he received via the prosecution deemed to be exorbitant prices. The SEC also banned Mozilo from ever again serving as an officer or director of a public company.
Mozilo consistently has refused to acknowledge any wrongdoing related to the housing crisis. Instead, he claimed that he had settled the case to protect his family from negative publicity. Concurrently, the SEC was criticized for levying a monetary penalty that barely affected Mozilo's exorbitant profits from the years leading up to the housing crisis.
In 2011, Mozilo nearly faced criminal charges from the U.S. attorney's office in Los Angeles. Prosecutors ultimately decided to drop the case. Later, the Citizens for Responsibility and Ethics in Washington, a nonprofit watchdog group, accused the office of failing to prosecute "despite substantial evidence of wrongdoing."
© Copyright IBTimes 2023. All rights reserved.