Who Is Buying MiGs From Russia? Secret Fighter Jet Deal Is Reportedly Underway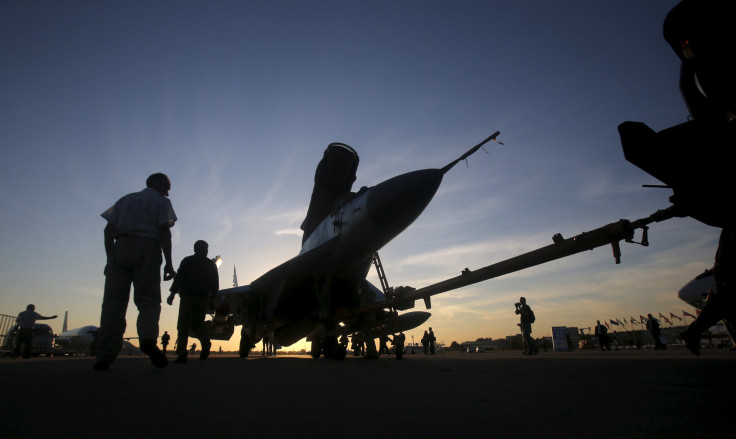 A flurry of construction is underway that could help Russia's faltering MiG aircraft manufacturer, the Moscow Times reported Wednesday. But a lingering question remains: who is purchasing the expected 46 new MiG-29M fighter jets?
There has been no official confirmation about who has signed the jet deal for a contract that has been estimated to be worth $2 billion. Hints in the Russian press have suggested that Egypt could be on the receiving end of the deal that could be completed by 2018.
Russia has looked to Egypt and other nations including China and India in recent years as markets for its military equipment. Relations between Moscow and Cairo have grown closer since Egyptian President Abdel Fattah el-Sisi took office in June 2014. An Egyptian media report said the country's minister of military production traveled to Moscow in March to discuss military cooperation.
Iran has also been mentioned as a potential partner in the deal. But any weapons deal with Tehran could be complicated by the possibility of a veto by members of the United Nations Security Council under the terms of the Iran nuclear deal that was reached last year.
An icon of the Cold War period, MiG has been hard hit since the 1990s with lost deals and a production slowdown. The company has fallen behind Russia's other major aircraft manufacturer Sukhoi.
"MiG does have lots of maintenance and upgrade business, but even the latter will disappear as export customers retire, store, scrap and replace their MiG-29s," Mark Bobbi, an analyst at global economics and risk analysis firm IHS told the Moscow Times last year.
Russia's economy has been hard hit by a combination of low global oil prices and western sanctions following the Kremlin's annexation of Crimea from Ukraine in March 2014 and the start of a subsequent war in Eastern Ukraine that has left over 10,000 people dead. Russia has continued to deny its troops are participating in the conflict.
Russian President Vladimir Putin said earlier this month that his country was looking to increase its military exports. Russia's entry into the civil war in Syria has helped to showcase the country's military equipment.
"The exports of Russian-made weapons and military equipment have reached $4.6 billion, and our contract portfolio is worth more than $50 billion," Putin said.
© Copyright IBTimes 2023. All rights reserved.