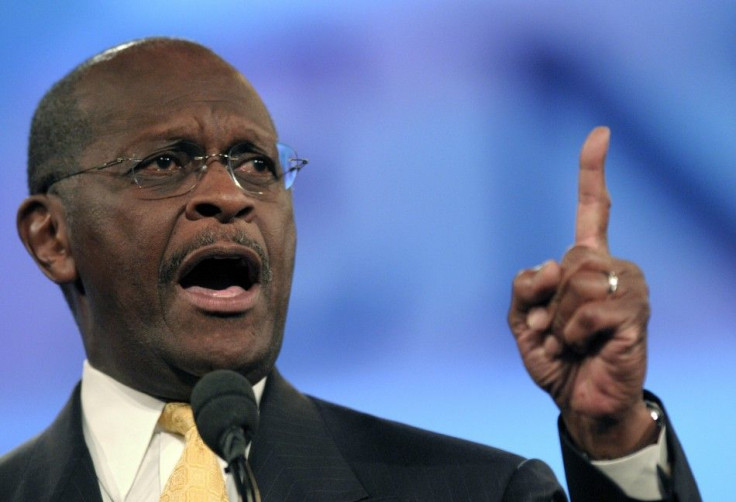 Bill Clinton antagonist, flat tax supporter, staunch abortion opponent: all of these descriptions could apply to Republican presidential candidate Herman Cain, whose resounding win in a Florida straw poll catapulted the Godfather's pizza CEO into the conversation.
A fixture at Tea Party rallies and a regular on Fox news, Cain grounds his critiques of President Barack Obama's economic policies in his own business acumen -- he helped restore the foundering Godfather's chain to profitability and served as president of the National Restaurant Association -- and his flagship economic proposal reflects his belief in unburdening businesses from taxes or regulations like those imposed by the Environmental Protection Agency.
Dubbed the 9-9-9 plan, it would slash the current corporate tax rate from its current rate of 35 percent to 9 percent, eliminate income tax brackets in favor of a flat 9 percent tax and create a 9 percent national sales tax. It would also do away with the payroll tax and the estate tax, overhauling a tax code that Cain has likened to the 21st century version of slavery.
It would boost the economy and here's why, Cain told Fox News' Chris Wallace. Think about the fact that corporations now are looking at for the next year and few months a 35 percent top corporate tax rate. To wake up and say, 'You mean the tax rate is going to be 9 percent?' That is going to inspire the business community.
Cain first appeared in the public consciousness in 1994, during a nationally televised town hall meeting in which he sparred with Bill Clinton over Clinton's proposal to reform healthcare. Cain told Clinton that the mandate to provide healthcare to employees would impose unsustainable costs and force him to fire workers, and overrode Clinton's rebuttal by telling the president that the assumptions about the impact on a business like mine are incorrect, adding that the competitive market doesn't work that way.
The Clintons would later blame 'Harry and Louise,' the fictional couple in the ads aired by the insurance industry, for undermining health reform, Newsweek wrote at the time. But the real saboteurs are named Herman and John. Herman Cain is the president of Godfather's Pizza and president-elect of the National Restaurant Association.
That debut dovetails with Cain's criticism of Barack Obama's more successful healthcare overhaul, although Cain has at times moved from a discussion of costs to a more personal tack with the Affordable Care Act. A cancer survivor, Cain suggested to The Root that under a system of socialized medicine there can be a long delay in obtaining CT scans, leading him to conclude that with ObamaCare I probably wouldn't be living today.
While the 2012 presidential campaign has afforded Cain his broadest public exposure yet, it is not his first foray into politics. Cain ran for United States Senate in Georgia in 2004, losing the Republican primary by a wide margin to Rep. Johnny Isakson (R-Ga.) in a race in which abortion played a prominent role. In a campaign bus interview with The Washington Post, Cain endorsed a theory that Planned Parenthood was created partially to reduce the black population, citing high rates of abortion among African Americans.
One of the motivations was killing black babies, because they didn't want to deal with the problems of illiteracy and poverty, Cain told the Post. He reiterated the position in March of this year, telling CSN News that I support de-funding Planned Parenthood, because ... the objective was to put these centers in primarily black communities so they could help kill black babies before they came into the world.
While Cain comments freely and often on race, the Planned Parenthood comments belie his repeated denunciations of what has labeled a victim's attitude amongst African Americans. He has dismissed charges that of racism within the Tea Party, joking to audiences that people who oppose Obama are said to be racists -- so I guess I'm a racist.
But he has also faced controversy for what some have characterized as discriminatory comments toward Muslims -- he said he would take extra precautions before appointing a Muslim to his cabinet, and cited his wariness of Sharia law in opposing the construction of a mosque in Murfreesboro, Tenn.
Islam is both a religion and a set of laws -- Sharia laws, Cain told Wallace in a different interview. That's the difference between any one of our traditional religions where it's just about religious purposes. ...That's not discriminating based upon their particular religion. There is an aspect of them building that mosque that doesn't get talked about.
You can contact the reporter at j.white@IBTimes.com
FOLLOW MORE IBT NEWS ON THE BELOW CHANNELS