Who Is Justin Trudeau? Liberal Obama-Like Canadian Prime Minister Candidate Leading Heading Into Election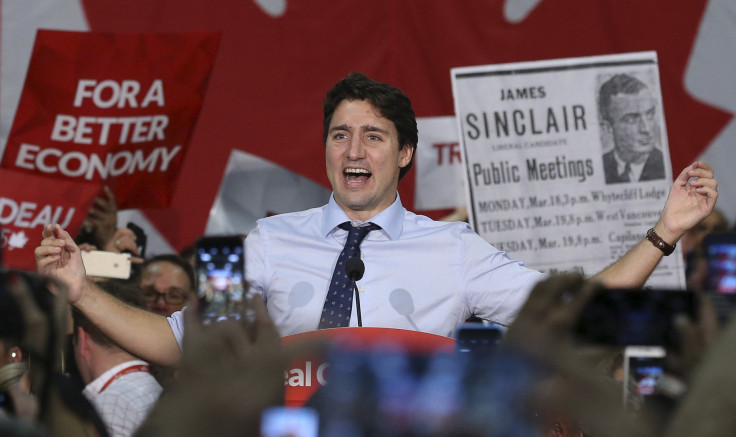 Liberal Party leader Justin Trudeau has voters in Canada buzzing as the country's election day arrived Monday. Following a long campaign by Canadian standards, the opposition candidate for prime minister closed his campaign Sunday in British Columbia addressing some 3,000 invigorated voters.
Trudeau, 43, is the son of the late Prime Minister Pierre Elliott Trudeau, who served in the position twice for a total of 15 years. His grandfather, James Sinclair, also served in the Vancouver district where Trudeau ended his campaign for 17 years. The grandson name-checked his legacy in his speech.
"I've adopted his style as my own," he said, according to CBC News. But Trudeau's style has also been compared with that of U.S. President Barack Obama.
Trudeau has rallied the Liberal Party from having little chance at the campaign's beginnings in August to likely winning at least a minority victory, according to Canadian polling aggregator ThreeHundredEight. Trudeau has used his youth, good looks and charisma to move voters, which has drawn comparisons to Obama's 2008 campaign. The Washington Post points out that one of his ads even pushes for "real change" and references hope -- the two simple messages of Obama's winning campaign.
"It's time for a change in this country, my friends," Trudeau says to roaring applause in the video. "A real change."
Trudeau is married to his wife Grégoire and they have two sons, Xavier James and Hadrien, and a daughter, Ella-Grace Margaret. He became the Liberal leader in 2013 and is challenging incumbent Prime Minister Stephen Harper, who was a staunch opponent of Trudeau's late father. Harper's Conservative Party has pegged the Liberal leader as inexperienced, running ads about Trudeau claiming that he was "just not ready" and painted him as immature, while referencing his youthful good looks.
Polls have put Liberals ahead by about seven points and his party approaching a majority win. The Liberal Party has also benefitted from an economy that has begun to slump under Harper, with the Canadian dollar falling by 20 percent since mid-2014 and some 450,000 manufacturing jobs disappearing over the last decade, the Wall Street Journal reported.
Monday's results are still far from being a foregone conclusion, however. "This is going to be a close election," Trudeau said Monday, according to the Guardian. "We're on the verge of accomplishing something big."
Relations between the United States and Canada have suffered under Harper, the Guardian reported. Obama and Harper disagree on environmental policy, and the Canadian prime minister felt excluded in negotiations regarding the controversial Trans-Pacific Partnership trade agreement among Canada, the United States and 10 other Pacific Rim nations. The deal is awaiting congressional approval and is considered friendly to big business by opponents but a boon to the nations by supporters. If the Liberals win Monday, it is expected relations could improve between Obama and a center-left government led by Trudeau.
© Copyright IBTimes 2022. All rights reserved.
FOLLOW MORE IBT NEWS ON THE BELOW CHANNELS