Who Is Marco Rubio's Wife? Jeanette Desdoubes, Former Miami Dolphins Cheerleader, Shies Away From Media Attention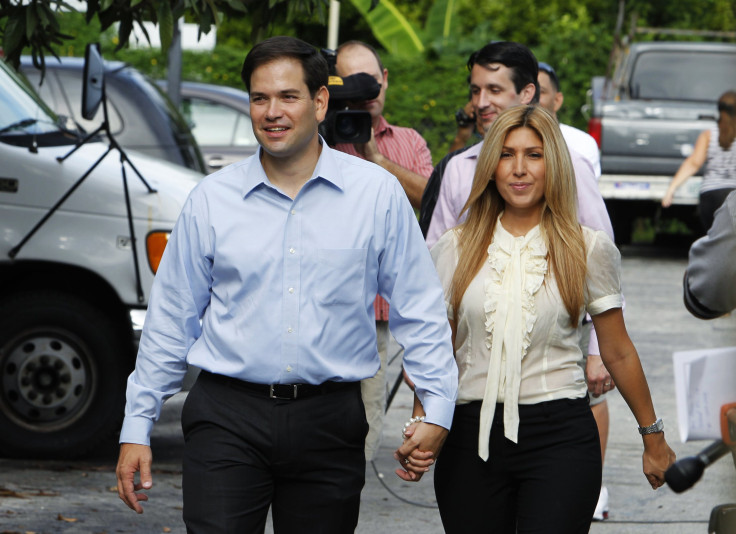 Jeanette Dousdebes Rubio, the wife of Florida Sen. Marco Rubio, was a Miami Dolphins cheerleader, but she isn't so rah-rah on campaigning. Dousdebes Rubio, who describes herself as shy and dedicated to her four children with Marco, will have to grow more at ease with making political appearances, now that her husband is expected to get into the 2016 presidential race on Monday.
After meeting as teenagers at the West Miami Recreation Center, where Jeanette caught Marco's eye while playing volleyball, the couple wed in 1998. While Dousdebes Rubio was involved in her husband's 2010 Senate campaign, she played a behind-the-scenes role, shying away from media attention.
With Marco in Washington, Jeanette, the daughter of Colombian immigrants, takes care of their four children in their modest Miami home while working part time at the family foundation of Miami billionaire Norman Braman, according to the Washington Post.
"I'm not pushing myself out there. I need to be with [the] kids just to give them that balance," she told Politico in 2012, her most extensive interview to date. "If he's out there, I feel like I have to be here for them, to give them that reality."
In the interview, Jeanette Rubio said she disdains the mudslinging of political campaigns. "You meet a lot of different people and you hear their stories. The part that's difficult, I think, in campaigning is the part where you have to deal with the negativity that comes," she said. "It puts a lot of strain on the family."
But she also hinted at an increased role in Marco's political life. "In the future, if I have to do it, of course I'll do it," she said. "But in general, I am shy."
Her first date with Marco was to the movies to see "Robin Hood." She told Politico that her future husband talked to her during the Kevin Costner flick, "which I thought was a little annoying," but she was able to overlook his rudeness. The date had a lasting effect on Marco, as he wrote in his recently released memoir, "An American Son." "The movie's theme song was by Bryan Adams. To this day, whenever I hear the song, I remember the night I started to fall in love with Jeanette Dousdebes," he said.
© Copyright IBTimes 2023. All rights reserved.