Who Is Muqtada Al-Sadr? Supporters Of Iraqi Shiite Cleric Rush Green Zone As Baghdad Protest Heats Up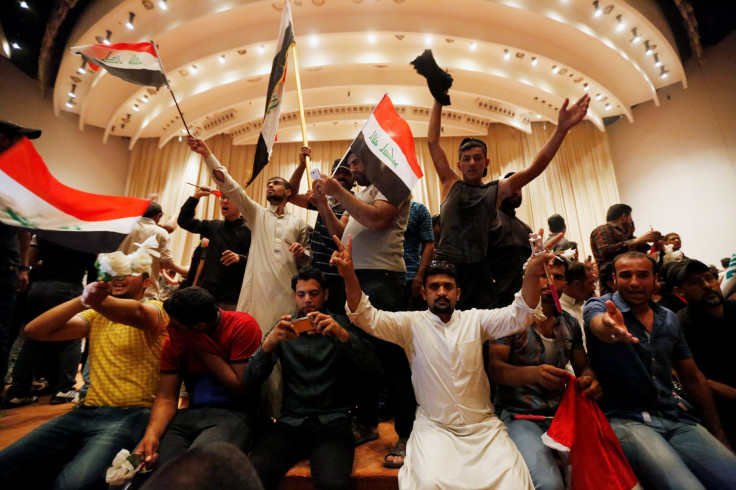 UPDATE: 11:50 a.m. EDT — A state of emergency has been declared in Baghdad after protesters stormed the Iraqi Parliament, the Washington Post reported Saturday. Live footage from the scene reportedly showed protesters waving flags and breaking chairs, and some lawmakers were beaten with flags as they fled the premises. Others remained trapped and fearful inside the building. All roads into the Iraqi capital have been closed.
The protesters are the first to breach the Green Zone, a highly fortified area of the city where most government ministries and foreign embassies are based. Iraqi security forces fired tear gas on demonstrators near one of the entrances to the area Saturday as hundreds of protesters continued to storm into the Green Zone, the Associated Press reported.
The news comes as tensions have risen in Baghdad over calls for an overhaul of the country's government. Muqtada al-Sadr, a highly popular Shiite cleric, has called for peaceful demonstrations to demand reforms that were promised by Prime Minister Haider al-Abadi but have yet to come to fruition.
Original story:
Supporters of the outspoken Shiite cleric Muqtada al-Sadr stormed the heavily fortified Green Zone in Baghdad on Saturday, rushing into the Parliament building while chanting slogans against government corruption, various news outlets reported. The actions came following months of anti-government sit-ins and demonstrations, led by the influential cleric, that have demanded a vote on overhauling the government.
The Green Zone, originally set up to protect U.S. forces in Iraq, is the site of most government ministries and foreign embassies. It has long been the target of criticism by al-Sadr, who has portrayed it as the epicenter of corruption and who has managed to mobilize tens of thousands in mass demonstrators in recent months. The area is protected by blast walls and razor wire; most Iraqis cannot enter.
Sadr called for the demonstrations in a bid to pressure Prime Minister Haider al-Abadi to move ahead with reforms he has promised, including replacing current ministers with unaffiliated technocrats. Amid mounting pressure, the Parliament approved a partial reshuffle earlier in the week. As rioters rampaged through the Parliament building Saturday, some shouted "peacefully, peacefully."
The 42-year-old cleric, born to a well-known family of clerics, rose to prominence as he founded the Mahdi Army, which battled U.S. troops following the invasion in 2003 that ousted then-President Saddam Hussein. He was a controversial and divisive figure as Iraq spiraled into a sectarian conflict; many accused him of stoking sectarian tensions.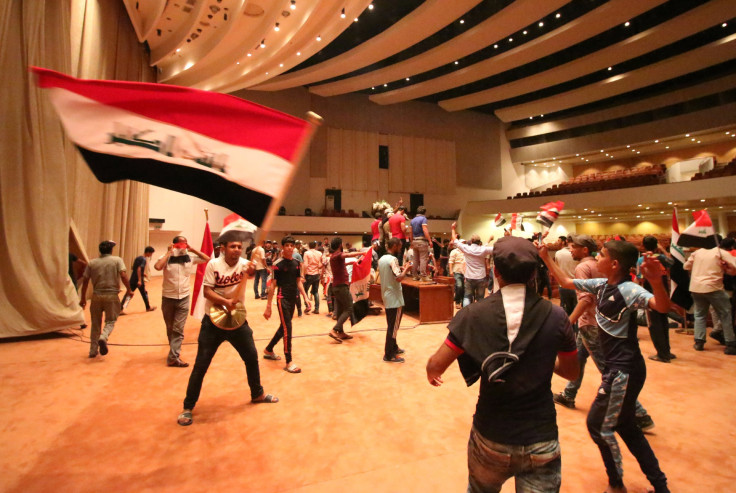 He ultimately transformed himself into a statesman, leading a popular grassroots movement that remains powerful among Iraq's Shiite majority, particularly in poorer areas. Although he had gone relatively quiet in recent years, he has re-emerged as a central figure in Iraqi politics amid rising anger at the government. Some of his supporters hold key positions in the Parliament, and Sadr, moving away from a past of violence, has called for moderation and peace.
The country's government has been slow to deliver reforms promised last year, as the president has been focused on the battle against the Islamic State group, which now controls large swaths of the country, as well as neighboring Syria. Abadi has voiced concern that the street protests, although nonviolent, could spiral out of control and hinder the fight against the Sunni extremist group, also known as ISIS.
© Copyright IBTimes 2022. All rights reserved.
FOLLOW MORE IBT NEWS ON THE BELOW CHANNELS