Who Is Princess Mako? Japanese Emperor Akihito's Granddaughter To Become A Commoner After Marrying Ex-Classmate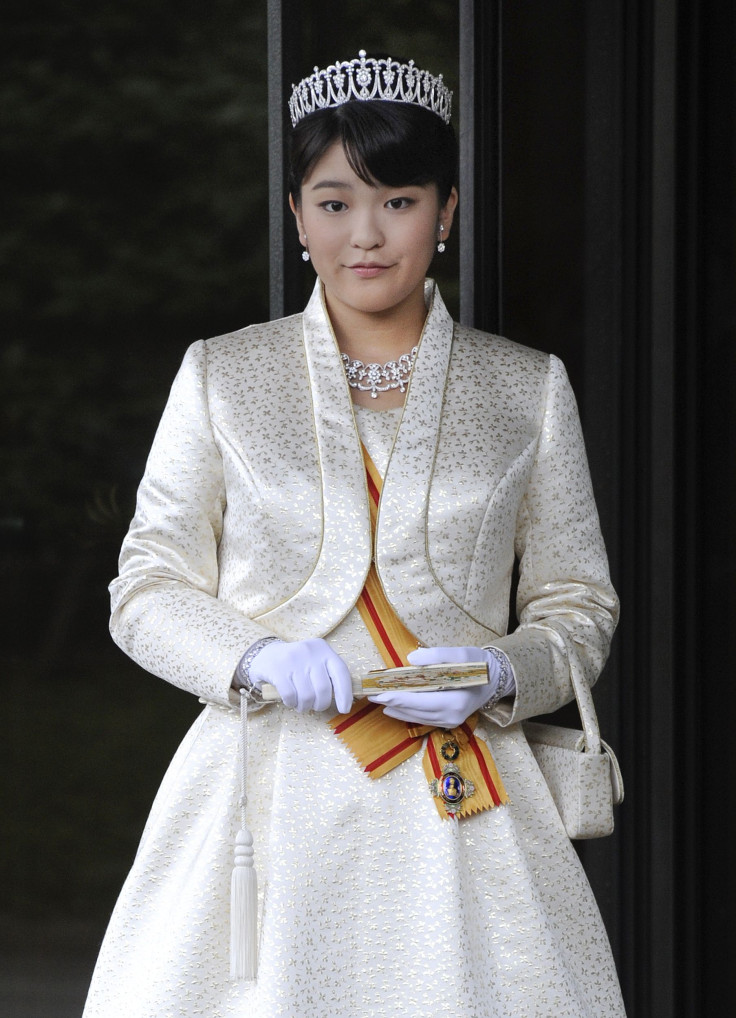 Japan's Princess Mako, granddaughter of Emperor Akihito and the elder daughter of Prince Akishino and Princess Kiko, is expected to get engaged to a former classmate, Kei Komuro, 25, who is a law firm worker and graduate student and once starred in a tourism campaign as "Prince of the Sea," reports said Tuesday.
The pair will get married sometime next year, the Imperial Household Agency confirmed the news to Japan's national broadcaster NHK, Tuesday. The engagement will be the first among the four grandchildren of the emperor and Empress Michiko.
Both Mako and Komuro studied at Tokyo's Hitotsubashi University. Komuro has been a resident of Kohoku Ward in Yokohama, near Tokyo.
According to an agency source, Princess Mako first met Komuro about five years ago through a friend at International Christian University that they both went to. Mako later accepted the marriage proposal from Komuro. The source also told Japan Times that Prince Akishino and his wife Princess Kiko have given their blessings to the couple in acceptance.
Read: US-Japan Relations: Okinawa Village To Lodge Complaint After US Bell UH-1Y Venom Chopper Incident
Mako was the first imperial family member to attend International Christian University (ICU) in Tokyo, where she enrolled in April 2010. She has a major in arts and cultural property studies from the university. She also studied at the University of Edinburgh in Britain as an exchange student for nine months. After completing her graduation, she went on to study at the University of Leicester in Britain, where she completed her master's degree in art museum and gallery studies in January 2016.
Currently she is studying in a doctoral program at ICU and also is an affiliate researcher at the University Museum of the University of Tokyo.
She also performs some official duties by attending ceremonies and serving as honorary president of some events like the Tokyo International Book Fair.
Mako's husband-to-be did not answer any questions regarding the engagement and told reporters: "I would like to talk about it when the time comes."
Read: Japan-Russia War? Moscow Says Troops On Kuril Islands Will Not Be Used Against Tokyo
There have also been talks regarding what the marriage will mean for the future monarchy of Japan. Once Mako gets married she will no longer be a princess but a commoner.
"I personally think a female imperial member should be allowed (to remain in the family)," said Meiko Hirayama, a 44-year-old employee at an accounting firm told CNN.
"I guess the male line of succession would be kept through the crown prince and his brother, but I think there should be no problem that there could be a female emperor someday," Hirayama added.
However, another man named Katsuiji Tsunoda of Japanese nationality said he would like the heir to the throne to be male.
"It's a tradition that has continued for over a thousand years. If we go with the global trend, anyone could be the emperor," he told CNN. "We must respect tradition."
The news of Mako's marriage came at a time when Prime Minister Shinzo Abe's government has been preparing a bill for submission to the current Diet session in order to enable the 83-year-old emperor Akihito to transfer his thrown to Crown Prince Naruhito. If that happens then this will be Japan's first abdication in around 200 years.
© Copyright IBTimes 2022. All rights reserved.
FOLLOW MORE IBT NEWS ON THE BELOW CHANNELS