Who Is Rajwa Alseif? Everything You Need To Know About Wife Of Jordan's Crown Prince
KEY POINTS
The wedding was attended by global royalty, including Britain's Prince and Princess of Wales
U.S. First Lady Jill Biden was also part of the celebrations
The wedding marked a strong union between Jordan and its powerful oil-rich neighbor Saudi Arabia
Crown Prince Al Hussein bin Abdullah II, the heir to one of the oldest monarchies in the Middle East, got married to Saudi architect Rajwa Alseif in a splendid royal wedding ceremony held in Jordan on Thursday. The wedding brought together two prominent individuals from different backgrounds.
The wedding was attended by global royalty, including Britain's Prince and Princess of Wales – Prince William and Kate Middleton. The wedding marked a strong union between Jordan and its powerful oil-rich neighbor Saudi Arabia. U.S. First Lady Jill Biden was also part of the celebrations.
An intimate ceremony was held at the Zahran Palace in Amman, the location of King Abdullah II's marriage in 1993 to Queen Rania.
At the wedding, Princess Rajwa wore a white gown – custom-made for her by Lebanese designer Elie Saab – featuring a flower print on its full skirt with the bodice of the dress featuring a wrap effect, according to National News.
"A royal decree was issued to bestow upon Ms Rajwa bint Khaled Al Saif the title of Her Royal Highness Princess Rajwa Al Hussein, on the occasion of her marriage to His Royal Highness Prince Al Hussein bin Abdullah II, the Crown Prince," a statement from the Jordanian Royal Court said after Rajwa Alseif was given the title of princess following her wedding.
Who is Rajwa Alseif?
Rajwa Alseif, born in Riyadh in 1994, is the youngest child in her family. She has three older siblings: Faisal, Nayef and Dana. Her mother, Azza bint Nayef Abdulaziz Ahmad Al Sudairi, is related to Hussa bint Ahmed Ai Sudairi – known to be one of the favorite wives of the founder of Saudi Arabia, King Abdul-Aziz Al Saud.
Rajwa Alseif's father belongs to the Subai, a prominent tribe in the Arabian Peninsula known for its deep historical heritage. He is the founder of El Seif Engineering Contracting, a renowned construction company, which built Riyadh's iconic Kingdom Tower.
Alseif pursued her passion for architecture and completed her studies at Syracuse University in New York in 2017. She also holds a degree in Visual Communications from the Fashion Institute of Design and Merchandising in Los Angeles, according to Harpers Bazaar Arabia.
Her husband, Crown Prince Hussein, was born on June 28, 1994. He is next in line to be the successor after his father, King Abdullah II, stripped his half-brother, Prince Hamzah, of the title of crown prince in 2004. At the age of 15, Hussein was formally named heir to the throne.
The Jordan's royal family, who are also known as Hashemites, trace their lineage back to the Prophet Muhammad.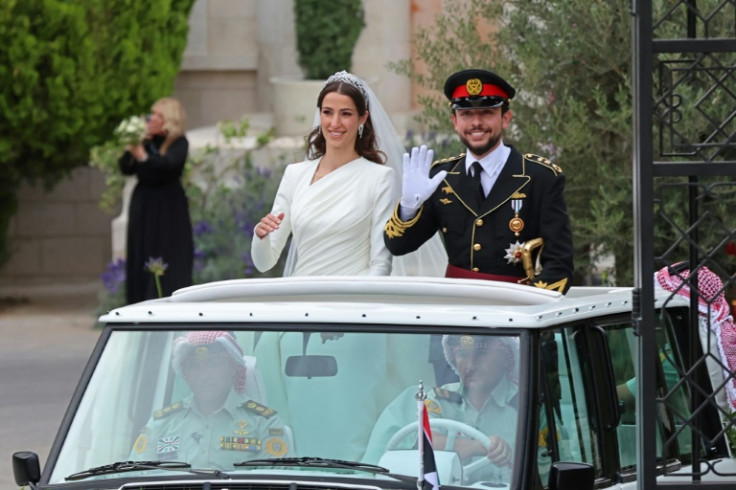 © Copyright IBTimes 2023. All rights reserved.