Who Is Ray Allen's Wife, Shannon Walker Williams? Retired NBA Star Claims He Was 'Catfished'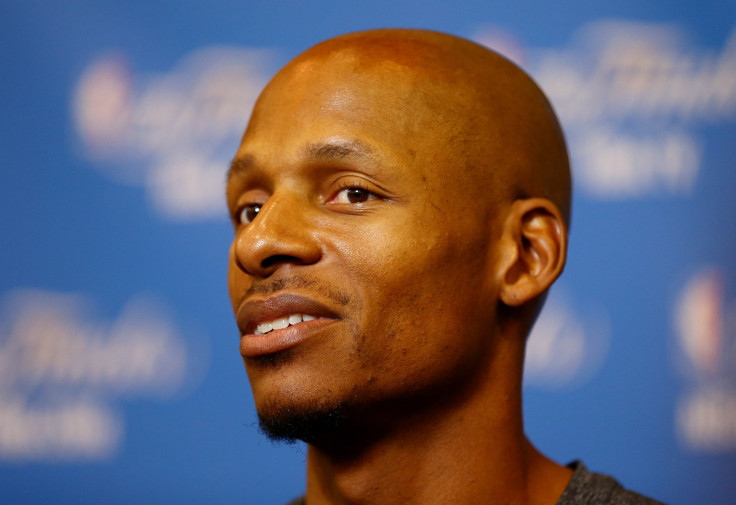 Former NBA star Ray Allen claimed Tuesday to be a victim of "catfishing" and asked an Orlando court to throw out a case that accused him of online stalking. Allen filed a court motion in Orange County, Florida, in response to Bryant Keith Coleman, who claimed he was being stalked by the former Boston Celtics star.
In the motion, Allen said that Coleman tried to extort him and disclose personal information about his family. Allen claimed that he was tricked into believing he was talking to multiple attractive women. Instead, it was a man who he said showed up to his wife's Orlando restaurant and posted online messages about his family, according to court documents.
Allen, who spent five seasons in Florida as a member of the Miami Heat, claimed he got Coleman to agree to a confidentiality agreement which required him to cease online posts, but it continued. Allen claimed he is the one who was being stalked and has asked the court to resolve it.
"He posted about Ray's wife, Ray's children, Ray's dog, Ray's homes, Ray's wife's restaurant, and numerous other personal items," the motion read. "Coleman not only posted about these things, he would actually post while physically located inside Ray's wife's restaurant in Orlando. And he would make sure they knew it, tagging Ray and his wife on those posts."
Allen and his wife, Shannon Walker Williams, met in 1996 when she was a member of "Shades," a female R&B group that was signed to record label Motown. The two married in 2008 at Martha's Vineyard, Massachusetts.
"I was in a girl group when I met Ray," she told cooking website Wellesley Weston during a 2011 interview. "We met the night before my group's first single was going to be released in the stores. One of my friends was dating Savion Glover, who had a show, 'Bring in 'Da Noise, Bring in 'Da Funk,' on Broadway."
The Connecticut native is a singer, television producer and actress who has appeared on the sitcom "Strangers With Candy" and the one-hour legal drama "Century City." She launched a cooking show in 2011 called "Pre-Game Meal" and currently writes music under her independent record label "New Music Chronicles."
"We've been together for 20 years," she told LifeStyle Magazine in a 2016 interview. "We're married, we're partners, we have five children together, and to be in business together has been very inspiring to me. He has such a winning attitude. It's no accident why some people are truly great at what they do."
In March 2016, Williams opened an organic-themed restaurant, Grown, in Orlando. After the restaurant's success, she went on to open two concession stands at the Hard Rock Stadium in Miami with the slogan: "Real Food Cooked Slow For Fast People."
"It was great to see people's reactions knowing that there was an alternative to regular stadium food—a place for vegans, paleos, families with children with food allergies, those looking to stay on their diets," Williams said.
© Copyright IBTimes 2023. All rights reserved.