WHO Reveals Coronavirus Vaccine 'Leading Candidate', Already In Phase 3 Clinical Trials
KEY POINTS
There are close to 150 candidate vaccines for SARS-CoV-2, the virus that causes COVID-19
Three of these candidates are being funded by the U.S. government
The vaccine leading the race is expected to be delivered in October
The large number of public/private partnerships on the fast track to develop a vaccine for SARS-CoV-2, the virus that causes COVID-19, is unprecedented in history.
Almost 150 COVID-19 vaccine candidates are currently being researched and funded by more than 200 business firms and medical institutions. Of the 150 vaccine candidates, 17 are in clinical trials and more will soon reach this status.
Out of these candidate vaccines, the United States government has selected three it will fund for Phase 3 trials under Operation Warp Speed: mRNA-1273, a candidate vaccine from Moderna based in Massachusetts; AZD1222 from the University of Oxford in the United Kingdom and AstraZeneca (the British-Swedish pharma multinational) and BNT162 from the U.S. pharma multinational Pfizer and BioNTech SE from Germany.
It is indeed a race to save lives and earn billions of dollars for the companies involved in the vaccine race. The question now is who gets to the finish line first.
For the World Health Organization (WHO), however, the winner is clear -- AZD1222 from the University of Oxford and AstraZeneca. WHO chief scientist Dr. Soumya Swaminathan revealed AZD1222 appears "probably the leading candidate." She gave two reasons for her statement.
First, AZD1222 is already in a phase 3 clinical trial (out of four phases). No other COVID-19 vaccine candidates have yet advanced to phase 3. Dr. Swaminathan noted "how advanced they are" and "the stage at which they are" were factors in her decision to name AZD1222 as the leading candidate.
Dr. Swaminathan said her second reason is AstraZeneca certainly has "more global scope at the moment in terms of where they are doing and planning their vaccine trials". The late-stage testing (or phase 3) of AZD1222 will be conducted in several countries. Trials are already taking place in the U.K., Brazil and South Africa.
In late May, the U.S. announced it will pay $1.2 billion for 300 million doses of AZD1222. The vaccine partners said the $1.2 billion U.S. investment will go to fast tracking advanced clinical studies, manufacturing and development of AZD1222.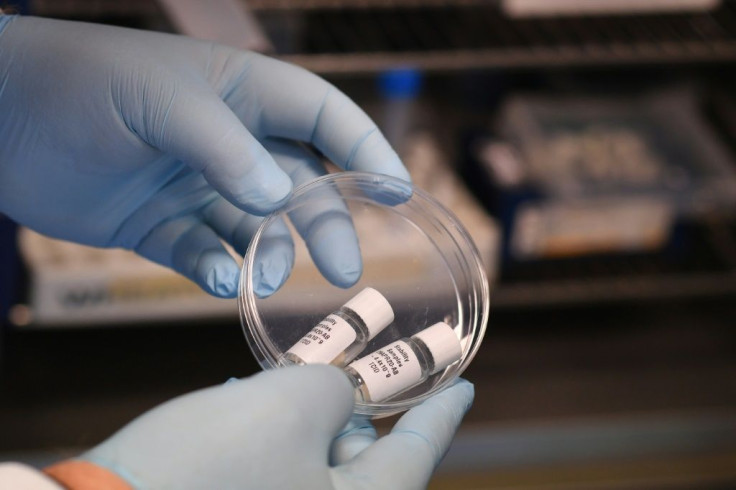 AZD1222 is still being developed by the University of Oxford's Jenner Institute. The experimental vaccine is made from a weakened version of a chimp adenovirus. Oxford has licensed it to AstraZeneca.
"AstraZeneca recognizes that the vaccine may not work but is committed to progressing the clinical program with speed and scaling up manufacturing at risk," said the company in a statement.
"At risk" means the company doesn't definitely know AZD1222 works or can be safely administered. If the vaccine fails, it will be destroyed.
AZD1222 is expected to be delivered as early as October. The early production batches will be stored until the vaccine completes clinical trials meant to ensure its safety and effectiveness against SARS-CoV-2.
© Copyright IBTimes 2023. All rights reserved.
FOLLOW MORE IBT NEWS ON THE BELOW CHANNELS