Who Is Tim Wolfe? University Of Missouri President Resigns Amid Protests By Students, Football Team, Hunger Strike Over Racial Campus Incidents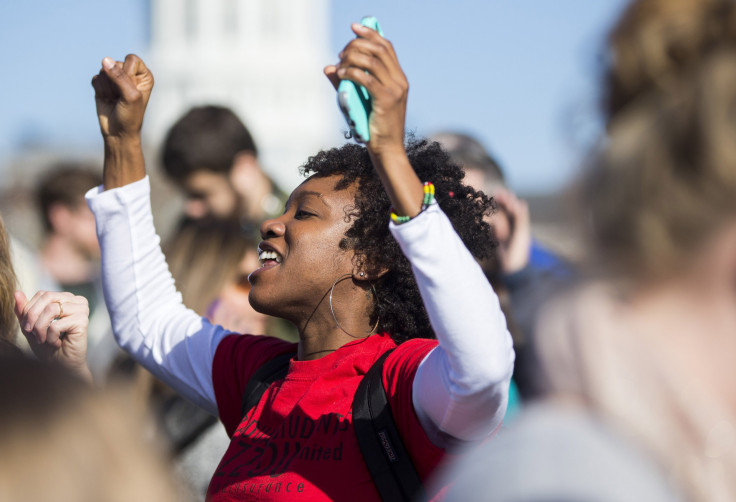 UPDATE: 11:49 p.m. EST, Nov. 9: The resignation of the president of the University of Missouri was followed by word that the school's chancellor, R. Bowen Loftin, would be moved to a new job, Reuters reported.
Loftin announced he would leave his current position at the end of this year, Columbia, Missouri's KOMU-TV reported. Loftin said he would begin a research position at the university in January.
"I sincerely wish it was different, but events are such that the best course of action for the university at this time is for me to resign," Loftin said in a news release from the UM System, KOMU-TV reported. Loftin has been the university's chancellor since February 2014 and is a former chancellor of Texas A&M, the TV station reported.
Original story:
Tim Wolfe, president of the University of Missouri in Columbia, announced Monday that he would resign from his post following days of student-led protests calling for his ouster over racially charged incidents on campus. Wolfe, who took the post in 2012, said as recently as Sunday that he would not resign over student and faculty claims that he ignored a growing tide of hostility toward black students on the majority-white campus, according to media reports.
"My decision to resign comes out of love, not hate," Wolfe said Monday during a press conference. However, the university president added that drastic protests, including one student's weeklong hunger strike, are "not the way change should come about."
He continued: "Change comes from listening, caring, learning and conversation. We have to respect each other enough to stop yelling at each other. Unfortunately, this has not happened, and that is why I stand before you today. And I take full responsibility for this frustration, and I take full responsibility for the inaction that had occurred."
Wolfe, who quoted the Bible during his remarks, asked the campus community to "use my resignation to heal" and "focus on changing what we can change today and in the future."
The resignation announcement came as the government body representing the 27,000 students enrolled in the University of Missouri system Monday released an open letter to school leadership calling for Wolfe's "immediate removal." The Missouri Students Association's (MSA) letter echoed a growing student-led protest movement sparked by a series of racially charged incidents against African-Americans on the Columbia campus, which many said were ignored by the school's administration.
"For our students, the struggles of living on this campus have too often been met by the silent bureaucracy of an inadequate [school] system," the MSA stated in a letter released via Twitter. "As such, the mental health, academic quality, and physical safety of our black students has been compromised time and time again."
The letter was released as the university system's Board of Curators, an administrative body, called an emergency meeting Monday morning to discuss the continuing campus unrest. Acts of protest and civil disobedience were planned for Monday and Tuesday; the campus community sought new policies to address racial tensions and increase ethnic diversity among students and faculty, according to multiple media reports.
Faculty at the University of Missouri planned to walk out of classes to support the student protests. That decision came Sunday as more than 150 students gathered into the evening to protest supposed discrimination and racist slurs directed at black students in recent months. Also on Sunday, players from the college football team and its coach joined the protests, vowing not to play in Saturday's game at home against Utah's Brigham Young University.
An incident in September, in which the black student government president claimed that people in a passing pickup truck called him the N-word, sparked the initial concerns on campus. Later, a white drunk student allegedly hurled racial slurs at a black students' organization, days before the university's homecoming parade. A swastika drawn using human feces was discovered Oct. 24 in a dormitory bathroom.
Last year, University of Missouri students led protests in response to the killing of Michael Brown, a black man, by a white police officer in Ferguson, Missouri. The school is located about two hours away from Ferguson, where the decision not to charge the officer who killed Brown sparked days of civil unrest and rioting in the majority-black city.
In response to a growing tide of racial animosity on campus, Jonathan Butler, an African-American graduate student, launched a one-man hunger strike Nov. 2 and pledged to go without food until Wolfe, the university president, resigned. Wolfe indicated Sunday that he had no plans to tender his resignation.
Butler entered the second week of his hunger strike Monday. He told members of the press that his "body is literally shutting down" from rejecting food and multivitamins, and only drinking water. He was also experiencing hot flashes, shivering spells and shortness of breath, but he said he was encouraged to keep it up by the activism seen since he launched the strike.
"We have [had] reactionary, negligent individuals on all levels at the university level on our campus and at the university system level, and so their job descriptions explicitly say that they're supposed to provide a safe and inclusive environment for all students … but when we have issues of sexual assault, when we have issues of racism, when we have issues of homophobia, the campus climate continues to deteriorate because we don't have strong leadership, willing to actually make change," Butler said Sunday night in a Q&A interview with the Washington Post.
Youth affairs reporter Julia Glum contributed to this report.
Racial Hate Crimes in the United States | FindTheBest
© Copyright IBTimes 2023. All rights reserved.