University Of Missouri Faculty To Stage Walkout Amid Racism Protests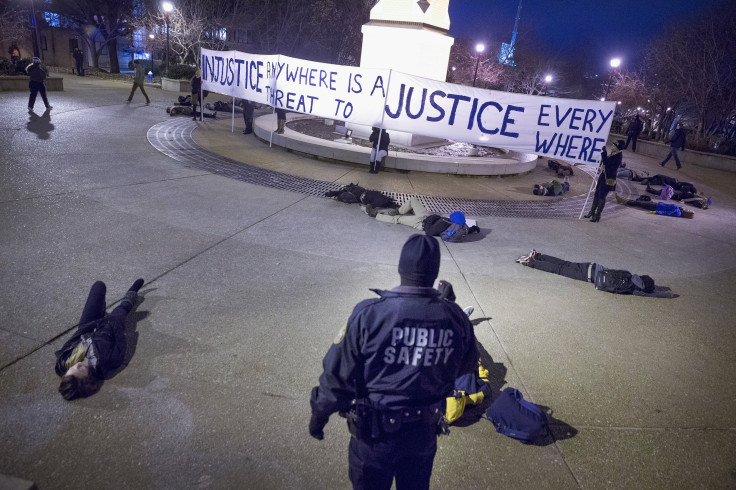 The faculty at University of Missouri plan to walk out of classes on Monday and Tuesday to support the ongoing student protests demanding action against racial incidents on campus, Columbia Missourian, a local newspaper, reported Monday. The decision by the faculty members comes as over 150 students gathered late Sunday to protest alleged discrimination and slurs directed at black students, and demanding the resignation or removal of university President Tim Wolfe.
"We, the concerned faculty of the University of Missouri, stand in solidarity with Mizzou student activists who are advocating for racial justice on our campus and urge all MU faculty to demonstrate their support by walking out on Monday, Nov. 9, and Tuesday, Nov. 10," Associate Professor Elisa Glick said, Columbia Missourian reported, adding: "Faculty will meet at the Carnahan Quadrangle starting at 10 a.m. and will be present throughout the day to respond to student questions in the form of a teach in."
Jonathan Butler, a student who has been on hunger strike since Nov. 2, said he would not eat until Wolfe resigns. Players from the college football team joined the protests over the weekend, putting in doubt next Saturday's game at home against Utah's Brigham Young University, which may cost Missouri University over $1 million. At least 20 tents were put in place outside Jesse Hall late Sunday as many students planned to camp out in low temperatures. Two university police vehicles were also parked nearby.
Although Wolfe did not clarify if he would step down from his post, he said on Sunday, according to the Associated Press, that "change is needed." He added that the university is formulating a plan to work on promoting diversity and tolerance.
"It is clear to all of us that change is needed, and we appreciate the thoughtfulness and passion which have gone into the sharing of concerns," Wolfe said in a statement, cited by CNN, adding: "My administration has been meeting around the clock and has been doing a tremendous amount of reflection on how to address these complex matters."
The football players said in a statement, cited by Los Angeles Times: "The athletes of color on the University of Missouri football team truly believe 'Injustice Anywhere is a threat to Justice Everywhere,'" adding: "We will no longer participate in any football-related activities until President Tim Wolfe resigns or is removed due to his negligence toward marginalized students' experience. WE ARE UNITED!!!!!"
Head football coach Gary Pinkel and Missouri athletic director Mack Rhoades also released a joint statement, saying that practice sessions and other team activities were cancelled on Sunday. "Our focus right now is on the health of Jonathan Butler, the concerns of our student-athletes and working with our community to address this serious issue. After meeting with the team this morning, it is clear they do not plan to return to practice until Jonathan resumes eating. We are continuing to have department, campus, and student meetings as we work through this issue and will provide further comment," the statement said, according to reports.
Pinkel also tweeted a photo of the coaches and the team on Sunday, saying: "The Mizzou Family stands as one. We are united," along with #ConcernedStudent1950, referring to the year that the university started accepting black students. Missouri's Legion of Black Collegians said late Saturday that nearly 30 football players backed Butler's demand of Wolfe's resignation and announced that they would sit out on all football-related activities.
The protests began after an incident in September where a black student government president claimed that a passing pickup truck directed racial slurs against him. Days before the homecoming parade, a white drunk student allegedly hurled racial slurs against a group from a black students' organization. A swastika was also drawn in a dormitory washroom using human feces.
Butler reportedly wrote to Missouri officials saying: "Students are not able to achieve their full academic potential because of the inequalities and obstacles they face," adding: "In each of these scenarios, Mr. Wolfe had ample opportunity to create policies and reform that could shift the culture of Mizzou in a positive direction, but in each scenario, he failed to do so."
According to a report by the Los Angeles Times, over 75 percent of the 35,000 students at University of Missouri are white. Missouri is also the birthplace of last year's demonstrations against the killing of Michael Brown by a white police officer in Ferguson, which later evolved into nationwide protests. Last year's protests triggered widespread discussions against the use of excessive force by police officers.
© Copyright IBTimes 2023. All rights reserved.