Why Amazon (AMZN) Wants You Watching Its New Show 'Catastrophe' On Facebook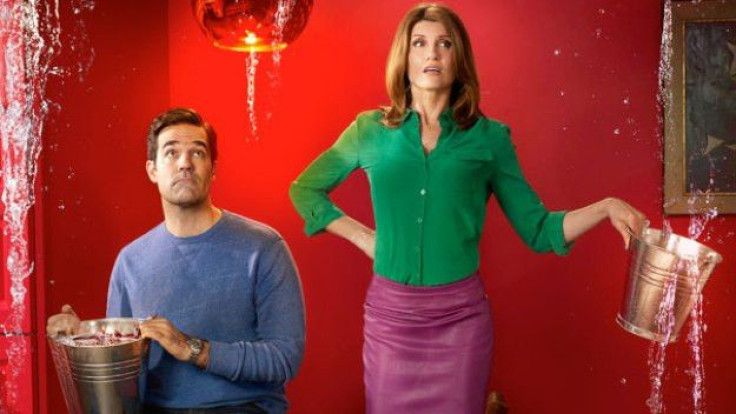 If you're in the mood to watch something historic Monday evening, head over to Amazon's Facebook page. The company announced last week it will show the premiere of the British comedy "Catastrophe" exclusively on Facebook starting at 7 p.m. EDT.
The show, which stars comedians Rob Delaney and Sharon Horgan, first aired on Britain's Channel 4 earlier this year, but it will make its streaming Web debut on phones and desktops everywhere. After 48 hours, the show will be available only to Amazon Instant Video users, and the entire season of the show will be available to stream Friday.
The premiere will not be an absolute first; Hulu has allowed users to watch videos on Facebook for years, and film studios including Warner Bros. have made movies available for rental or purchase on Facebook for years, starting with "The Dark Knight." Instead, Monday's premiere could be about consolidating a position of strength. Though Netflix gets most of the ink for streaming video, Amazon's rival service, Amazon Prime Instant Video, might not be such a distant second. According to estimates by Consumer Intelligence Research Partners, Amazon Prime Instant Video has more subscribers in the United States than Netflix does.
But in a strange twist, it's possible many of those subscribers don't actually know they have access to Amazon's video service. That's because it is offered as part of Amazon Prime, a yearly subscription service that entitles participants to free, two-day shipping on a huge number of items sold by a growing number of retailers, including Amazon.
CIRP estimates that Amazon had more than 40 million Prime subscribers in the United States at the beginning of the year, which means the service technically has more subscribers than Netflix. Amazon does not regularly disclose how many people use its video service, or how many Amazon Prime members it actually has; the last time it reported a total, in 2014, the company said it had 20 million subscribers.
The free two-day shipping, which has been on offer since 2005, appears to be a bigger motivator for signups than the video service: Research by Strategy Analytics shows that most Amazon Prime members ponied up the $99 yearly fee to save on shipping, rather than as a cost-effective way to get video. That same research found that a larger percentage of Amazon Prime members – 40 percent, compared to 36 percent – use Netflix for streaming video than Amazon Prime.
To fix that, Amazon is now putting its Instant Video content on the platform that is increasingly becoming one of the hubs of digital video consumption: Facebook. Facebook says it now serves 4 billion videos every day, and while most of those videos are of the short-form variety, there's plenty of reason to think people would watch something longer on Facebook too: Last week, the Interactive Advertising Bureau published research stating that more than one-third of the world's mobile users are watching long-form video on their mobile devices, which is where the bulk of Facebook's video views come from.
Being on Facebook, in and of itself, does not differentiate Amazon from Netflix. Netflix has been on the social network for years, but the two are integrated in very different ways. In 2013, subscribers shared what they were watching on the service, and last year, it modified the integration so users could privately share recommendations with one another inside of Netflix, rather than inside of Facebook.
But both of those things happened before Facebook became the video monster it is today. And in a competition where Consumer Reports essentially deemed the two services identical, anything either side can do to stand out will be worth it.
© Copyright IBTimes 2023. All rights reserved.