Why Casino Heavyweights Just Can't Decide On Online Gambling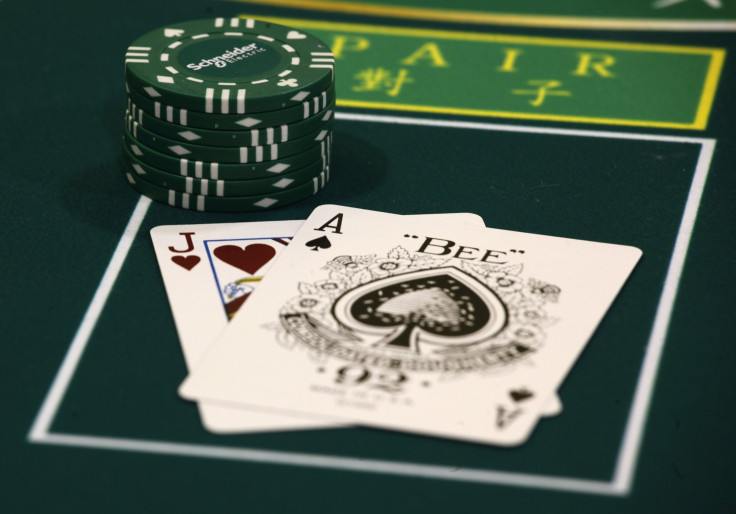 U.S. policymakers, gamblers and casino magnates are debating the legalization of online gambling. For some, it's a new revenue stream and a way to take money out of black market offshore enterprises. Others argue it will detract from brick-and-mortar establishments while funding criminal activities. But with possible billions at stake, the bets are huge.
"The prospect of legalized Internet gaming on a federal level remains uncertain as the technology, player safety and the ability to regulate the industry on a national level continue to raise concerns," says a report from accounting firm RubinBrown.
Online gambling generates an estimated $35.5 billion in revenue globally, mostly from European betting, and is more than half the size of the U.S. commercial and tribal gambling industry, which generated $66.3 billion last year, according to RubinBrown data.
There are dozens of ways would-be casinogoers can do the same thing from home using just their computer or mobile phone.
More than 37 states allow online betting in games that require a degree of "skill," while only Nevada, Delaware and New Jersey allow online games of "chance," which happens to include both Bingo and poker, according to CNN.
In 2006, the U.S. government passed the Unlawful Internet Gambling Enforcement Act (UIGEA) that regulates online gambling. Though it doesn't render the activities illegal, it does prohibit many banking institutions from processing online payments. But these days players can use other methods such as money orders or even their phone bills to put money into their online accounts. Lately, bitcoin has become another alternative.
New Jersey legalized online gaming last year, an act that was "perhaps the most significant gambling expansion since the first casino opened in 1978," according to RubinBrown. Websites run by seven Atlantic City casinos have had more than 110,000 people set up accounts in the four weeks after the law passed. Online gaming is estimated to produce between $200 million and $500 million in revenue this year.
Nevada also legalized the practice, but saw just $8.52 million in revenues after the first 10 months. It's not a lot, but RubinBrown analysts wrote that the prospect of expanding online gaming into states like California, with larger population centers, will provide "a significant opportunity for the industry."
But other states aren't as excited. Even Colorado legislators aren't sure yet. In 2013 a bill was proposed, but didn't get very far. "However, that could change in 2014 as the state's casino executives are taking notice of the success rates other states are having," the RubinBrown report reads, citing recent research that shows the market would generate $112.5 million in revenue in Colorado if legalized.
It's not just lawmakers discussing the issue; casino companies have also laid their cards on the table.
MGM Resorts and Caesars Entertainment Corp., based in Nevada, have been trying to legalize the practice. But Las Vegas Sands Corp., which relies heavily upon business in Macau and Singapore, wants to keep it illegal, according to a report in The Wall Street Journal.
"On this issue, we've agreed to disagree," said Jan Jones Blackhurst, Caesars' executive vice president of communications and government relations," to the WSJ.
Advocates of legalization say that online gambling is happening regardless of legislation, and it would be better to control it to protect customers and their money.
"Internet gambling exists in all 50 states today," said David Rebuck, director of the New Jersey Division of Gaming Enforcement, on Monday at the East Coast Gaming Congress in Atlantic City, according to the Associated Press.
"It's just not regulated," he said.
But others feel the practice is irresponsible and possibly dangerous. Former New York Gov. George Pataki now co-chairs the Coalition to Stop Internet Gambling, a campaign backed by Sheldon Adelson, of Las Vegas Sands Corp.
"I don't pick sides in fights with casino moguls at all. It's not in my interest, but it is in my interest to prevent online gambling from exploding across this country," Pataki said during an interview on CNBC in February, citing a negative impact on families and jobs, and benefits for organized crime and terrorist organizations that use the services to launder and move money illegally.
He added that it should be controlled since brick-and-mortar casinos keep people from making irresponsible decisions on a whim.
"Those casinos are well-regulated, and subject to tremendous law enforcement and other regulatory authorities. It's completely different from just sitting around a college dorm at 1 in the morning and deciding to play online poker or gamble," he said in the interview.
Morgan Stanley predicted that the industry will produce about $8 billion annually by 2020, according to the Associated Press, and at least eight states have introduced legislation in this area, trying to get in on it. The results have yet to be seen, but there's no doubt both sides are making some heavy bets on what will happen.
© Copyright IBTimes 2023. All rights reserved.
FOLLOW MORE IBT NEWS ON THE BELOW CHANNELS