Why Did A Man Try To Smuggle Dried Caterpillars From Africa Into London Airport?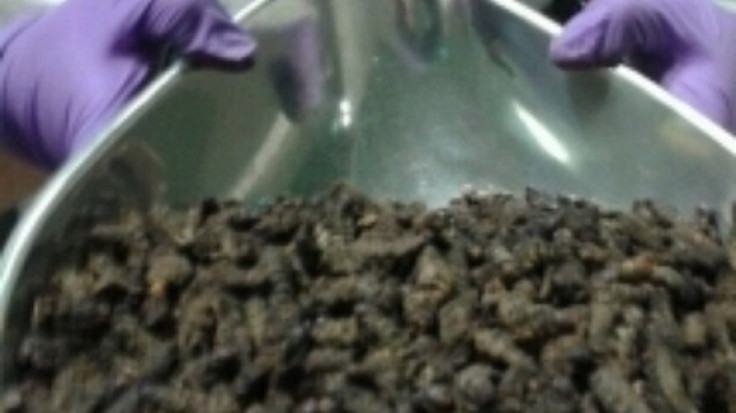 The UK Border Force said that it detained a 22-year-old man who tried to smuggle 94 kilograms (about 207 pounds) of dried caterpillars through customs officials at Gatwick Airport, near London, last Saturday.
The man, who had arrived from Burkina Faso in West Africa (after a changeover in Istanbul, Turkey), put tens of thousands of the dead insects in his luggage in four large hessian bags, shrink-wrapped in plastic.
It was the largest find of its kind ever at the airport.
According to the UK Interior Ministry, the unidentified man claimed that they were to be used for "food" and "personal consumption."
Custom officials warned the man about restrictions on such bizarre imports into Britain, but he was not arrested nor charged with any crimes.
The Border Force said it will destroy the huge haul of dead worms.
"I would warn travelers not to attempt to bring any products of animal origin into the UK without a permit, as they may not have been inspected to appropriate standards and may contain diseases," said Border Force spokeswoman Ingrid Smith in a statement.
"This was an unusual seizure but the vigilance of our officers has stopped these dried insects from entering the UK, and possibly posing a risk to our food chain."
British immigration rules have bans on various types of fauna and flora.
According to the Independent newspaper, the caterpillars were probably Mopane worms, which are regarded as a delicacy across much of Africa.
"These are eaten commonly throughout Africa and are already sold through outlets in the UK, so I can't see that there is a tangible threat to our food chain," Stuart Hine, an insect expert at the Natural History Museum in London, told the paper.
"That said, once this kind of insect foodstuff becomes more common in the UK, either imported or otherwise, it will eventually be subject to UK food standards. At the moment its sale and use is deemed somewhat as a novelty and food standards are not necessarily invoked."
Indeed, Mopane worms are already commercially available for human consumption in the UK -- online retailer Firebox sells 40-gram bags of the insects for £16.99 ($25.54), claiming they are protein-rich.
At that price, the man in the airport lost about $60,000, the Independent calculated.
Solutions Journal further reported that in Burkina Faso -- a poor landlocked country -- caterpillars are being used as a nutritional supplement in traditional grains and vegetables as a way to fight hunger in the country.
"The country suffers from widespread malnutrition and a lack of access to doctors," SJ stated.
"Caterpillars might not be haute cuisine for many Americans, but [some Africans are] promoting them as a simple, nutritious solution to the continent's high rate of malnutrition. … The caterpillar larva is recognized as highly nutritious and is eaten with many of the region's staple foods, such as sorghum, millet, rice, maize, peanuts, potatoes, beans, yams and okra."
According to CIA/World Factbook, Burkina Faso has a 77 percent unemployment rate, with almost half the population living below the poverty line.
SJ estimated that half of the children who die in the country before their fifth birthday suffered from malnutrition.
"The health situation was aggravated in 2009, when the heaviest rainfall in 90 years triggered massive floods that contaminated water sources and forced many to flee," SJ added.
© Copyright IBTimes 2023. All rights reserved.