Why Nigerian Oil Theft Isn't All Bad: As Foreign Oil Corporations Back Out, Domestic Companies Move In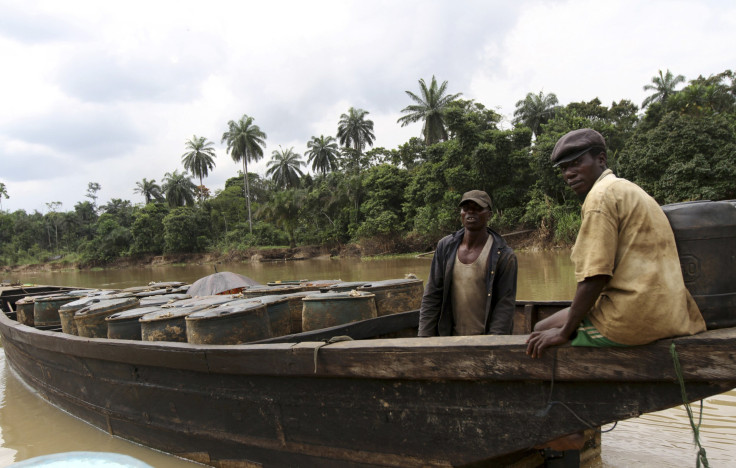 Crime, corruption and environmental degradation are beginning to weigh on oil production in Nigeria, Africa's largest producer with 37 billion barrels of proven reserves. The situation is nothing short of dire -- but it's not all bad news.
As foreign firms back away from an increasingly unfriendly business environment in Nigeria, domestic companies are seizing their opportunity to fill the gap.
All Bad News?
Nigeria's hydrocarbon industry is falling apart -- and foreign firms are feeling the burn. The most worrisome crisis is theft; criminals who damage pipelines to steal crude brought oil production down to a four-year low of 1.9 million barrels per day this summer. This thievery costs Nigeria at least $7 billion annually, according to the latest Oil Market Report from the International Energy Agency.
In a recent statement on second quarter earnings, Royal Dutch Shell (NYSE:RDS.A) revealed that it had lost $250 million due to "operational challenges" in Nigeria, such as oil theft and a blockade of natural gas exports enforced by Nigeria's maritime security agency. Italy's Eni SpA (NYSE:E) said it lost about 30,000 barrels of oil every day to theft, flooding and sabotage, costing the company more than $550 million.
Oil executives have also found themselves at odds with the Nigerian government over its plans to increase taxes on oil production. The proposed Petroleum Industry Bill could entitle the government to as much as 73 percent of hydrocarbon profits, which would ostensibly be spent on domestic development. But oil companies like Exxon Mobil Corp. (NYSE:XOM) argue that the bill would only deter investment and cost Nigeria up to $185 billion over 10 years.
"The terms proposed increase royalties, increase taxes and lower allowances or incentives all at the same time," said Mark Ward, managing director of Exxon's Nigerian unit, to Bloomberg. He added that the law would "create one of the world's harshest fiscal regimes."
Major oil companies including Exxon, Eni, Shell, Total (NYSE:TOT) and Chevron (NYSE:CVX) have produced more than 90 percent of Nigeria's oil over the past few decades. But faced with these worsening problems, they have lately begun selling key blocks on land in favor of offshore projects.
A Door Closes, A Window Opens
If foreign companies no longer want to take risks on Nigerian soil, who will? The country heavily depends on oil, which makes up 95 percent of Nigeria's export revenues and gives the country a per capita GDP of $1,555. The government is already struggling to answer critics who wonder why such income hasn't translated to broad-based growth for the population of 170 million, more than half of whom live in poverty; but if those revenues dry up, mass protests are likely to follow, as witnessed last year when the government considered slashing fuel subsidies.
Enter domestic companies, which have lately been snapping up blocks sold by international corporations. The stakes are high; current assets for sale by Shell and Chevron boast production capability of up to 300,000 barrels per day, according to Bloomberg, and Nigerian companies including Neconde Energy Ltd., Seplat Petroleum Development Co. and First Hydrocarbon Limited have been purchasing stakes in fields sold by Eni, Total and others during the past few years.
These locally-based firms may be more adept at handling social unrest or environmental concerns, but they will still have to deal with myriad problems.
Environmental damage, for instance, is a huge concern; massive oil spills in the southern delta region -- the heart of Nigeria's hydrocarbon production -- have disrupted tens of thousands of livelihoods, mostly in poor communities that rely on farming and fishing. After being sued for its own oil spills in 2008-09, Shell is currently in talks with one community that is demanding up to $200 million in damages.
Then there's the refinery issue -- Nigeria actually imports three-fourths of its fuel because it doesn't have the refinery capability to turn its abundant crude into petrol. That problem is compounded by an impractical and inefficient fuel subsidy program, which helps the public afford fuel imports but costs the government about $8 billion annually. The subsidy system also happens to be riddled with corruption; a 2012 investigation revealed that high-level embezzlers used the program to spirit away $6 billion over two years.
It Never Ends
Graft is something that won't go away even if foreign firms are out of the picture. The Nigeria Extractive Industries Transparency Initiative, a domestic watchdog funded by the state, released a report to the government this year based on data from 2006-08, finding that foreign oil firms may have underpaid royalties amounting to $2.33 billion "arising from subjective interpretation of volume, pricing" and grading variables, according to Reuters.
But the state oil company, the Nigerian National Petroleum Corporation, or NNPC, appears to have been complicit in the obfuscations leading to these and other discrepancies; the study found that NNPC declarations were a full 3.1 million barrels of oil short when compared to data from international firms. The company has also been accused of manipulating exchange rates in an effort to hide revenues.
These issues likely won't disappear as Nigerian firms take over foreign companies' production, but trends could lead to positive changes by diminishing the clout of foreign entities that are utterly unbeholden to the Nigerian population. Even if serious issues with mismanagement and embezzlement persist -- as they are likely to do in a country that ranked 139 out of 176 in terms of public perceptions of corruption, according to Transparency International's most recent survey -- at least the root of the problem will be a little more close to home.
© Copyright IBTimes 2023. All rights reserved.