Why Is Nigeria's Government Handing Out 10 Million Free Mobile Phones To Farmers?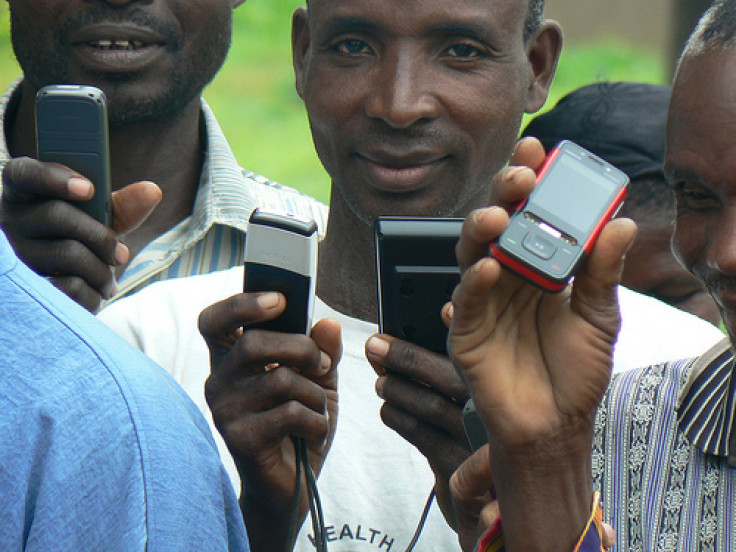 An opposition party in Nigeria has condemned a plan by the government to distribute 10 million free mobile phones to farmers in order to modernize the nation's agricultural sector, BBC reported.
Akinwumi Ayo Adesina, the Federal Minister of Agriculture and Natural Resources, said their purchase of the phones -- half of which will be given to women -- will be financed by a new tax.
"Our goal is to empower every farmer," the minister stated.
"No farmer will be left behind. We will reach them in their local languages and use mobile phones to trigger an information revolution, which will drive an agricultural revolution."
Adesina added: "Whether small, medium or large farmers, they all need information and communication systems. Connecting to supermarkets and international markets require that farmers know and meet stringent consumer-driven grades and standards.
"In today's supply chains, the flow of information from buyers to farmers must be instant, to meet rapidly changing demands. Unless farmers have information at their fingertips, they will lose out on market opportunities."
The permanent secretary of the Federal Ministry of Agriculture and Rural Development, Ibukun Odusote, revealed that the federal government will spend 60 billion Nigerian Naira (about $384 million) to buy the mobile phones, according to Vanguard/All Africa Global Media.
Adesina has denied the 60-billion figure was accurate.
"We intend to work with existing mobile operators in Nigeria through a public-private partnership," Adesina explained in how the devices will be handed out.
"Agriculture today is more knowledge-intensive, and we will modernize the sector, and get younger entrepreneurs into the sector, and we will arm them with modern information systems."
But Tijani Tumsa, the general-secretary of The All Nigeria Peoples Party (ANPP), a conservative opposition political party, called the scheme a "mischievous vote-catching exercise" by the ruling People's Democratic Party (PDP), ahead of the 2015 elections.
Tumsa also questioned the premise that mobile phones would upgrade the farming sector.
"You are just creating business for the telecom companies. You are not impacting on agricultural production in Nigeria, unless the purpose is to have more phone coverage," Tumsa told BBC.
According to reports, Nigeria, with a total population of some 162 million, already has about 110 millions in circulation, the highest rate in Africa. Adesina said that penetration rates are quite low in remote, rural regions.
"The rural areas are heavily excluded. For agriculture, which employs 70 percent of the population, that means the farmers are excluded and marginalized," he stated.
"In today's world, the most powerful tool is a mobile phone. As Minister of Agriculture, I want the entire rural space of Nigeria, and farmers, to be included, not excluded, from the advantages of mobile phone revolution."
The Lagos Chamber of Commerce and Industry (LCCI) also criticized the proposed measure.
Prince Wale Oyekoya, chairman of the agriculture sector of LCCI and managing director of Bama Farm Food, told Vanguard the phone give-away makes no sense.
"Imagine, our federal government wants to give rural farmers [cell phones which cost 60-billion Naira]. Is this what our poor farmers need now with the high interest rate of 28 percent?" he asked.
"This is part of [the] corruption we are talking about; it is a way of laundering our money by the federal government. Farmers need working capital and not [a] cell phone -- who will be recharging the phones for them? Is it still the federal government that will do that?"
Okekoya said the country's farmers need an array of other things to improve their lives – including single-digit interest rates on loans, input research and development, tractors, working capital and basic infrastructure.
But the government has ambitious plans for its farming sector that are designed to reduce dependence on imports.
The Ministry of Agriculture seeks to increase the domestic food supply by 20 million metric tonnes (MT), or 5 million MT per year, by 2015, and to create 3.5 million jobs by that end-date.
Food insecurity remains one of Nigeria's most critical problems.
Nigerian farmers produce significant crops -- but poor infrastructure and other woes often prevents the food from preservation and from reaching supermarket shelves before they rot.
"Because of the policy we have on agriculture, that is why we face food insecurity today," Member of Parliament Yakubu Umaru Barde told the Global Post newspaper. "But really … Nigerians can feed themselves. We have enough arable lands to be farmed. We have enough farmers."
The Nigerian Tribune reported that the country's food imports are growing by 11 percent annually -- a rate the government thinks is unsustainable.
Nigeria spends 1.3 trillion naira (more than $8.2 billion) every year to import basic foods like fish, rice and sugar.
With at least half the population trapped in extreme poverty, volatile food prices can create huge social disruptions.
© Copyright IBTimes 2023. All rights reserved.