Why The Taliban Targeted Pakistan's Christians: Lahore Attack Underscores Religious Minority's Plight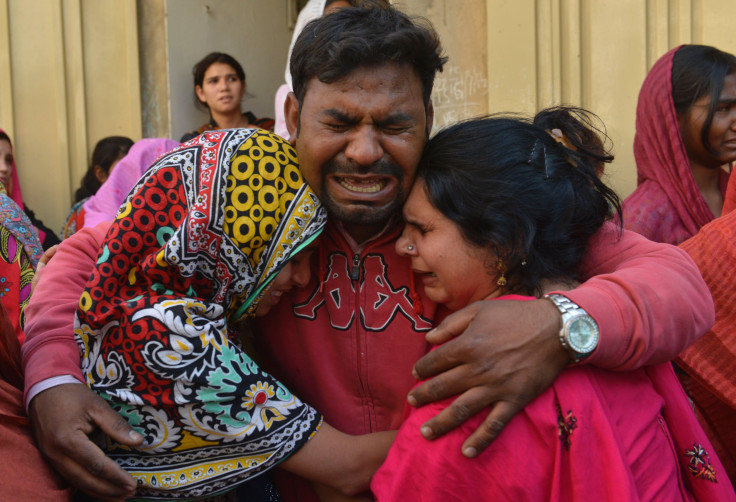 Pakistan's beleaguered Christian minority has long complained of systematic discrimination and a culture of growing religious extremism that has put their community at risk. The latest violence there against the group — who make up a slim 1.6 percent of the Muslim-majority population — came in the form of a suicide bombing Easter Sunday that left at least 70 people dead at a park in the city of Lahore. Carried out by an offshoot of the Pakistani Taliban, the act of terror appeared to validate those very concerns.
"There is a growing sense of insecurity among minorities in Pakistan, and whoever is not a Muslim is not safe in this country," Cecil Shane Chaudhry, executive director of the National Commission for Justice and Peace, a Christian NGO, told Agence France-Presse.
Tensions have risen over Pakistan's blasphemy law in recent weeks. Critics of the law — which criminalizes insulting Islam — argue that it has been unfairly wielded against scores of Christians to settle personal disputes. Last month, an extremist was executed for assassinating a governor opposed to the blasphemy law. The death sentence of Mumtaz Qadri, a police officer, sparked mass protests and heightened anger among extremists. They held protests over the weekend, marking the 40th day since Qadri's death.
"The Christian community had the feeling that there would be backlash from Qadri's execution, especially on festivals like Easter," Shamoon Gill, a Christian activist and spokesman for the All Pakistan Minorities Alliance, told the Agence France-Presse.
Jamaat-ul-Ahrar, which claimed responsibility for Sunday's violence, confirmed the attack was carried out to target Christians on their holy day. The suicide bombing occurred at a park that has been frequented by Christians and was particularly crowded due to the holiday. Many women and children, Christian and Muslim, were among the dead. In addition to the more than 70 people killed, some 350 people were injured.
Raza Rumi, who teaches about South Asia at Ithaca College in New York State, said that while high emotions surrounding Qadri's death may have made it an optimal time for the attack, it appeared to be "backlash" against the government for its intensified fight against the Taliban. He said it was likely meant as "a message to the government" that they were still able to carry out violence in the country's heartland.
"There have not been major attacks in Lahore for the last four or five years," said Rumi, who is also a consulting editor for the Friday Times, a Pakistani newspaper. "But this attack [could mark the] return of large-scale terrorist attacks."
As for why the attack was targeted against Christians on Easter, Rumi said it fit into a larger ideology. He noted, however, that it was not Christians alone who were the targets: more Muslims were killed in the atrocity than Christians.
"The Taliban share the same ideology as the Islamic State. Non-Muslims have to be subjugated or converted, so it's a furtherance of that agenda," he said. "But the brutal reality is that both Muslims and Christians died, because that's how terror is — indiscriminate."
Pakistan, carved out of the Indian subcontinent in 1947 with an explicitly Muslim identity, was meant to offer all its citizens equality. Its founder, Mohammad Ali Jinnah, proclaimed that his compatriots "may belong to any religion or caste or creed." But the current reality is otherwise. Many Christians — descendants of low-caste Hindus who converted under the British — live in squalid, impoverished conditions and allege rampant discrimination by the conservative government. In a 343-seat parliament, non-Muslim minorities are reserved just 10 seats.
"I think being Christian, in this place, this Pakistan, is a crime," Rehmat Masih, an Islamabad resident, told NBC News several years ago. "If we speak out, our corpses will be on the road."
Pakistani Christians face discrimination in workplaces and have been targeted by the blasphemy laws, which can carry harsh sentences, including the death penalty, human rights advocates have alleged. Even baseless rumors of Christians insulting Islam has in the past sparked angry mob violence.
While Muslims remain the majority of victims of terrorist attacks in Pakistan, Christians have undeniably been singled out. Before the latest attack, two bomb blasts at churches in Lahore a year ago killed 14 people; a suicide bomb in a Peshawar church in 2013 left 80 people dead; and in 2009, eight people were burnt alive by a mob in Punjab.
Lahore is considered among Pakistan's most modern and wealthy cities, but it hasn't been spared the fighting that has ravaged northwestern Pakistan. A spokesman for Jamaat-ul-Ahrar, Ehsanullah Ehsan, said the group wanted to underscore that they "have entered Lahore," the BBC reported. Ehsan threatened further attacks.
While Pakistani authorities have stepped up security around Christian sites, including churches, there are limited immediate options to prevent the sort of violence that occurred Sunday.
"What do you do with a public space? These are open and public spaces. It's almost impossible to guard it... We have to go and clean up the sleeper cell networks that exist in the Punjab," Rumi said, referring to the region in which Lahore sits.
© Copyright IBTimes 2023. All rights reserved.