WikiLeaks Founder Julian Assange Begins Fifth Year Living In Ecuadorian Embassy In London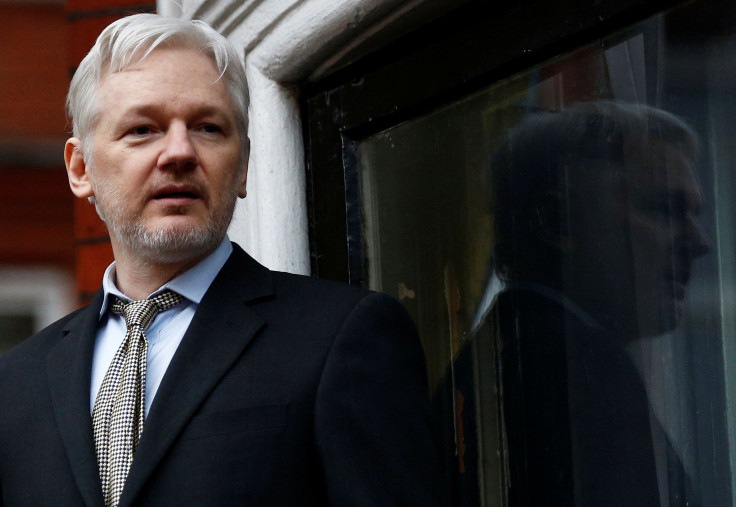 WikiLeaks founder Julian Assange is beginning his fifth year of living in the Ecuador Embassy in London Sunday. He sought refuge there to avoid extradition back to Sweden.
To mark the anniversary, Assange's supporters have planned worldwide events celebrating whistleblowers with readings, songs, and speeches. Assange is expected to make remarks via a live stream from inside the embassy, Agence France-Presse reported.
Assange, 44, is wanted for questioning in Sweden over rape allegations stemming from a 2010 case. He has denied the accusations. He entered the Ecuadorian embassy June 19, 2012, to avoid extradition under a European arrest warrant. The statute of limitations in the case expires in 2020.
"The court considers that Julian Assange is still suspected of rape ... and that there is still a risk that he will abscond or evade justice," a court in Stockholm said in a statement last month.
If Assange were to be taken into custody in Sweden, he fears he eventually could be extradited from there to the U.S. over the making public of 500,000 secret government files that were part of a massive release by WikiLeaks. The files revealed candid assessments of foreign leaders by diplomats and a great deal about government decisions, embarrassing many world leaders.
Assange is a controversial figure seen as an anti-secrecy crusader by his supporters and a dangerous secret leaker by his opponents. He founded WikiLeaks in 2006.
With participants such as author Noam Chomsky, filmmaker Michael Moore, musician Patti Smith and artist Ai Weiwei, events were planned for Sunday in Berlin, Brussels, Madrid, Milan, New York and Paris, as well as Athens, Greece; Belgrade, Serbia; Buenos Aires, Argentina; Montevideo, Uruguay; Naples, Italy; Quito, Ecuador; and Sarajevo, Bosnia-Herzegovina.
"We live in a critical time. We are gathering all around the world on June 19 to speak out for Julian, because he has spoken out for all of us," said event organizer Srećko Horvat.
Assange lives in a small room in the Ecuadorian embassy. He uses a treadmill inside the embassy to stay in shape and spends a lot of his time working at his computer. In May, he was given a new companion: a cat.
© Copyright IBTimes 2023. All rights reserved.
FOLLOW MORE IBT NEWS ON THE BELOW CHANNELS