Will The Eagles Trade Nick Foles? NFL Franchise Tag Deadline Approaches
As the NFL offseason rolls on and teams try to figure out who they want to keep, let go and pursue, the Philadelphia Eagles have a unique quandary on their hands. Quarterback Nick Foles guided the franchise to its only Super Bowl victory in 2017 and another playoff win last season, but Carson Wentz is waiting in the wings to take over.
Foles is set to become a free agent if the Eagles do nothing, but there is another option. Between Feb. 19 and March 5, the team can use the franchise tag on Foles to essentially give him a one-year deal with a high dollar amount and a window to sign an extension.
Once they do that, they will likely not keep him; instead, they would trade him to a team in need of a starting quarterback and get more in return than they would if he left as a free agent. But will they do it?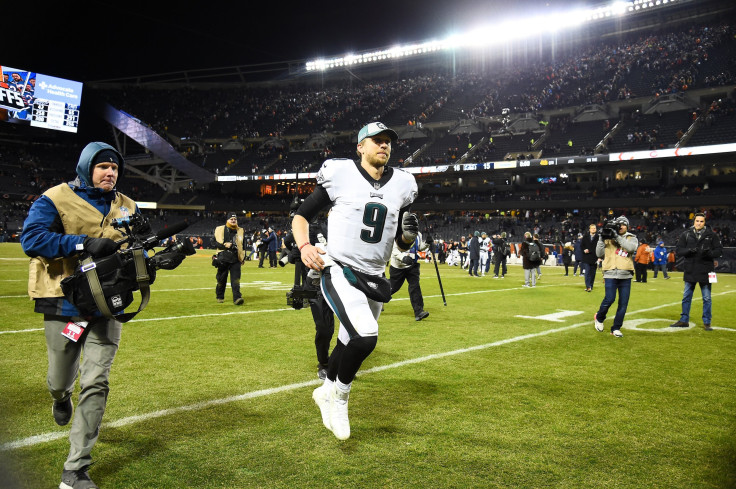 The Eagles have been eligible to franchise tag Foles since Feb. 19. The deadline to do so is March 5, according to the NFL's calendar. They have 10 days to make a decision on Foles, but even if they tag him, he can simply opt not to sign it.
Under the franchise tag, Foles would be worth about $25 million, according to 247Sports. Assuming the Eagles tag Foles, the biggest remaining questions are who wants him and how much they would give up for a 29-year-old who has never started 16 games in a season.
The Jacksonville Jaguars could be considered an ideal destination for Foles. One season removed from an appearance in the AFC Championship game, the Jaguars are in desperate need of stability at the position. They also recently hired former Eagles quarterbacks coach John DeFilippo to call plays.
The Denver Broncos may have set the market value for a veteran starting QB earlier this month by giving up a fourth-round pick for Joe Flacco. Foles is younger than Flacco, but has significantly less starting experience. The Eagles might have trouble getting anything more than a third-rounder for Foles.
If the Eagles decide to let Foles become a free agent, there are two division rivals potentially in need of a quarterback. If the New York Giants decide to move on from longtime starter Eli Manning, Foles could end up playing for them. Otherwise, the Washington Redskins recently learned that starter Alex Smith might not play at all in 2019.
Trades between division rivals are rare, which makes free agency the most likely way for Foles to end up in New York or Washington. The Eagles were involved in one notable exception: They traded incumbent starter Donovan McNabb to Washington in 2010. McNabb only lasted a season in Washington, while Michael Vick guided the Eagles to the playoffs.
© Copyright IBTimes 2023. All rights reserved.