Will ISIS Attack Baghdad? ISIS Supply Route Puts Anbar On The Brink of Falling To ISIS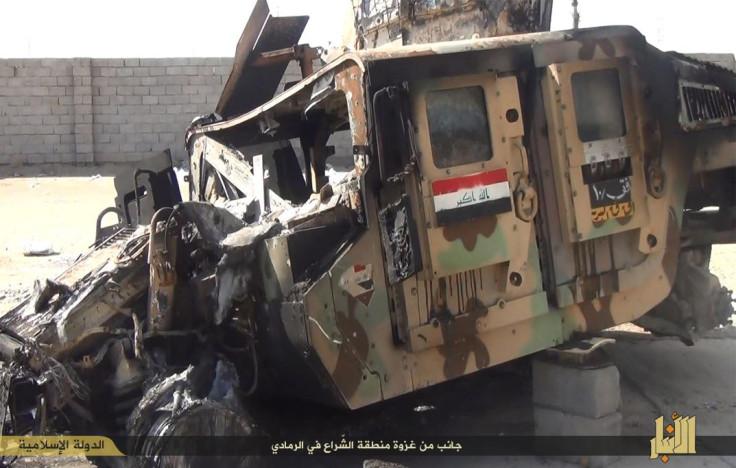 The Islamic State group now controls about 80 percent of Iraq's Anbar province and has begun to bring in reinforcements from Syria for a future attack on Baghdad through a new, direct supply route. The militants continued to advance Friday and have surrounded the northern province's capital Ramadi. If Ramadi falls, it "will be their pathway to Baghdad," Iraq's Minister of Electricity Qassim al-Fahdawi told Middle East Monitor.
"Everybody knows that Anbar is the main incubator of ISIS [Islamic State], and it is expanding to Iraq's other regions from here," Anbar Tribal Council member Faris Ibrahim told Asharq Al-Awsat "Therefore ignoring Anbar has led to disaster, as we are seeing today."
ISIS-affiliated social media accounts circulated a photo report Friday detailing the group's operation near Ramadi. Photos show several destroyed Iraqi army vehicles, seized ammunition and graphic photos of dead and dismembered soldiers.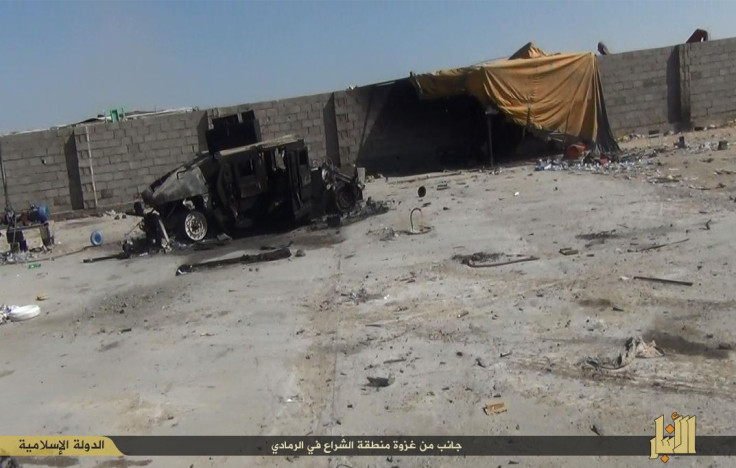 The Institute for the Study Of War speculated that the next Anbar city to fall will be Haditha, home of Iraq's second-largest dam. Iraqi forces have been battling the militant group formerly known as the Islamic State of Iraq and Syria in Haditha and neighboring Abu Ghraib for the past week but have not been able to completely halt militant advances.
"Unfortunately, the military has become a source of assistance for ISIS, because, for the most part, ISIS is able to attack and defeat the military, taking control of their arms and equipment," said Ibrahim.
Iraqi forces have not been successful in pushing back ISIS on their own. Some anti-ISIS Sunni tribes have taken up arms to defend their land and joined forces with the Iraqi military for some of the most intense clashes. The Alus, Shammar, al-Obaid, Albu Khas and Bayatin tribes fought alongside Iraqi forces Wednesday, defending the Haditha dam. Tuesday, fighters from the al-Jubur and Bani Saad tribes stopped an ISIS suicide attack on a bridge leading to Baghdad, according to ISW.
Anbar's Sunni tribes have suffered under Iraq's former Shia leadership and Shia militias. This isolation of Sunni tribes actually enabled ISIS militants to make such exceptional gains at such speed. The Obama administration said that Sunni tribes are essential in the fight against ISIS, but many tribes have refused to join unless Shia militias leave their land. The situation in Anbar, however, is so dire that some Sunni tribes had no choice but to battle ISIS.
"The mobilization of tribes in Haditha reflects their perception of ISIS as a great threat," according to an ISW report.
Tribal fighters and Iraqi forces have so far barely managed hold Haditha, and now the militants are bringing in reinforcements. A new route allows them to transfer supplies, fighters and goods from seized oil wells and wheat fields in Iraq and Syria. Wednesday, the militants reportedly brought in 400 fighters from Al-Bukamal in Syria's Deir el-Zour to al-Qaim, a town in western Anbar. Fighters brought "weapons and rockets with them," according to ISW. While they did not specify what type of weapons militants had brought into Anbar, last week International Business Times reported that ISIS had seized many 155 mm howitzers, which have about a 20 km range.
ISIS advances in Anbar have forced more than 500,000 Iraqis to flee, and militants continue to strike Ramadi. If ISIS succeeds in taking Ramadi, which is only 80 km from Baghdad, tribal officials said the rest of the province will quickly follow.
"Ramadi is the head," Anbar tribal sheikh Ahmed Abu Risha told the Washington Post's Erin Cunningham. "If you cut the head, the rest of the body will die, too."
© Copyright IBTimes 2022. All rights reserved.
FOLLOW MORE IBT NEWS ON THE BELOW CHANNELS