Will Justin Trudeau Punch Matthew Perry? Canada PM Challenges 'Friends' Star In April Fools' Day Prank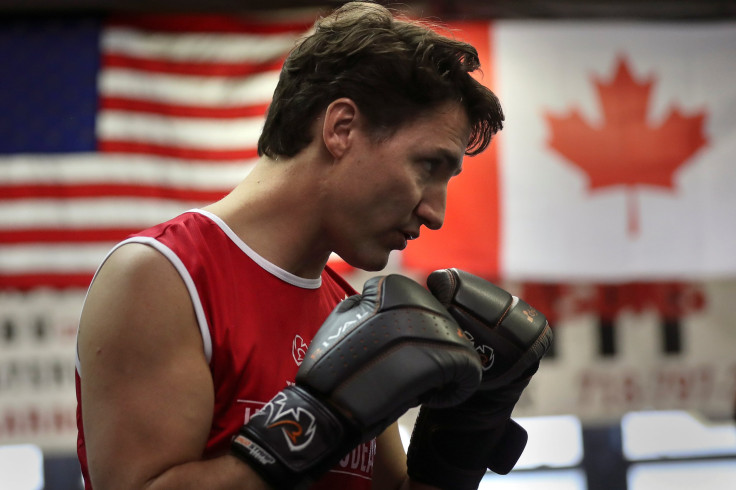 Canadian Prime Minister Justin Trudeau who regularly makes headlines for his good looks and physical attributes was once beaten up by "Friends" star Matthew Perry in grade school in Ottawa, Perry confessed on "Jimmy Kimmel Live" last month. However, it seems Trudeau wants to take his revenge. Or, does he?
Trudeau challenged Perry to a fight Saturday through a tweet, in what is being seen as an April Fools' Day joke.
Read: Ivanka Trump, Justin Trudeau Surprise Visitors By Attending A Broadway
During Jimmy Kimmel's show last month, Perry, a half-Canadian, said he had beaten up Trudeau because of jealousy. "My friend Chris Murray, who was also in the fifth grade in Canada, reminded me that we actually beat up Justin Trudeau," he said. "We both beat him up. I think he was excelling in a sport that we weren't so it was pure jealousy."
"I think he was the only kid in school that we could beat up," he said. "You know, I'm not bragging about this, this is terrible. I was a stupid kid, I didn't want to beat him up. In fact, I think at one point I tried to turn it into love play," Perry said during the show.
At the time of the incident, Justin Trudeau's father, Pierre Trudeau, was the Canadian prime minister.
In the show, Perry took some credit for Justin Trudeau's rise in politics. "I think it was rather instrumental in him becoming, you know, going to such great heights and becoming the prime minister. I think he said 'I'm going to rise above this,'" Perry joked.
Meanwhile, Justin Trudeau's Principal Press Secretary Gerald Butts confirmed on Twitter that his tweet about a rematch with Perry was just a joke after People magazine apparently took the prime minister's tweet seriously.
© Copyright IBTimes 2023. All rights reserved.
FOLLOW MORE IBT NEWS ON THE BELOW CHANNELS