Sweden's Possible NATO Entry: A Catalyst For Regional Stability And Moscow's Discontent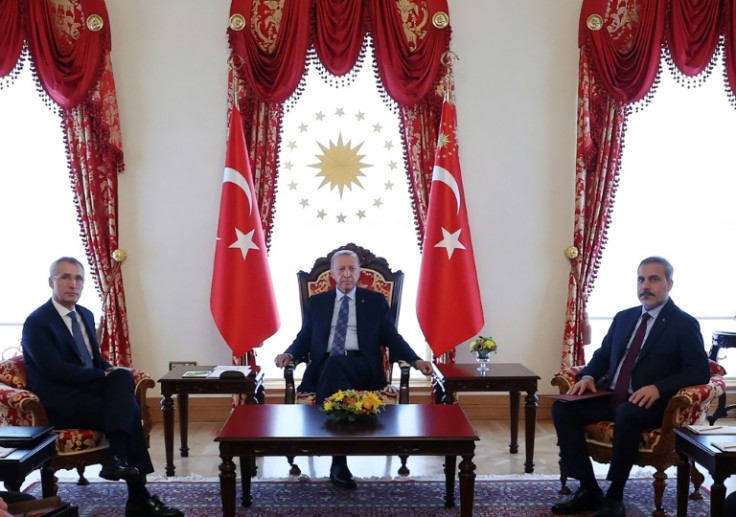 KEY POINTS
Turkish Foreign Minister questioned Sweden's dependability for NATO membership due to Quran burning incident
Turkey indicated Sweden's bid could be approved if concerns are addressed and genuine efforts made
Hungary and Turkey pose obstacles to Sweden's NATO membership, demanding extradition of alleged PKK affiliates
Sweden's potential accession to NATO could prove highly beneficial for the alliance, considering its thriving military-industrial complex. With the ability to manufacture state-of-the-art weapon systems and possessing a substantial military force that includes numerous fighter jets and even submarines, Sweden's inclusion in NATO would be a significant asset. By joining the alliance, Sweden would contribute its advanced technologies, military capabilities, and resources, bolstering the overall strength and effectiveness of NATO.
Sweden's potential entry into NATO, with its considerable arsenal of JAS-39 Gripens fighter jets, would undoubtedly strengthen the alliance and raise concerns in Russia. As a military powerhouse, Sweden's inclusion would bring a significant increase in military capabilities to NATO. The presence of hundreds of JAS-39 Gripens, renowned for their advanced technology and combat effectiveness, would enhance the alliance's air superiority. Moreover, Sweden's participation would likely unsettle Russia due to its strategic location and historical rivalry, according to Eurasian Times.
In the 2023 Global Firepower Review (GFR), Sweden secured the 37th position out of the 145 evaluated countries.
In addition to its formidable fighter jets, Sweden's Army is recognized as a modern and capable fighting force. As per the GFR, the Swedish Army possesses an impressive arsenal including 121 tanks, 14,088 combat vehicles, and 48 self-propelled artillery vehicles. These assets further enhance Sweden's military strength and contribute to NATO's collective defense capabilities in Europe.
However, Stockholm's aspirations to join NATO face a potential obstacle following remarks by Turkish Foreign Minister Hakan Fidan. He expressed concerns about Sweden's dependability for potential NATO membership due to the Swedish authorities' inability to prevent the Quran burning incident.
"The fact that the Swedish security system is incapable of preventing provocations and is presenting an image of a (country) that brings problems to NATO — instead of more power — is making us think in terms of the strategic and security aspects," Fidan said at a joint news conference with his Jordanian counterpart, according to AP News.
However, Fidan also indicated that there is still a chance for Sweden's bid to be approved. He emphasized that if Sweden were to address the concerns raised by Turkey and make genuine efforts to alleviate them, Turkey would consider approving Sweden's membership. This suggests that by fulfilling the necessary requirements and addressing Turkish concerns, Sweden could potentially pave the way for its inclusion in NATO.
After Russia's invasion of Ukraine, Sweden made the decision to abandon its longstanding military non-alignment policy and aimed to achieve formal ratification at the NATO summit scheduled for July 11-12. However, despite receiving strong support from other member states, including the United States, the ratification process has been hindered thus far by Turkey and Hungary.
On July 4, the Hungarian foreign minister disclosed that he had held discussions with his Turkish counterpart regarding the ratification of Sweden's NATO membership. He further stated that Hungary would not delay the process if Turkey's position were to change. However, Turkey remains hesitant and continues to express reservations, causing obstacles in the ratification process.
Ankara accuses Stockholm of sheltering individuals affiliated with the Kurdistan Workers' Party (PKK), which is considered a terrorist organization by Turkey. Despite Sweden disputing this allegation, Turkey has demanded their extradition as a precondition for ratifying Sweden's NATO membership. However, Swedish courts have intervened by halting several deportation attempts.
Despite Turkey's insistence on delaying Sweden's NATO membership while approving that of Finland, Stockholm has persevered in its efforts. Despite the disparity in treatment, Sweden has remained determined to pursue its NATO membership aspirations.
© Copyright IBTimes 2023. All rights reserved.