Will Turkey's Economy Grow After Istanbul Explosion? Terror Attacks Underscore Political Concerns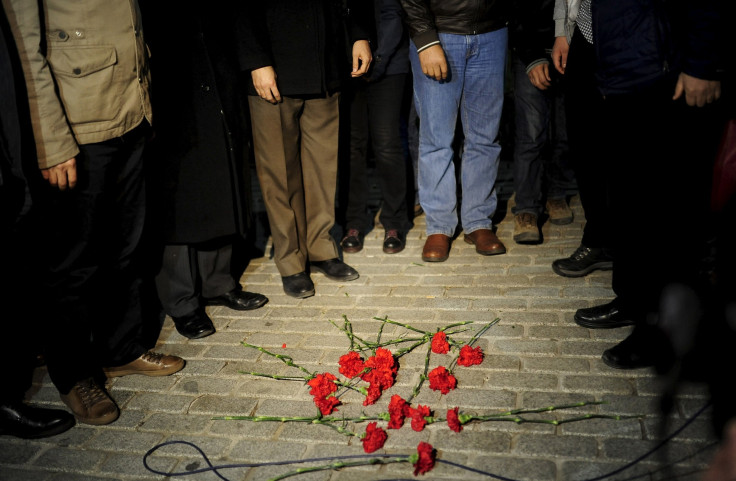 People were slowly returning to the Sultanahmet district in the heart of Istanbul on Tuesday evening, some 10 hours after a suicide terror attack left 10 people dead and 15 more injured. Salih Batkin, 33, a tour guide went out in what he described as one of the city's safest neighborhoods, normally teeming with tourists who come to see the famous Blue Mosque and the sprawling Grand Bazaar full of vendors.
The bombing killed at least eight German tourists. The Turkish government is blaming the Islamic State group, but officials are still searching for clues about how the attack was planned and carried out. Batkin has other concerns. He is worried that the incident will drive away the foreign visitors who help generate the bulk of his income and roughly 10 percent of Turkey's economic activity.
"It's a huge negative slash to the local economy and the millions of people working in the tourism sector over here, so everyone is really upset with the situation," Batkin said, noting that some tourists had returned to restaurants Tuesday evening. "I am worried. I believe there will be some clients that are not familiar with the city and naturally when they hear there might be some cancellations."
Only a day before the attack in Istanbul, Turkey's government raised its economic growth forecast from 3 percent to 4 percent, offering political stability as the underlying factor. Indeed, the Justice and Development Party (AKP) returned to power after November elections and the government has promised to slow down high inflation and restore foreign investor confidence.
Now, experts worry that fighting with Kurdish groups in the country's southeast and the strain of over 2 million Syrian refugees could combine with post-terror economic malaise to stunt the revised outlook.
"Generally it doesn't look good for Turkey in terms of looking stable," said Gareth Jenkins, a senior fellow at the Institute for Security and Development Policy's Silk Road Studies Program, which is based in Istanbul. "This will raise more questions about the security situation. It's not going to have decisive impact on foreign investor confidence by itself but it's certainly not going to help."
Turkey's economy, especially its tourism sector, was already under strain after Ankara shot down a Russian military aircraft it said violated its sovereign airspace in November. The Kremlin was swift to respond by suspending its visa-regime, barring tour operators from selling vacation packages and banning the import of Turkish fruits and vegetables.
Russians and Germans make up a sizable portion of the more than 35 million foreign tourists who visit Turkey every year flocking to the country's popular Mediterranean beaches in Antalya. The travel and tourism sectors support over two million jobs, according to figures from the World Travel and Tourism Council, a London-based industry group. The slowdown has been apparent to industry workers, who say hotel bookings are down and venues are empty.
"It's so slow anyway right now, I don't know if it can go lower," said a hotel worker in Istanbul who spoke with International Business Times on condition of anonymity. "Generally even the biggest hotels have low occupancy."
The Hilton Hotel group, which has several properties in Turkey including Istanbul, declined to comment, saying it was too soon to discuss the impact of the Istanbul attack.
Experts agree that Tuesday's attack will have a negative impact on tourism but the question remains how deeply it will be felt. Regional economies have seen their tourism sectors suffer after a July attack on a Tunisian beach left 38 people and a plane crash in Egypt in November killed 224 people.
"Tourism is very important, but it's not an Egypt or Tunisia that's going to suffer massive dislocation as a result," said Steven A. Cook, the Eni Enrico Mattei senior fellow for Middle East and Africa Studies at the Council on Foreign Relations. "This is a strong society and a strong economy. It has got significant political problems but it's still a good place for people to do business."
But worries still remain over President Recep Tayyip Erdoğan and his push for greater power, an unemployment rate that hovers around 10 percent as well as the over $8 billion spent supporting refugees causing the Financial Times to label Turkey a "high-risk investment."
But for Batkin, the Istanbul tour guide who has worked in the tourism sector for 16 years, the last few years still don't compare with the massive revenue losses in 2006 when the global spread of bird flu kept many tourists at home.
"There is always something waiting to affect tourism," he said. "But, they don't stay all life long and people forget and things get back on track."
© Copyright IBTimes 2023. All rights reserved.