Will US Go To War In 2017? Iranian Ballistic Missile Launch Prompts Strong Condemnation From State Department
The U.S. State Department condemned Iran for reportedly launching a ballistic missile test Sunday afternoon, after the nation said it would respond with "proportionate legal, consular and political action" to being included in President Donald Trump's travel ban on seven Muslim-majority nations. State officials said Iran violated United Nations' resolution 2231, which restricts such missile tests for another six years after being signed July 20, 2015, and noted it would "vigorously enforce" the measure.
"We're aware of reports that Iran conducted a medium-range ballistic missile test in recent days," Mark Toner, deputy spokesman for the State Department, said in a statement provided to International Business Times Tuesday. "We are looking into these reports. We are, however, well aware of and deeply troubled by Iran's longstanding provocative and irresponsible activities and we call on Iran to cease such provocations. All countries, including Iran, must fully and effectively implement all the provisions of resolution 2231."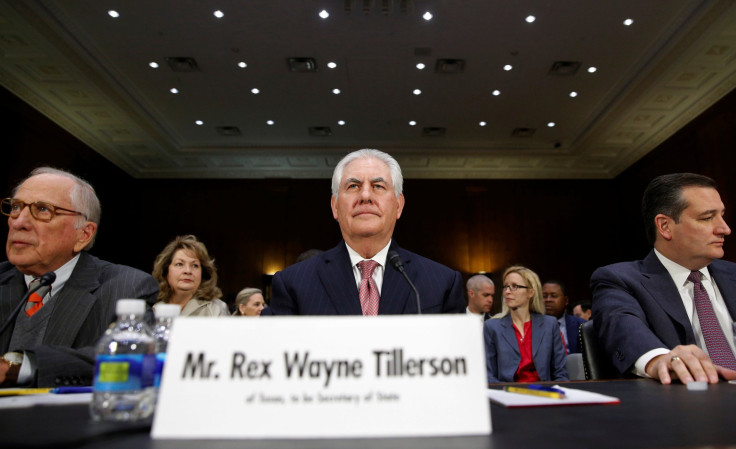 The U.N.'s resolution – which went into effect immediately following former President Barack Obama's Iranian nuclear deal initiative – "called upon [Iran] not to undertake any activity related to ballistic missiles designed to be capable of delivering nuclear weapons, including launches using such ballistic missile technology," the document stated.
"When actions are taken that violate or are inconsistent with the resolution, we will act to hold Iran accountable and urge other countries to do so as well," Toner said. "We vigorously enforce the measures contained in UNSCR 2231 related to the transfer of items related to ballistic missiles."
Iran has not addressed the weekend's missile test, the second reported launch of its kind since the so-called Iran deal was signed two years ago, though the nation's President Hassan Rouhani has defended such actions, claiming the U.S. is simply "capitalizing on the dispute over Iran's nuclear issue… to persuade others that the Islamic Republic establishes a threat against security and stability of its neighbors as well as Europe and the global peace" in a statement to reporters in December.
Meanwhile, the State Department is currently undergoing major shakeups in top-level positions, with at least four officials leaving their posts as a new secretary seems set to be confirmed by the Senate: Rex Tillerson, former Exxon CEO and friend of Russian President Vladimir Putin.
The new White House administration, as well as the State Department spearheaded by Tillerson, could have an unprecedented impact on U.S.-relations with Iran, including the potential repeal or renegotiation of the nation's nuclear deal or even placing tougher sanctions on the country for violating U.N. mandates.
© Copyright IBTimes 2023. All rights reserved.