Will A Woman Finally Lead The United Nations? The 2016 Secretary-General Election Could Make History
Ban Ki-moon, Kofi Annan, Boutros Boutros-Ghali, Javier Pérez de Cuéllar, Kurt Waldheim, U Thant, Dag Hammarskjöld and Trygve Lie. These names have two things in common: Each has served as the secretary-general of the United Nations, and each is a man. With Ki-moon stepping down at the end of the year, 2016 could finally see a woman take the helm of the 70-year-old institution with 193 member states.
Politicking is already under way, with pressure building for what would be two historic firsts: a female candidate from Eastern Europe, a region that has never had a turn at the top of the U.N. Some experts hope if a woman is at the helm, there will be a greater focus on conflict prevention and sustainable peace at a moment when the U.N. is embroiled in sexual abuse peacekeeping scandals, confronting growing challenges from terrorism and facing a refugee crisis around the globe. But finding an Eastern European woman that Russia and the U.S. — both permanent members of the Security Council that have the ability to veto — can agree on could be a major challenge, particularly with ongoing conflicts in Ukraine and Syria.
"This is kind of the last glass ceiling internationally. The Security Council is the authoritative body for peace enforcement and security issues around the world, so having a woman leading would be a very strong statement," said Shazia Rafi, a member of the WomenSG campaign to elect a female U.N. head and a former secretary-general for Parliamentarians for Global Action. Rafi recalled the challenges she faced while rising in her own career, when women in many government organizations were regarded with skepticism and not hired in great numbers because of concerns about their families and caretaker roles, she said.
Women make up half of the world's population but only hold about 25 percent of the U.N.'s highest positions in the Secretariat, despite the body's stated goal of gender equality. With a new year under way, advocates and ambassadors have come to together to publicly push for a woman to be elected, with WomenSG highlighting "Outstanding Women" from around the world in an effort to showcase qualified potential candidates.
"One can certainly think of highly qualified women, and I think the impetus this time around is to give them really serious scrutiny," said Ruth Wedgwood, a professor of international law and diplomacy at Johns Hopkins University's Washington campus and former American member to the U.N. Human Rights Committee.
Two women from Eastern Europe have already been nominated by their governments: Irina Bokova of Bulgaria, who currently serves as the director-general of the U.N. Educational, Scientific and Cultural Organization (Unesco), and Vesna Pusić, who serves as the first deputy prime minister and minister of foreign and European affairs of Croatia. Two men — Danilo Türk, who served as Slovenia's president, and Srgjan Kerim, a Macedonian diplomat and former president of the U.N. General Assembly — have also already been officially nominated as candidates for secretary-general. Intense debate over candidates will likely begin in the early summer in the hopes that the next head will be selected and overlap with Ki-moon before he steps down on Dec. 31.
The election process has traditionally been shrouded in mystery and involves hallway politics that some argue leaves women at a disadvantage in an organization that hasn't reached parity.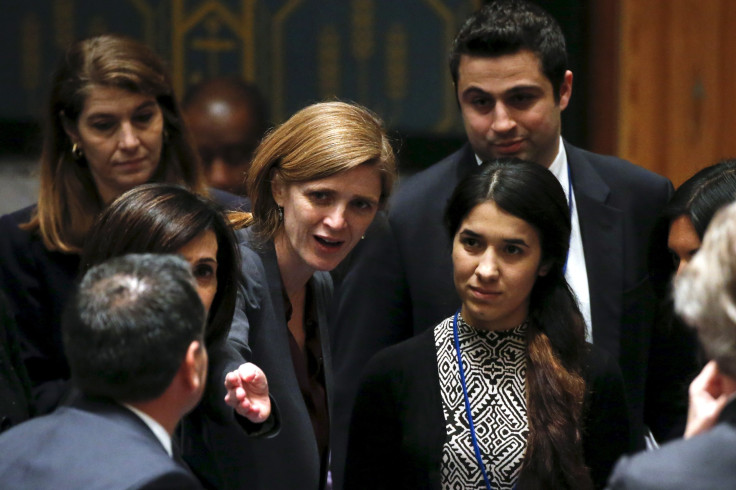 "The debate over who should be chosen occurs largely behind closed doors or over drinks, so even if you were trying to characterize a front-runner, no one is casting paper ballots," said Wedgwood.
Secretary-general candidates are put forth by member states, and candidates with experience in large international organizations or at the helm of their own countries are the norm. Whoever is selected to fill the role will act as the "chief administrative officer" of the U.N., setting the organization's agenda and with the ability to bring issues to the attention of the Security Council. Past heads have chosen to focus on problems ranging from ending poverty to climate change.
The eight men who have served as secretary-general have hailed from Western Europe, Southeast Asia, South America, Africa and East Asia, prompting calls that under regional rotations, Eastern Europe should be represented next.
"This Eastern European group now has a unanimous opinion, and we supported it … which said that we were convinced that the next U.N. secretary-general should be a representative of an Eastern European country, and there are several such candidates now," said Sergey Lavrov, Russia's foreign minister, in an August interview, offering the Kremlin's support for a candidate from Eastern Europe.
But tenuous relations between Moscow and neighboring nations after the annexation of Crimea from Ukraine in March 2014 could make it difficult to find a candidate that both Russia and the U.S. will approve.
"In theory, sure, why not have a secretary-general from Eastern Europe? But practically finding somebody who will be acceptable to the Russians but also within the political mainstream of those countries and also acceptable to the U.S. and Europeans is a pretty high bar," said Jeffrey Mankoff, deputy director of the Russia and Eurasia Program at the Center for Strategic and International Studies, a think tank based in Washington.
The U.N. has faced several scandals recently, including revelations that its peacekeepers in the Central African Republic were paying underage girls as little as 50 cents to engage in sexual activities with them. Ki-moon described the numerous sexual abuse scandals reported over the last few years as "a cancer in our system." The next secretary-general will also face a global refugee crisis, with people escaping wars and repressive states in countries such as Syria, Iraq, Afghanistan and Eritrea, among others. The U.N. has struggled to provide the funding needed to support its humanitarian divisions, with appeals made for donations and the U.N. high commissioner for refugees describing the system as "financially broke."
But experts are split on if a woman at the helm of the U.N. would lead to better handling of scandals, as well as more attention on issues directly affecting women and girls around the globe, like access to education and economic empowerment.
"Equality has always been one of the central tenets of the U.N.," said Antonia Kirkland, a program manager at Equality Now, a human rights organization that first launched a campaign to have a woman elected secretary-general almost 20 years ago. "We won't know until there is a woman in the position how she'll react to those kind of events or incidents the U.N. is involved in. We need to get someone there to see how that might change."
The creation in 2010 of the U.N. Women division, which pushes for gender equality and empowerment, has helped put a greater focus on discussions about the roles women can play in international conflict resolution within the global organization. Activists hope that debate will help make their case this year that a woman should take the lead of the U.N.
"I see more effort on peacemaking, on peace-building, on preventing conflict, if a woman is in the job, which would be good for the global economy," said Rafi of WomenSG.
Still, for Rafi, the push to get women into the top echelons and leadership roles of international organizations won't stop even if a woman takes over at the U.N. in 2017. She already has her eyes set on another organization with the same problem: the World Bank.
© Copyright IBTimes 2023. All rights reserved.