Winningest College Football Coaches: Bobby Bowden Dethrones Joe Paterno After Penn State Sanctions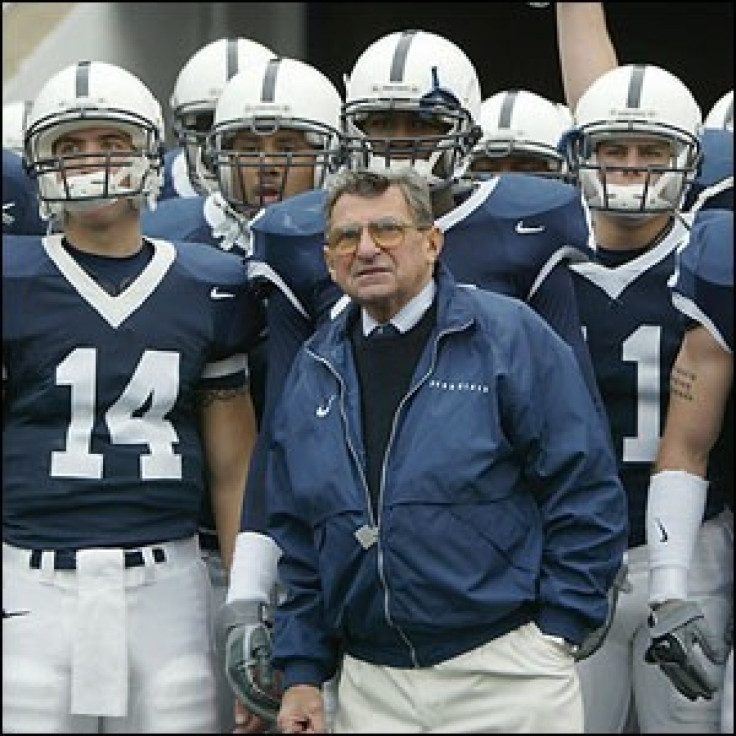 Just hours ago, disgraced late Penn State football coach Joe Paterno was the winningest coach in major college football history. After crippling NCAA sanctions to Penn State were announced Monday morning, which included vacating the school football team's wins from 1998 and 2011, the distinction now goes to Bobby Bowden, best known as the former coach of the Florida State Seminoles and West Virginia Mountaineers.
In stripping Penn State, and Paterno, of the 111 victories the school racked up from 1998 to 2011, the legendary but now controversial late coach now ranks 12th on the all-time wins list among college football coaches of every NCAA division and 7th among Division I coaches.
After the sanctions, announced today by NCAA President Mark Emmert, Paterno's win total plummeted from 409 to 298.
Paterno's fall catapulted Bowden, who has 377 wins, as the winningest coach among Division I coaches. Legendary (and still active) Division III football coach John Gagliardi of St. John's University (Minnesota) still stands as tops among coaches in all NCAA divisions with 484 wins and counting.
The NCAA sanctions announced Monday morning by Emmert were a crippling blow to Penn State in the aftermath of the Jerry Sandusky child sex scandal.
The sanctions included a $60 million fine, a four-year ban from bowl games and the loss of 90 football scholarships. Money from the fine will be used to set up or assist programs to combat child sexual abuse or help victims of such abuse.
While the NCAA stopped short of issuing Penn State the so-called death penalty, which would have suspended football activities by the school for at least one year, some argued the sanctions announced Monday are more damaging to Penn State then the death penalty would have been.
The sanctions are serious enough that it is expected to take Penn State's football program, one of the most successful in the country, years before it will be able to return to the sport's top echelon, wrote Pete Thamel of The New York Times.
The NCAA penalties were controversial, with one camp arguing the sanctions hurt a football team that had nothing to do with Sandusky's behavior and others who say the punishment is justified.
Penn State players past, present & future should not be the ones being #punished, rather the ones who were a part of the crime, tweeted former Big Ten quarterback and current Seattle Seahawk Russell Wilson, who squared off against Penn State when he attended Wisconsin.
Conservative radio host Dana Loesch said Penn State brought the punishment on itself.
No, NCAA didn't do this to Penn State, Sandusky and all of the people who looked the other way, including Paterno, did. Blame where due, she tweeted.
© Copyright IBTimes 2023. All rights reserved.
FOLLOW MORE IBT NEWS ON THE BELOW CHANNELS