Winter Olympics 2018: USA Men's Hockey Roster, Betting Odds For Pyeongchang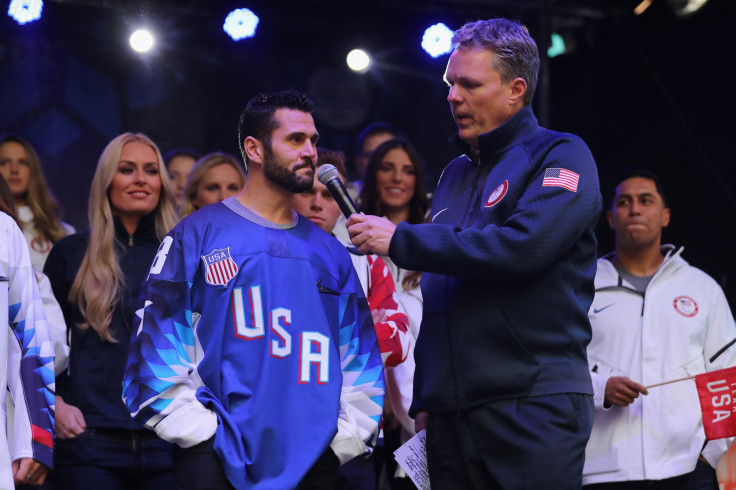 NHL players will not compete in the 2018 Winter Olympics, completely changing the dynamic of the men's hockey tournament in Pyeongchang, South Korea. Four years after the United States made it to the bronze medal game, Team USA isn't expected to perform very well.
Team USA's roster of amateurs ranks sixth in terms of gold medal odds. Five other teams have better than 10/1 odds to finish the tournament in first place. The Olympic Athletes of Russia, who are able to compete, though not officially for the country because of a widespread doping scandal, are favored to win gold.
Canada won the gold medal in 2014, defeating Sweden in the finals. The defending champs are tied for the second-best odds, though the Russian athletes are considered four times more likely to win the tournament. Sweden has the same odds as Canada, followed by Finland and the Czech Republic.
No current NHL players are allowed to compete in the 2018 Games, but there is plenty of NHL experience in the tournament. Canada leads the way with 5,444 combined NHL games played on its roster. Those players have totaled 2,140 career points.
The Russian athletes aren't far behind Canada with 1,955 NHL points. Team USA has a 518-game experience edge over the Russian athletes when it comes to their time in the NHL, but the U.S. athletes have scored 739 fewer points.
Brian Gionta will play for Team USA after spending 16 seasons in the NHL and totaling 312 points. His best season came 12 years ago when he scored 48 goals for the New Jersey Devils.
Team USA's defense is full of former NHL players, including Matt Gilroy, James Wisniewski, Jon Blum, Chad Billins, Bobby Sanguinetti, Noah Welch and Bobby Butler. John McCarthy played in 88 career NHL games, and Jim Slater totaled 138 points in his 10-year career.
The tournament is made up of 12 teams that have been split into three groups. After playing everyone in their respective group, all the teams advance to the elimination stage and are seeded based on their group records. The three group winners and the best second-place team get a first-round bye.
The men's hockey tournament starts Wednesday, Feb. 14 and concludes with the gold medal game on Feb. 24.
© Copyright IBTimes 2023. All rights reserved.