Winter Storm December: 6 Deaths Blamed On Freezing Conditions As Snow Blankets Rockies, Western United States [PHOTO]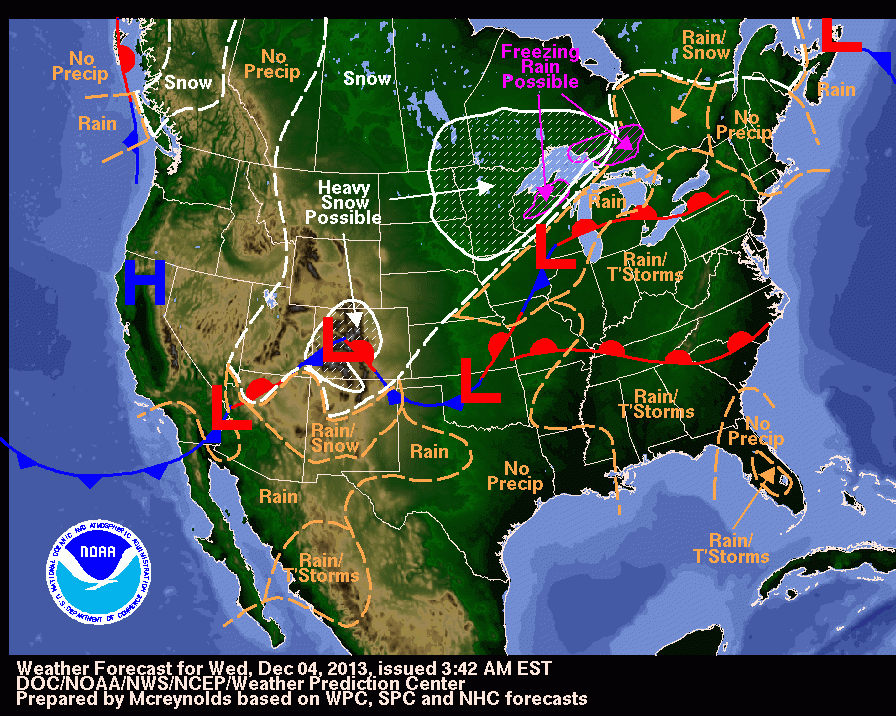 Six people have died as winter storm warnings and freezing conditions stretching from the Midwest to California are threatening crops in the Golden State, while up to 15 inches of snow are expected to blanket the Rocky Mountains and the Great Lakes, bringing along chilly temperatures not seen for nearly 20 years, according to the National Weather Service and the Associated Press.
With wind chill factored in, areas of Montana may see temperatures 30 degrees below zero, while the Nebraska Panhandle has recorded wind child of 20 degrees below zero, according to the AP.
The storm brings the possibility of frostbite, and weather officials are warning residents in the affected areas to protect themselves if they are going to be outdoors.
"When it gets this cold, you don't need 30, 40 mile-per-hour winds to get that wind chill down to dangerous levels. All it takes is a little breeze," said AccuWeather meteorologist Tom Kines.
The wintry weather has also contributed to four fatal traffic deaths in Minnesota and another in Montana, where the conditions were blamed for a four-vehicle crash that killed 21-year-old Chelsea Stanfield. Authorities told the AP that accident occurred because Stanfield was driving too fast in icy conditions.
Another blast of cold weather is expected later in the week, with meteorologists telling the AP that such conditions haven't been experienced since the late 1990s.
In a 4 a.m. EST update Wednesday from the NWS Weather Prediction Center in College Park, Md., the weather service said winter storm warnings, winter storm watches and high wind watches are in effect for a number of states ranging from Michigan to California.
As of 3 a.m. Wednesday EST, "an arctic front was draped across the central and western United States. This front spanned from Southern California into the Great Basin eastward toward the Ohio Valley and was pushing slowly southeastward," according to the update.
Some light to moderate snow was falling across the central Great Basin in Nevada and Utah, the central Rocky Mountains, the northern and central Great Plains, the Upper Midwest and a part of the Great Lakes. Some areas of that portion of the country have seen more than a foot of snow from Saturday through early Wednesday morning, including Gibbonsville, Idaho (30 inches), Two Harbors, Minn. (26 inches), Evaro, Mont. (20 inches) and Bondurant, Wyo. (25 inches).
The blistery weather is also causing the NWS to issue high wind watches, warnings and advisories for parts of Southern California, Nevada, Arizona and the southern Rockies.
"As arctic air continues to push southward over the next couple of days … this storm will continue to bring heavy snow, gusty winds and dangerous wind chills to the upper Midwest and Northern Plains" on Wednesday. Snowfall is forecast to be between 6 and 12 inches with up to 15 inches possible in the Upper Great Lakes, according to the NWS. The Central Rockies may be blanketed with 8 to 12 inches of snow on Thursday.
Meanwhile, freeze and hard freeze warnings are in effect for areas of central California.
"Long durations below freezing will kill unprotected vegetation," the NWS warned. "Exposed water pipes could burst. People, pets and livestock feel the extreme cold as well."
But Bob Blakely of the trade association California Citrus Mutual told the AP that farmers shouldn't panic over the warnings.
"Trees and fruits need some of that cold weather to harden off and prepare for late December and January," he said.
© Copyright IBTimes 2023. All rights reserved.