As Workers Lose Jobs Over Prayer Break Disputes At Cargill And Ariens, US Muslim Advocates Are Unnerved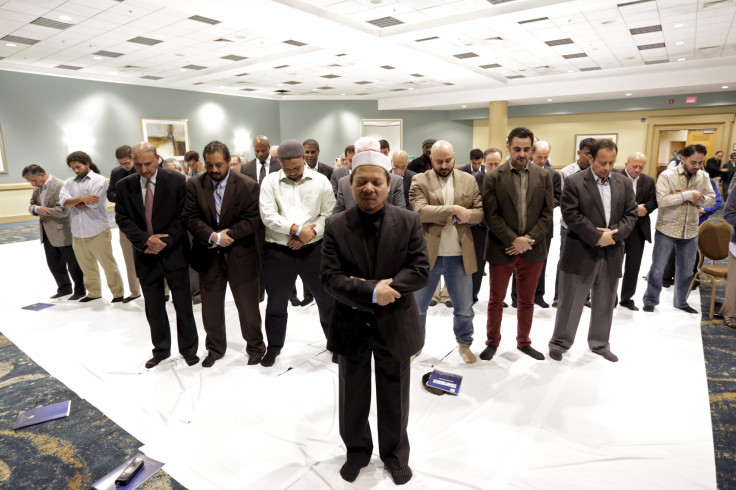 Ibrahim Mohemmed feels like his faith cost him his job.
The 31-year-old immigrant from Somalia used to work the second shift on the assembly line at Ariens Co., earning $12.75 an hour to help piece together snowblowers and lawn mowers. Like many of the Somali production workers at the Brillion, Wisconsin, company — the self-proclaimed "King of Snow" — Mohemmed is a devout Muslim. In accordance with his religious views, he prays five times a day.
"We have a prayer schedule," he said. "I don't make it. You don't make it. It comes from God."
When he started work last August, Mohemmed had no trouble finding time with his colleagues to meet those obligations, slipping out to a break room for five minutes at a time. But last month, managers put an end to the practice: They called the plant's Muslim workers into meetings and told them they would start enforcing rules limiting workers to two 10-minute breaks per shift.
"I said, 'Why are you changing the policy?' " Mohemmed said. "They said, 'There are too many Muslim employees on the line and the lines are going to be slowing down.' "
Many workers felt the policy clashed with their prayer schedule, which does not line up with the prescribed break times and changes daily according to the Sun's position in the sky. In response, 53 of them — about 5 percent of the factory's total workforce — stayed home for three workdays in protest. When the company refused to budge, most employees gave in and started obeying the rules. Fourteen resigned. Others, like Mohemmed, ignored the policy and kept praying at work. When Mohemmed showed up at the factory Jan. 25, he was terminated for violating company policy. Six others suffered a similar fate.
The dispute comes on the heels of a notably similar case: Last December, 150 Somali Muslim workers were fired in a dispute over prayer breaks at a Cargill meatpacking plant in Fort Morgan, Colorado. After the employees went on strike in protest, the company responded with mass firings. Cargill maintains it was simply enforcing its attendance policy.
These episodes have left advocates for Muslim rights in the United States feeling anxious.
In the past, dozens of U.S. manufacturers have responded positively to Muslim worker requests for prayer-related religious accommodations, according to the Council on American-Islamic Relations (CAIR), which has advocated for workers at both Ariens and Cargill. Sometimes it requires some extra give-and-take, but companies are usually able to reach agreements with employees, advocates say. What's unnerving this time, they add, is the harsh and unforgiving response from employers.
"We've been dealing with this for more than a decade, this exact situation, production-line, Somali workers [taking prayers], it's the same all the time," said Ibrahim Hooper, communications director at the Council on American-Islamic Relations. "And that's why we're wondering, 'What's different now?' The only thing we can see that's different is the rise of anti-Muslim bigotry in our society."
Whatever's driving the recent responses from employers, hostility toward Muslims isn't hard to find among the American public.
A YouGov poll last March found 55 percent of Americans surveyed held an "unfavorable" opinion of the Islamic religion. Since the terrorist attacks in Paris last November, the liberal website ThinkProgress has documented at least 65 incidents nationwide involving attacks on mosques, shootings, personal assaults and harassment against Muslims. Last week, President Obama made his first visit to a mosque as president and bemoaned the presence of "inexcusable political rhetoric against Muslim Americans that has no place in our country."
Meanwhile, Donald Trump, the leading Republican candidate for president, has called for banning all Muslims from entering the United States. Trump triumphed Tuesday in the New Hampshire primary, walloping second-place finisher Ohio Gov. John Kasich by nearly 20 percentage points.
Ibrahim Hooper said exit polls indicated broad support for Trump's proposal.
"When you see 66 percent of Republican voters in New Hampshire [saying] they're OK with banning Muslims from the U.S., that tells an employer something, I think," Hooper said. "And unfortunately, it can result in what we're seeing."
Ariens Co. did not respond to multiple requests for comment.
Cargill spokesman Mike Martin said the company did not take the terminations lightly, and it had nothing to do with discrimination. He said the company was forced to make the layoffs after workers failed to come to an agreement over break policies and violated Cargill's attendance policy by conducting a three-day walkout.
Prayer Frequency by Religious Affiliation | FindTheData
"It's disappointing this happened because we respect and value all our employees," Martin said. "Our policy has been to grant religious accommodation to any employee at the plant, regardless of faith, if that's what they wish, with the caveat being, we have to have adequate staffing in order to be able to do that."
Federal law provides employees with ample protection against religious discrimination at work. Under the Civil Rights Act, employers must "reasonably accommodate" an employee's religious beliefs or practices unless doing so causes the company "undue hardship," for example, if accommodation is costly, puts workplace safety at risk or infringes on the rights of other employees.
Jaylani Hussein, executive director of CAIR Minnesota, says most white-collar employers, when asked, don't have any problems providing accommodation for prayers. The bulk of resistance comes from the manufacturing sector where breaks most visibly translate into production declines. "These jobs don't have much flexibility," Hussein said. "That's how it's always been historically."
A similar dispute surfaced at meatpacking giant Swift & Co. in 2008, which resulted in layoffs. But even then, Hussein said, most companies tend to resolve disputes without resorting to the sorts of firings seen at Ariens and Cargill. In recent years, for example, appliance maker Electrolux has run into similar issues at its plant in St. Cloud, Minnesota.
Demonstrating that accommodation poses undue hardship can be tricky for employers.
"It's a very fact-specific analysis and very much depends on the circumstances at the company," said Steve Suflas, a Denver attorney for Ballard Spahr, a prominent management-side law firm.
CAIR has not filed complaints on either matter with the Equal Employment Opportunity Commission (EEOC), the federal agency that enforces workplace discrimination laws. But the group says it is still exploring its options.
Hussein said workers have offered business-friendly solutions to their companies, like clocking out during prayer breaks.
"There are options on the table that save these companies money," he said. "If it's about the bottom line, there is opportunity here where the company could immediately save 10 minutes from every single prayer in a day. Add that up for 365 days, that's a lot of hours that the company immediately would recoup."
© Copyright IBTimes 2023. All rights reserved.
FOLLOW MORE IBT NEWS ON THE BELOW CHANNELS