World Leaders Express Sorrow, Condolences For Japan After Shinzo Abe Assassination
The world has winced in shock at the news that former Japanese Prime Minister Shinzo Abe was assassinated by a lone gunman on Friday. As Japan remembers its former leader, an investigation is ongoing into his murder.
Abe was first elected Japan's Prime Minister in 2006 and served as the country's youngest leader to ascend to that position at the age of 52. Though Abe left office only a year later, he returned to power in 2012 with promises to resuscitate Japan's long-stagnant economy with a program heavy on easy monetary policy, more government spending and reforms across the economy that included bringing more women into the workforce.
The mixed legacy of "Abenomics" is remembered alongside efforts to deepen Japan's alliances in the face of a perceived threat emanating from a rising China. Against decades of entrenched pacifism, Abe moved Japan to enhance its military capabilities and improve cooperation with the United States and other powers to achieve this goal. It can be reasonably argued that Japan's positions on Taiwan's security as well as its efforts to support Ukraine against Russia's invasion were a product of Abe's shifting of Toky's foreign policy paradigm.
World leaders are now expressing their sympathies for Japan and expressing their sorrow for the loss of a man many are hailing as a towering statesman. Here are some of the reactions from former and current world leaders to news of Abe's assassination:
The United States
President Joe Biden issued a statement shortly after Abe's death where expressed his feelings of being "stunned, outraged and deeply saddened" by his death. In a statement, Biden expressed solidarity with Japan and asserted that Abe's vision would carry on.
"The longest serving Japanese Prime Minister, his vision of a free and open Indo-Pacific will endure. Above all, he cared deeply about the Japanese people and dedicated his life to their service. Even at the moment he was attacked, he was engaged in the work of democracy," said Biden.
Former presidents Barack Obama and Donald Trump also expressed their condolences to the fallen Japanese leader.
"I am shocked and saddened by the assassination of my friend and longtime partner Shinzo Abe in Japan. Former Prime Minister Abe was devoted to both the country he served and the extraordinary alliance between the United States and Japan," Obama said in a statement.
The former president recalled what he said was the "moving experience" of having Abe join him on his historic trip to Hiroshima and a joint visit to Pearl Harbor, both in 2016. He thanked Abe and his wife Akie Abe for "the grace" the two showed to him and his wife Michelle during their tenure.
In his own remarks, former President Trump lamented Abe's loss as "really bad news for the world" on his Truth Social account. He predicted Abe, the first foreign leader to meet Trump after his victory in 2016, would be remembered well by history.
"He was a unifier like no other, but above all, he was a man who loved and cherished his magnificent country, Japan. Shinzo Abe will be greatly missed. There will never be another like him!" wrote Trump.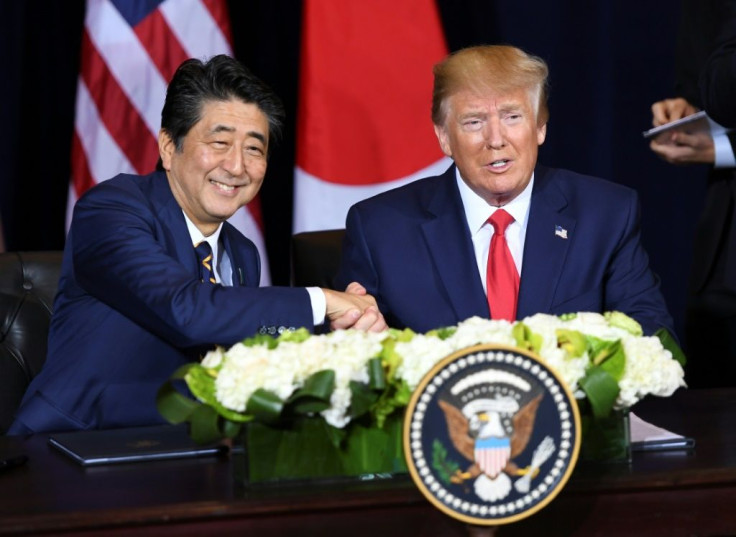 Canada
Canada's Prime Minister Justin Trudeau said that he was "deeply saddened" by Abe's killing and expressed Canadian solidarity with Japan.
"The world has lost a great man of vision, and Canada has lost a close friend. My thoughts are with his wife, Akie, and the people of Japan as they mourn this loss," said Trudeau in a statement.
Former Canadian Prime Minister Stephen Harper, who served from 2006 to 2015, also expressed his sorrow in a statement.
"As Japan's longest-serving PM, he championed democracy, freedom, and a strong Japan among the world's democracies. His legacy will long endure," Harper tweeted.
European Union
Ursula von der Leyen, President of the European Commission, called Abe a "wonderful person, great democrat and champion of the multilateral world order" whose loss will be felt around the world.
"I mourn with his family, his friends and all the people of Japan. This brutal and cowardly murder [of Shinzo Abe] shocks the whole world," she tweeted on Friday.
Charles Michel, the President of the European Council, echoed Von Der Leyen's sentiments, calling Abe a "true friend, fierce defender of multilateral order & democratic values."
France
"Japan is losing a great Prime Minister, who dedicated his life to his country and worked to bring balance to the world," tweeted France's President Emmanuel Macron.
United Kingdom
"Incredibly sad news about Shinzo Abe. His global leadership through uncharted times will be remembered by many. My thoughts are with his family, friends and the Japanese people. The UK stands with you at this dark and sad time," tweeted U.K. Prime Minister Boris Johnson.
"He was a statesman of the highest calibre. A dependable partner and trusted ally. A consummate host. But also the warmest and kindest of friends. My prayers and deepest sympathies are with his family and the people of Japan," tweeted former UK Prime Minister Theresa May.
Germany
"The fatal assassination @AbeShinzo makes me shocked and deeply saddened. My deepest sympathy goes to his family, my colleague Fumio @kishida230 and our Japanese friends," said Germany's Chancellor Olaf Scholz.
Ukraine
"I am extending my deepest condolences to his family and the people of Japan at this difficult time. This heinous act of violence has no excuse," wrote Ukraine's President Volodomyr Zelensky.
Russia
"We pray for the health of the former Prime Minister of Japan, Mr. Shinzo Abe. We strongly condemn the barbaric attempt on his life," Russia's ambassador to Japan wrote on Twitter before Abe's condition was known. After his death, President Vladimir Putin expressed his condolences to Abe's family in a letter.
China
"We are shocked by what happened to Japan's former Prime Minister Shinzo Abe. Our thoughts are with his family.," said China's Foreign Ministry spokesperson Lijian Zhao at a press conference at the G-20 summit in Bali.
India
"In the passing away of Mr. Abe, Japan and the world have lost a great visionary. And, I have lost a dear friend," India's Prime Minister Narendra Modi tweeted on Friday. "As far as global leadership is concerned, Abe San was ahead of his times."
New Zealand
"So deeply shocked to hear about the past PM of Japan-Shinzo Abe. He was one of the first leaders I met when I became PM. He was deeply committed to his role but also generous & kind. My thoughts are with his wife and the people of Japan. Events like this shake us all to the core," said New Zealand's Prime Minister Jacinda Ardern.
Taiwan
"Abe gave a lot of support and consideration to Taiwan during his lifetime. We will never forget this," tweeted Taiwan's President Tsai Ing-wen.
Australia
"Shocked and saddened by the tragic death of former Japanese PM Abe Shinzo. He was a great friend and ally to Australia," said Australia's Prime Minister Anthony Albanese in a tweet.
"Japan has lost its most important modern leader, Akie, her dear husband and Australia, a great friend. Struck down by an assassin, Abe Shinzo's powerful positive impact on his country and our region will endure," tweeted former Australian Prime Minister Malcolm Turnbull.
United Nations
"I'm deeply saddened by the horrific killing of Shinzo Abe, former Prime Minister of Japan. I had the privilege of knowing him for years & will always remember his collegiality & commitment to multilateralism," tweeted United Nations General Secretary Antonio Guterres.
© Copyright IBTimes 2023. All rights reserved.