World Series 2018 Odds: Astros, Red Sox, Yankees Favored After MLB's First Month
It's certainly been an interesting first month of the 2018 MLB season. As the calendar turns to May, the American League's top World Series contenders are playing up to expectations, while the National League standings have been a surprise.
The Houston Astros, Boston Red Sox and New York Yankees will end April with the three best records in the AL. All three clubs were among the World Series favorites to start the year, and they'll enter May with the best odds to win the Fall Classic.
In fact, the four teams with the best World Series odds all come from the AL. The Cleveland Indians are the only other team with better than 10/1 championship odds, via BetOnline.
Boston has been the best team in baseball with a 20-7 record. They've got a two-game lead in the AL East over the New York Yankees, who have rebounded from a slow start. Even with Giancarlo Stanton still trying to find his footing in the Bronx, the Yankees have won nine straight games to put themselves nine games over .500 in the early going.
Houston's 19-10 record gives them a two-game lead in the AL West. The defending champs started the year as the World Series favorites.
Cleveland leads the AL Central by three games. After reaching Game 7 of the 2016 World Series and having the AL's best record in 2017, the Indians might play in baseball's worst division.
It's a much different story in the NL, where the Los Angeles Dodgers, Chicago Cubs and Washington Nationals have all been division winners in each of the last two seasons. None of those teams are in first place after one month.
The Dodgers and Nationals have especially struggled. Both teams are in fourth place, sitting at least six games out of first, after starting the season with better than 10/1 World Series odds.
L.A. and Washington are expected to turn things around, though they have to hope that a couple of teams slow down after hot starts. The New York Mets and Arizona Diamondbacks are now tied as the NL World Series favorites. New York is eight games over .500, while Arizona's 19-8 record is good for second in MLB.
The Cubs could be in first place soon enough after winning six of their last seven games. They are behind the first-place Pittsburgh Pirates, who have been baseball's most surprising team and probably won't be able to sustain their hot start.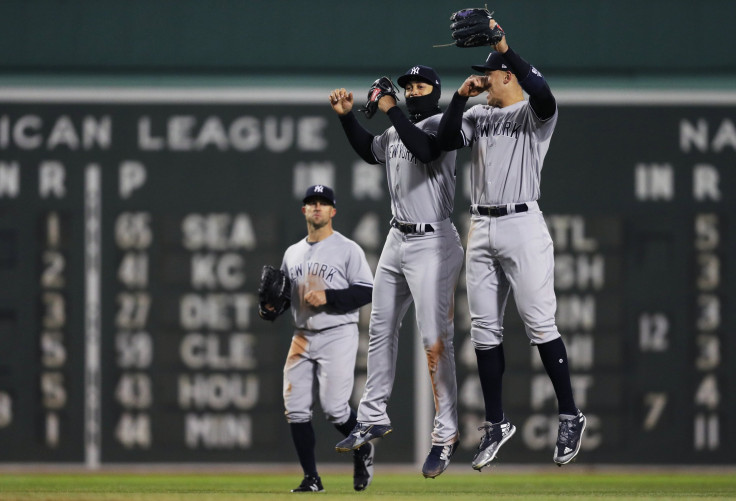 World Series 2018 Odds [BetOnline]
Houston Astros+550
Boston Red Sox+650
New York Yankees+800
Cleveland Indians+900
New York Mets+1000
Arizona Diamondbacks+1000
Chicago Cubs+1100
Los Angeles Dodgers+1100
Washington Nationals+1200
Los Angeles Angels+1400
St. Louis Cardinals+1800
Milwaukee Brewers+2200
Toronto Blue Jays+2500
Philadelphia Phillies+2800
Colorado Rockies+2800
San Francisco Giants+3300
Minnesota Twins+4000
Pittsburgh Pirates+5000
Seattle Mariners+5000
Atlanta Braves+6600
Detroit Tigers+15000
Oakland Athletics+15000
Texas Rangers+25000
San Diego Padres+30000
Tampa Bay Rays+30000
Baltimore Orioles+50000
Chicago White Sox+50000
Cincinnati Reds+50000
Kansas City Royals+50000
Miami Marlins+50000
© Copyright IBTimes 2023. All rights reserved.