World's Most Dangerous Zoo, Lujan Zoo in Argentina, Allows Guests To Ride, Cuddle And Feed Lions, Bears [VIDEO]
The Lujan Zoo, outside Buenos Aires, removes the electric fences and plexiglass partitions to give visitors an up-close-and-personal experience with wild creatures, doing everything from posing with the freely roaming animals, to cuddling, feeding and even riding them.
The zoo, whose logo is a man squatting next to a feline, allows visitors to frolic with lions, bears and cheetahs for $130 Argentine pesos (about $25.30).
In a video from a guests' 2011 visit, a man can be seen sitting next to and petting a full-grown lion as it roars loudly. Onlookers appear to be nervous but continue to approach the animal.
The zoo also lets tourists hand-feed full-grown brown bears. One man recorded his experience allowing a bear take a small piece of food straight out of his mouth.
Some think the animals must be drugged to take part in all this, and one visitor claims she saw zookeepers abuse the animals to make them cooperate with guests.
"It was obvious that they had sedated [them] so that people could pat them. To make sure that visitors got a good picture, 'techniques' were used to get the animal to look up, such as throwing water on their faces and dangling meat in front of their mouths," said Trip Advisor reviewer Courtney B. of Buenos Aires.
Another guest called the experience enjoyable but was shocked at how dangerous and "neglected" the premises are.
"While the cats seem well-trained, I also think it is probably only a matter of time until someone gets hurt," said Jax222.
Another guest, Samantha B. from London, said she was concerned about guests being in the zoo's small enclosures and about the felines' welfare.
"It's not every day you get the opportunity to touch an adult lion, hold a cub and feed milk to a young tiger," she said. "However, some of life's opportunities come at a potential price, a gimmick which seemed to be at the expense of the animal welfare."
Will Travers, CEO of the Born Free Foundation, called the zoo an accident waiting to happen, the Daily Mail reported.
"The zoo is, in my view, placing the lives of its visitors at great risk by encouraging them to have 'close encounters' with dangerous, potentially lethal, wild animals. Anyone who has any knowledge of big cats will understand that they are wild animals and, as such, are unpredictable," said Travers.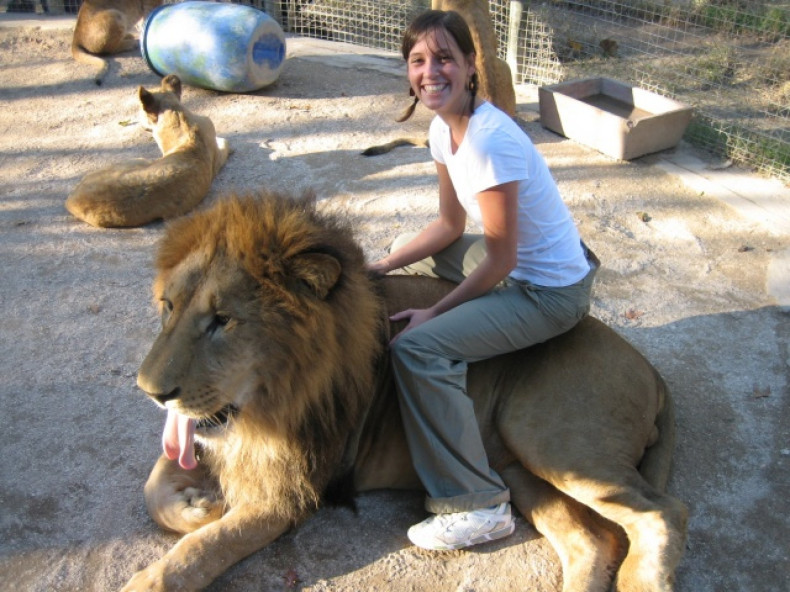 The general manager of the Lujan Zoo, Claudio Nievo, said no accident has occurred there since its inception and the animals are raised with domestic dogs to teach them "boundaries."
"We feed all the animals, especially the predators, so they won't feel hungry when a human is inside their cage. And there are always two or more specially trained keepers inside the cage," said Nievo.
Reports of the zoo's controversial policies come only days after a zookeeper was mauled by a Siberian tiger at the Lac-St. Jean Zoo in Quebec. The 51-year-old zookeeper was attacked by the feline during a routine cage cleaning. The zoo employee is currently recovering from neck injuries and is expected to make a full recovery.