Worldwide Legal Claims Could Await Malaysia Airlines After Jet Downed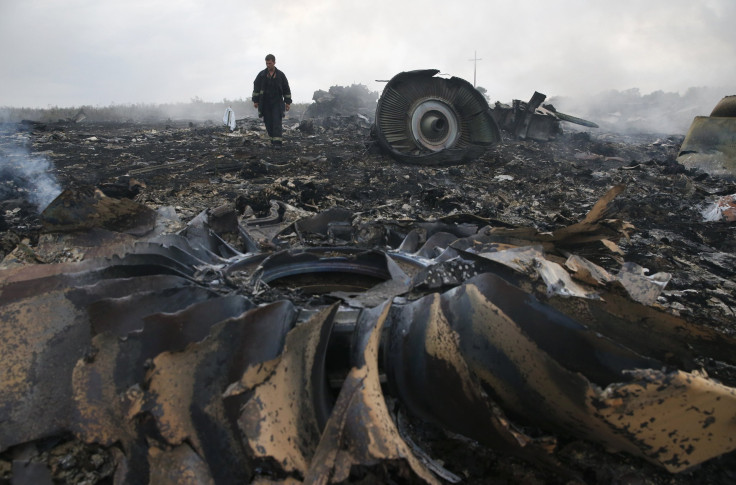 NEW YORK (Reuters) - Malaysia Airlines may need to convince judges from several countries that it was not negligent to send a plane over wartorn eastern Ukraine if the airline hopes to avoid an outsize legal exposure for the downing of Flight MH17, aviation lawyers said.
The lawyers told Reuters they expected at least some of the families of the 283 passengers on board the flight to sue Malaysia Airlines for damages above the amount they can already seek under an international agreement.
There was no consensus among the lawyers about whether there was a strong case that Malaysia Airlines was negligent. Some lawyers said the carrier could argue that other carriers had used the same airspace many times in the past week.
Malaysian Transport Minister Liow Tiong Lai in fact stressed this point on Friday. He said the national airline took no undue risk in flying over Ukraine.
The potential lawsuits could be filed in any of several jurisdictions, such as Amsterdam, where the plane took off,Malaysia, where it was supposed to land and where the airline is based, or the home countries of individual passengers.
At least one passenger had American citizenship, U.S. President Barack Obama said on Friday, so his family could attempt to sue Malaysia Airlines in the United States.
Obama said the crash had a global impact with victims from 11 countries across four continents. There were no survivors, and authorities believe a surface-to-air missile downed the flight on its way to Kuala Lumpur.
$174,000 PAYMENT
Under an international agreement known as the Montreal Convention of 1999, an airline cannot escape liability for a passenger death even when an event such as an act of war or terrorism causes a plane to crash.
For each death, a carrier can be liable for up to 113,100 special drawing rights, a reserve asset created by theInternational Monetary Fund. On Thursday, the day of MH17's downing, the amount was equal to about $174,000, or $49 million for 283 passengers.
But families of passengers may sue for damages above that, and under the Montreal Convention, it is up to a carrier to prove it was not negligent or that a death was the sole fault of a third party such as armed militants. If the lawsuits were successful, the awards in theory would be without limit.
It was not known on Friday whether anyone connected to the passengers had taken steps to sue.
Damages related to the 15 crew members on board would be covered by other legal authorities, such as Malaysian worker-compensation law, said William Angelley, a lawyer in Dallas who specializes in aviation law.
WHO'S TO BLAME?
In April, the U.S. Federal Aviation Administration (FAA) prohibited U.S. air carriers from operating over much of the Crimean Peninsula after Russia moved to annex the disputed area.
But the majority of carriers continued to fly over an area in eastern Ukraine where pro-Russian rebels are fighting Ukrainian forces, using a route popular with long-distance flights from Europe to southeast Asia.
According to Flightradar24, an online flight-tracking service, 66 other carriers flew hundreds of times in the area where the plane was shot down in the last week. Malaysia flew there 48 times and Singapore Airlines Ltd 75 times. United Air Lines Inc flew through five times.
"Other airlines were flying there. There was no indication that commercial airlines were being targeted. Was it a good idea? No. But I'd argue that that wasn't negligence," said Bruce Ottley, dean of the DePaul University College of Law and co-director of its International Aviation Law Institute.
A handful of airlines like Qantas Airways did alter their flight paths some time ago to avoid Ukrainian air space after fighting flared up in the region.
"An investigation will look at who shot the airline down but also if Malaysia Airlines acted appropriately in continuing to schedule its flights over the area," said Justin Green, a lawyer in New York who has represented families in airline disasters.
"The airline will be completely liable for all damages until they can prove that flying over the wartorn area was not negligent as a matter of law," Green said.
"We've flown this route for many years, it's safe and that's the reason why we are taking this route," Malaysian transport minister Liow told a news conference where reporters repeatedly questioned why the airline chose to fly over a conflict zone.
ARGUMENT ON NEGLIGENCE
The definition of negligence varies among legal jurisdictions. U.S. law looks to what a reasonable person or company would have done under similar circumstances.
The airspace in question around Donetsk, near the crash area, was not closed off at the airplane's altitude.Eurocontrol, the European airspace coordinator, has said that Ukrainian authorities closed the route up to about 32,000 feet. MH17 was flying at 33,000 feet.
A trade group for carriers said its members depended on governments and air traffic control to tell them where to fly.
"It is very similar to driving a car," Tony Tyler, chief executive of the International Air Transport Association, said in a statement on Friday. "If the road is open, you assume that it is safe. If it's closed you find an alternate route."
Aviation lawyers said that unless airspace is closed or air traffic controllers divert a plane, the ultimate decision on a route is made by carriers, not government aviation regulators, so suing regulators would be a long-shot.
DePaul University's Ottley said he had never heard of a suit filed against an aviation regulator over a flight path.
Another long shot could be a suit against the separatists of eastern Ukraine. Even if the militants were sued in U.S. courts, "whether you can process them and serve them (with court papers) might be impossible," New York aviation lawyer Jim Kreindler said.
After the 1988 bombing of Pan Am Flight 103 over Lockerbie, Scotland, the United States removed sovereign immunity from countries it listed as state sponsors of terrorism. The move allowed families to sue Libya, which in 2003 agreed to pay $2.7 billion.
Neither Ukraine nor Russia is on the terrorism-sponsor list, meaning "there are daunting challenges to that kind of litigation" for the Malaysian Airlines disaster, Green said.
(Reporting by David Ingram and Andrew Chung in New York and Jane Wardell in Sydney; Editing by Ted Botha and Ross Colvin)
© Copyright Thomson Reuters 2023. All rights reserved.
FOLLOW MORE IBT NEWS ON THE BELOW CHANNELS