'A Wrong Signal': US Navy Destroyer's Transit Through Taiwan Strait Angers China
KEY POINTS
A statement by the U.S.Navy called the transit a routine operation
Taiwan too confirmed the destroyer's journey through the strait
China said the move undermined peace and stability in the region
A U.S. Navy vessel transited the Taiwan Strain Tuesday, angering China that accused Washington of sending "wrong signals to Taiwan independence forces." Destroyer USS Sampson's journey was a routine operation done following international laws, the U.S. Navy said.
"The ship's transit through the Taiwan Strait demonstrates the United States' commitment to a free and open Indo-Pacific," according to the statement. "The United States military flies, sails, and operates anywhere international law allows," it added.
However, the move did not go down well with China, which accused the U.S. of undermining regional peace and security, reported Al Jazeera. A brief statement by the People's Liberation Army's Eastern Theatre Command also called the act "provocative."
According to Senior Colonel Shi Yi, a Chinese military spokesperson, the U.S. had "publicly hyped" the move. "The frequent provocations of the U.S. have sent the wrong signals to 'Taiwan independence' forces and deliberately undermined peace and stability in the Taiwan Strait," Shi said in a statement. "We firmly oppose it, he added,
Though China claims the 180km-wide South China Sea waterway separating China from Taiwan and its outlying islands as its territory, the U.S. considers Taiwan Strait as international waters. Taiwan's Ministry of National Defence also confirmed that the destroyer had sailed from north to south as part of a 'routine' patrol.
USS Sampson is a part of USS Abraham Lincoln Carrier Strike Group and is currently operating in the Philippine Sea, according to USNI News' Fleet Tracker. Last week, the sailors aboard the destroyer had participated in a Visit Board Search and seizure drill as part of the ship's operations in the 7th Fleet.
The destroyer's transit comes over a month after China's Xi Jinping issued a warning to Joe Biden that ties could suffer if there is a "mishandling" of Taiwan's status. Shortly before the meeting between the two leaders, a Chinese and US warships sailed through the flashpoint of Taiwan Strait.
In February too, a U.S. warship transited through the strait, infuriating China. Shortly after Arleigh Burke-class guided-missile destroyer USS Ralph Johnson's transit, Beijing had come out with a statement calling it provocative.
The relations between U.S. and China worsened after China refused to condemn Russia's invasion of Ukraine. Chinese state mouthpiece Xinhua also published a piece in the backdrop, alleging that some U.S. politicians were intentionally linking up the Russian invasion of Ukraine and Taiwan to cast China in an unfavorable light.
"Their real agenda is to sow a crisis across the Taiwan Strait to serve their perceived U.S. geopolitical and economic interests at the price of regional peace and stability," said a piece that appeared in Xinhua.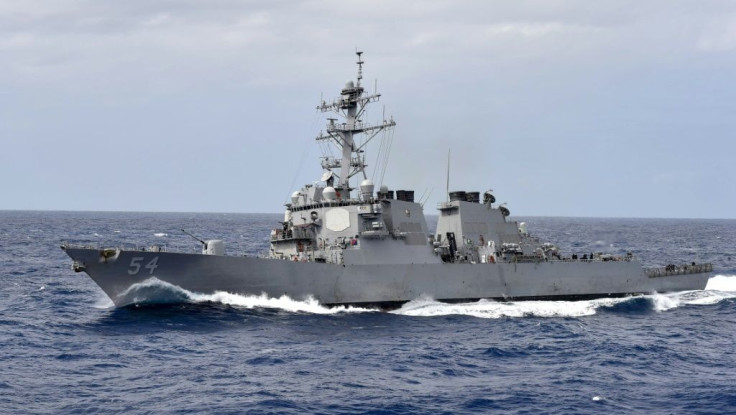 © Copyright IBTimes 2023. All rights reserved.