US Warship Sails Through Taiwan Strait; Angry China Calls It 'Provocation'
KEY POINTS
Taiwan said the ship was monitored during the entire passage
Speculations are rife that China might invade Taiwan soon
Shinzo Abe urged the U.S. to clarify its stance on Taiwan
Amid the tensions in Europe, the U.S. sent a warship through the sensitive Taiwan Strait on Saturday. Though the transit was termed "routine" by the U.S. Navy, China has lashed out against the move, calling it "provocative."
This comes as the self-ruled island of Taiwan is maintaining a high alert following speculations that China may launch an invasion as the world, including the U.S., is focused on Ukraine.
The US Navy's 7th Fleet said its Arleigh Burke-class guided-missile destroyer USS Ralph Johnson conducted a "routine" transit through international waters, reported Reuters.
"The ship's transit through the Taiwan Strait demonstrates the United States' commitment to a free and open Indo-Pacific. The United States military flies, sails, and operates anywhere international law allows," 7th Fleet spokesperson Nicholas Lingo said in a statement.
The Taiwanese Defense Ministry too informed that the ship was monitored during the entire passage, which they termed "normal."
However, the spokesperson for the Eastern Theatre Command of China's People's Liberation Army (PLA) called the warship's voyage through the strait a "provocative act." China has always expressed its resentment at U.S. ships for transiting through the Taiwan Strait.
China claims Taiwan as its own territory and has not ruled out the use of military force to take over the land. The island has been facing repeated incursions by the Chinese warplanes, an intimidation tactic used by the PLA.
This comes as the echoes of a Russian invasion of Ukraine are felt in Taiwan. A day after Taiwanese President Tsai Ing-wen ordered Taiwan's military and national security apparatus to be combat-ready, Beijing sent nine warplanes into Taiwan's air defense zone.
However, military analysts said that a Taiwan invasion is unlikely now as Chinese Premier Xi Jingpin would not want military adventurism in his third term as the president. According to a Taiwanese diplomat, Xi's primary focus at the moment was preparing for a tricky once-every-half-decade congress of the ruling Communist Party this year, where he will cement a historic third term in office.
Meanwhile, former Japanese Prime Minister Shinzo Abe urged the U.S. to ditch its longstanding strategic ambiguity and clarify whether or not it would defend Taiwan from a Chinese invasion.
Abe said the Taiwan contingency is a Japan contingency as the westernmost island of Yonaguni is a mere 110 km from Taiwan's main island. "If China were to secure wide air superiority, it would also cover Japanese airspace," he said, adding that the PLA operations would also affect Japanese territorial waters.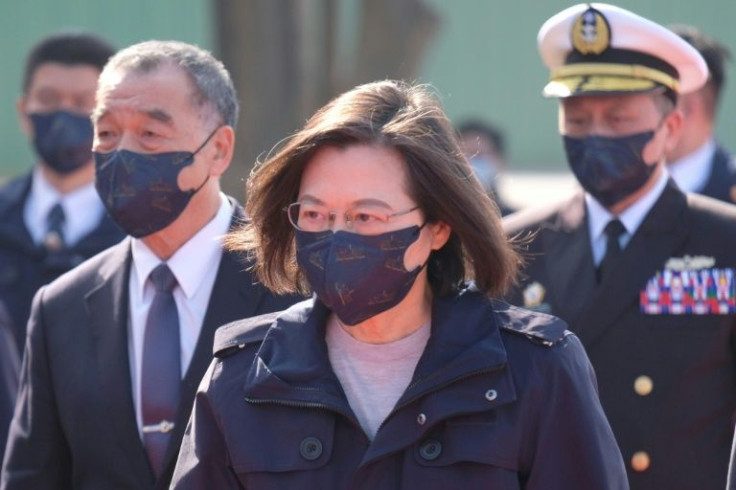 © Copyright IBTimes 2023. All rights reserved.