Yellow, Blue And Green: Colorful Ethiopian Lakes Look Stunning In Satellite Image
KEY POINTS
The three lakes visible in the image are Lake Shala, Lake Abijatta and Lake Langano
All three lakes were part of a single lake named Lake Galla tens of thousands of years ago
They are located in Ethiopia's Great Rift Valley, some 124 miles south of Addis Ababa
A recent satellite image released by NASA Earth Observatory shows a stunning colorful trio of Ethiopian lakes.
The satellite image was taken by the Operational Land Imager onboard Landsat 8 satellite, which is co-owned by NASA and the U.S. Geological Survey, according to NASA Earth Observatory.
The three lakes visible in the image are Lake Shala (blue), Lake Abijatta (green) and Lake Langano (sandy yellow).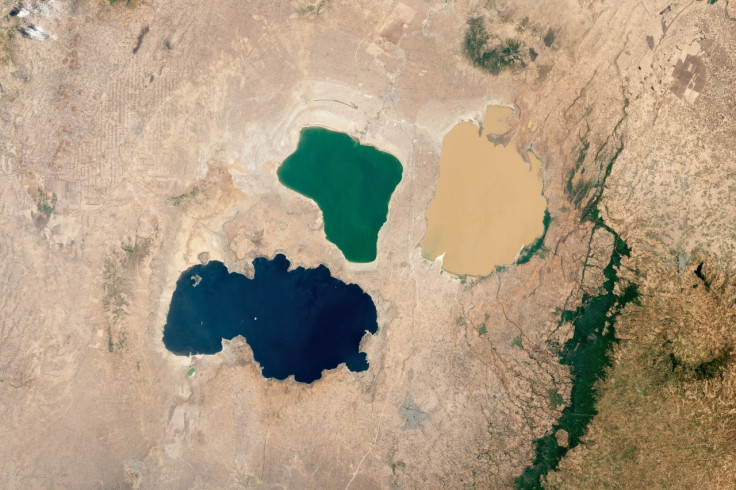 The lakes, located in Ethiopia's Great Rift Valley, some 124 miles (200 kilometers) south of the capital, Addis Ababa, are different not only in color but in water chemistry and the biodiversity found in them.
Interestingly, all three lakes were part of a single lake named Lake Galla tens of thousands of years ago. However, changes in rainfall patterns and tectonic movements altered the landscape and diverted key rivers that provided the lake with water.
Now the distinct lakes do not have any semblance of a shared origin in the real-colored picture.
Lake Shala holds the distinction of being the largest and deepest of the three Ethiopian lakes. It is around 7.5 miles (12 kilometers) long and 17.4 miles (28 kilometers) across at its widest point, with a maximum depth of 873 feet (266 meters).
The lake sits on a vast volcanic depression that sunk 3.5 million years ago. The unusually warm, saline and phosphate-rich waters of Lake Shala are on account of the presence of several hot springs and fumaroles. Since the water here is strongly alkaline, it is classified as a soda lake.
Notwithstanding the extreme water conditions, Lake Shala has an abundance of life ranging from numerous microorganisms to small crustaceans to flocks of flamingoes.
Lake Langano, on the other hand, is a freshwater lake supplied by streams in the east. It is around 11.2 miles (18 kilometers) long and 9.9 miles (16 kilometers) across. The lake is often enriched with red-brown sediments present in water from nearby mountains.
In recent years, Lake Langano has become a popular destination for beachgoers. It is all thanks to its waters that do not have parasitic worms, which can cause schistosomiasis, a disease spread by freshwater snails.
Finally, Lake Abijatta, which measures around 10.6 miles (17 kilometers) in length and 9.3 miles (15 kilometers) in width, is one with a green hue. The color is most likely due to the presence of phytoplankton on its surface.
The shallowest of the three lakes, Lake Abijatta has a maximum depth of 46 feet (14 meters). It is the most variable of the lot, having lost one-third of its area in the last 50 years.
© Copyright IBTimes 2023. All rights reserved.