Yellowstone River Oil Spill: Authorities Struggle With Clean-Up As Carcinogen Is Detected In Water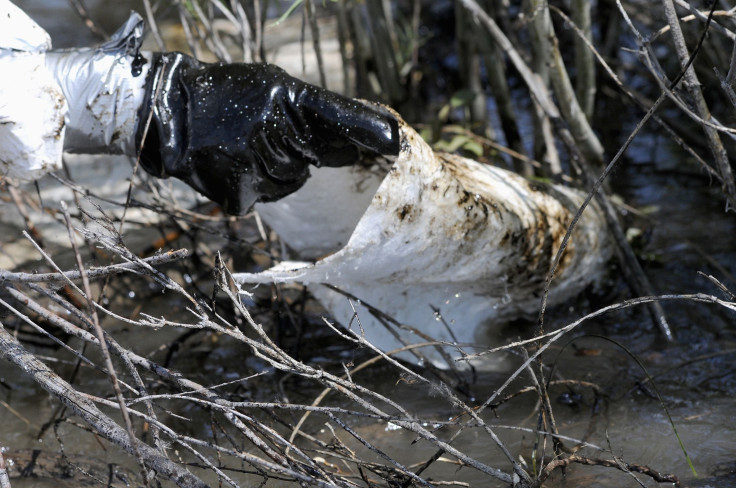 Authorities are scrambling to decontaminate the Yellowstone River near the city of Glendive, Montana, after an oil spill on Saturday released nearly 50,000 gallons of oil into the river. Earlier on Tuesday, state authorities had warned residents in the region not to drink or cook with the water in their taps after elevated levels of Benzene, a carcinogenic chemical, were detected in the public water supply, according to media reports.
Bill Salvin, a spokesperson for the Wyoming-based Bridger Pipeline, which owns the Poplar Pipeline that ruptured, said on Wednesday that, of the estimated 50,000 gallons of oil spilled, nearly 10,000 gallons had been recovered. However, he said, because the river was frozen over, it had slowed down the clean-up process, according to a report by The Guardian. Meanwhile, residents of Glendive are reportedly being provided with truckloads of bottled water for drinking and cooking.
"Because of the condition we're in, we're not able to get on top of the oil as quickly as we would be able to if there wasn't ice on the river," Salvin reportedly said, adding that it was not yet clear how long the clean-up process would take. The U.S. Environmental and Protection agency is also overseeing the clean-up operations, according to media reports.
The massive oil spill occurred when the decades-old pipeline, which runs from Canada to Montana and crosses the Yellowstone River near Glendive, ruptured and released oil about 5 miles upstream from Glendive, according to media reports. This the second major oil spill into the Yellowstone River in less than four years. In 2011, over 40,000 gallons were discharged into the water after a pipeline, owned by Exxon Mobil, ruptured.
The latest spill comes even as the Republican-controlled Congress in Washington is poised to approve a bill authorizing construction of the Keystone XL oil pipeline, which would cross the Yellowstone River roughly 20 miles upstream of the Poplar Pipeline spill.
© Copyright IBTimes 2022. All rights reserved.
FOLLOW MORE IBT NEWS ON THE BELOW CHANNELS