Yemen Airstrike: Saudi-Led Coalition Blamed For Attack That Killed Over 140 In Sanaa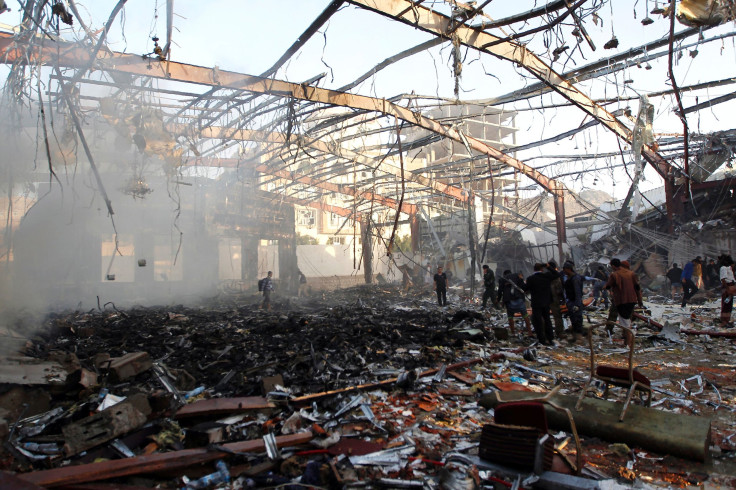 At least 140 people died and over 500 were injured in airstrikes Saturday in Yemen's capital Sanaa. The country's Houthi-led administration alleged that the attack, which targeted a funeral gathering, was carried out by a Saudi Arabia-led coalition — an allegation Saudi officials denied.
The death toll is likely to rise.
"There are charred bodies, and some were cut to shreds and couldn't be identified," Tamim al-Shami, a spokesman for Yemen's health ministry, told the New York Times, adding that several children were among those killed.
In a statement issued late Saturday, the United Nations condemned the attack, and called for "a prompt and impartial investigation" of the incident.
"The Secretary-General notes that any deliberate attack against civilians is utterly unacceptable," Ban Ki-moon's office said in the statement. "Those responsible for the attack must be brought to justice."
However, Saudi Arabia, which has been carrying out a bombing campaign in Yemen for over a year now, denied involvement in the attack, stating that "other causes of bombing are to be considered."
"Absolutely no such operation took place at that target," an unnamed source in the Saudi-led coalition told Reuters. "The coalition has in the past avoided such gatherings and (they have) never been a subject of targets."
The conflict in Yemen, which has been overshadowed by the fighting in Syria and Iraq, is largely being seen as a proxy war between Saudi Arabia and Iran, which has allegedly provided support — and even arms — to the Shiite Houthi rebels currently controlling much of Yemen's north.
Saudi Arabia, on the other hand, has lent support to Yemen's internationally-recognized government led by the now exiled president Abed Rabbo Mansour Hadi.
So far, at least 10,000 people have died, and food shortage caused by the protracted conflict has put the country on the cusp of famine.
Although both sides in the conflict have been accused of killing civilians and committing human rights abuses, Saudi Arabia-led airstrikes have been blamed for most of the civilian casualties. Last year, an airstrike by coalition warplanes targeted a wedding party in Yemen's central Taiz province, killing 131 people, including several children.
Following Saturday's incident, the United States — a key ally of Saudi Arabia — said it was launching an "immediate review" of its support for the coalition.
"U.S. security cooperation with Saudi Arabia is not a blank check," National Security Council spokesman Ned Price said. "In light of this and other recent incidents, we have initiated an immediate review of our already significantly reduced support to the Saudi-led coalition and are prepared to adjust our support so as to better align with U.S. principles, values and interests, including achieving an immediate and durable end to Yemen's tragic conflict."
© Copyright IBTimes 2023. All rights reserved.