Yemen Crisis: Saudi-Led Airstrikes Allegedly Target Dairy Factory, At Least 25 Workers Killed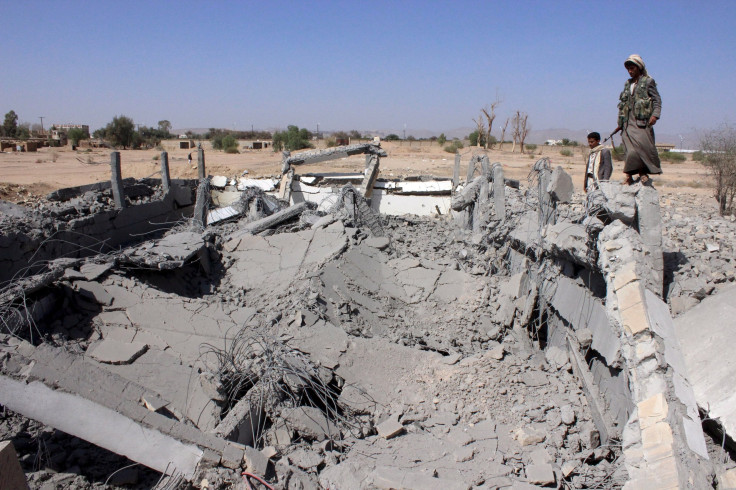 Dozens of workers were killed in an explosion at a dairy factory in Hodeida, a port city on Yemen's western coast, shortly after midnight on Wednesday, with locals attributing the blast to a Saudi Arabia-led coalition airstrike targeting the Shiite Houthi rebels.
Local medical source told Reuters that at least 25 workers were killed in the explosion at the factory, located near an army camp loyal to former Yemeni president Ali Abdullah Saleh, who had allegedly assisted the Houthi militants gain control over most of the Yemeni military.
A pro-Houthi website, 26September, claimed that 37 workers were killed and 80 were wounded at a dairy and oil factory "during the aggressive air strikes which targeted the two factories last night." There are also conflicting accounts claiming that rockets fired from the army base to counter Saudi-led airstrikes hit the factory and caused the explosion, Reuters reported.
Meanwhile, the Associated Press (AP) cited Yemeni officials who claimed that the dairy factory was being used by rebels as a weapons cache. The AP report also said that it was not clear if the workers died from the airstrikes, return fire or the subsequent explosion.
According to reports, Wednesday's incident, which comes a day after Saudi Arabian forces and the Houthis reportedly engaged in a heavy cross-border fire, is one of the biggest cases of civilian deaths since the Saudi Arabia-led coalition began airstrikes last week.
The Saudi-led airstrikes marked a major escalation in the Yemen crisis, in which Shia-majority Iran has backed the Houthis while Sunni Muslim monarchies in the Gulf have supported Yemen's exiled President Abed Rabbo Mansour Hadi.
© Copyright IBTimes 2023. All rights reserved.