Yemen's President Hadi Leaves Aden For Saudi Arabia As Airstrikes Continue Against Houthis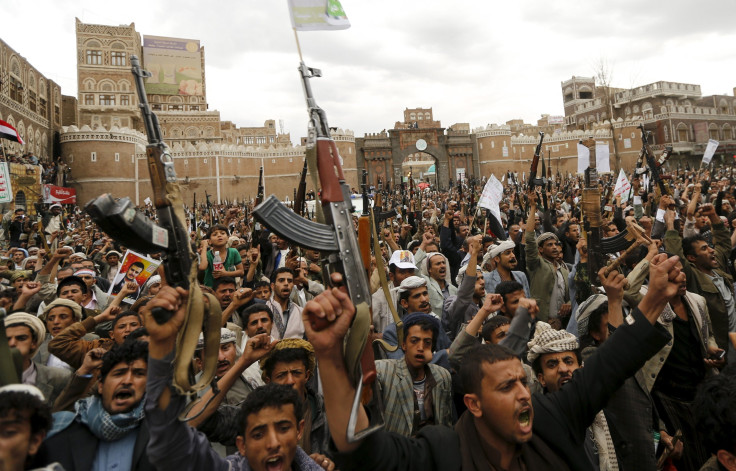 Update as of 5:50 a.m. EDT: As a Saudi Arabia-led coalition continued to launch airstrikes against Houthi rebels in Yemen, the country's foreign minister Riad Yassin told BBC that the strikes should end as soon as possible. According to Yassin, no one was happy about the Saudi intervention and that a "short, sharp" campaign was needed to weaken the rebels.
Update as of 2:51 a.m. EDT: Saudi Arabia-led coalition airstrikes attacked two districts in the home province of Yemen's Houthi rebels, in the country's north, at dawn on Friday, Reuters reported, citing tribal sources. According to the report, warplanes attacked a market in Kataf al Bokaa, north of Saada province, killing and wounding at least 15 people.
Original story:
Yemen's President Abed Rabbo Mansour Hadi left his refuge in the seaport city of Aden and arrived in Saudi Arabia's capital Riyadh on Thursday, as a Saudi-led coalition continued to launch airstrikes against Houthi rebels on the outskirts of the Yemeni city, BBC reported, citing officials.
This is the first confirmation of Hadi's whereabouts since Saudi Arabia and its Arab allies began military operations against Houthi rebels in Yemen late Wednesday, forcing Hadi to flee his residence in Aden, as Houthi militants advanced on the port city. Hadi had sought refuge in Aden since he was released from a months-long period of house arrest in Yemen's capital Sanaa.
Earlier, there had been conflicting reports about Hadi's location. A spokesperson for the Houthi rebels told CNN that Hadi had left Aden on Wednesday, accompanied by a Saudi diplomatic team, while other unconfirmed reports said that he had fled to neighboring Djibouti by boat.
However, Saudi media reports showed pictures of Hadi holding hands with Saudi Arabia's defense minister at the airport in Riyadh. According to reports, Hadi is expected to visit Egypt for a summit of Arab nations on Saturday. According to Mohammed Marem, a Hadi spokesperson, the exiled president is expected to attend the summit in person, instead of addressing it through a video link as previously planned, Reuters reported.
The Saudi-led coalition airstrikes marked a major escalation of the Yemen crisis, in which Shia Iran has backed the Houthis while Sunni Muslim monarchies in the Gulf support Hadi.
In a further indication of the seriousness of the worsening situation in Yemen, U.S. President Barack Obama authorized the American government on Wednesday to provide logistical and intelligence support to Saudi military operations in Yemen.
© Copyright IBTimes 2023. All rights reserved.