Yemen Crisis Update: Airstrike On Missile Base In Sanaa Kills 25, Injures Nearly 400; Ceasefire Expected Soon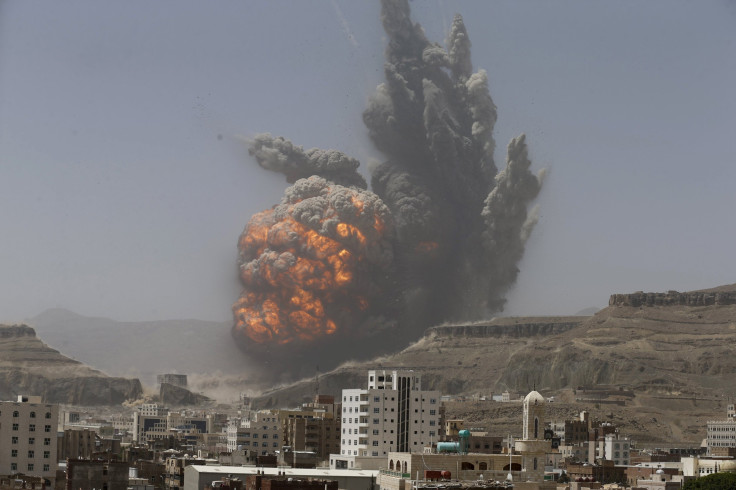 Update as of 5:46 a.m. EST: Hossein Amir Abdollahian, Iran's deputy foreign minister, said that a ceasefire in the Yemen conflict is expected to be reached later on Tuesday, Reuters reported, citing Tasnim, an Iranian news agency.
"We are optimistic that in the coming hours, after many efforts, we will see a halt to military attacks in Yemen," Abdollahian was quoted by Tasnim as saying, according to Reuters.
While Iran has been a vocal critic of the Saudi Arabia-led coalition airstrikes against Houthi rebels in Yemen, and has consistently called for a halt to the air campaign, Riyadh and its allies have so far ignored the proposal while accusing Tehran of supporting the rebellion.
Original story:
A Saudi Arabia-led coalition airstrike on a Houthi-controlled Scud missile base in the Yemeni capital city of Sanaa killed 25 people and wounded nearly 400 on Monday, Reuters reported, citing state news agency Saba.
The airstrike triggered an explosion, which hit the base on Faj Attan mountain adjacent to the Hadda district that hosts the presidential palace and many embassies. The blast, claimed by residents to be the largest in more than three weeks of bombing by the Saudi-led coalition, blew out the windows of nearby homes and sent dark clouds into the air, Reuters reported.
"Twenty-five citizens were killed and more than 398 were wounded, mostly women and children, according to a preliminary figure after the Saudi aggression's bombing today," the Saba news agency, run by Houthi rebels, said.
Monday's explosion also killed three workers at the headquarters of a television station, Yemen Today, which is owned by the country's former president Ali Abdullah Saleh, employees at the TV station told Reuters.
Iran summoned Saudi Arabia's envoy to Tehran over the explosion near its embassy in Sanaa. Sunni Saudi Arabia and its neighbors support the government of President Abed Rabbo Mansour Hadi while the Houthi rebels are believed to have the backing of Shia Iran, which had recently condemned the Saudi-led airstrikes in Yemen as "criminal acts."
The latest airstrike comes after Abdel-Malek al-Houthi, the leader of Yemen's Houthi rebel movement, on Sunday, accused Saudi Arabia of plotting to invade and occupy Yemen. According to the leader, Riyadh's goal is "the invasion of this country, its occupation and placing this country again under its feet and hegemony."
Yemen has been in a state of turmoil since Houthi rebels took control of Sanaa in September. The rebel fighters have also closed in on the port city of Aden, forcing Hadi to flee the country and seek refuge in Riyadh.
© Copyright IBTimes 2023. All rights reserved.