Yemen Houthi Leader Defiant, Accuses Saudi Arabia Of Plotting Invasion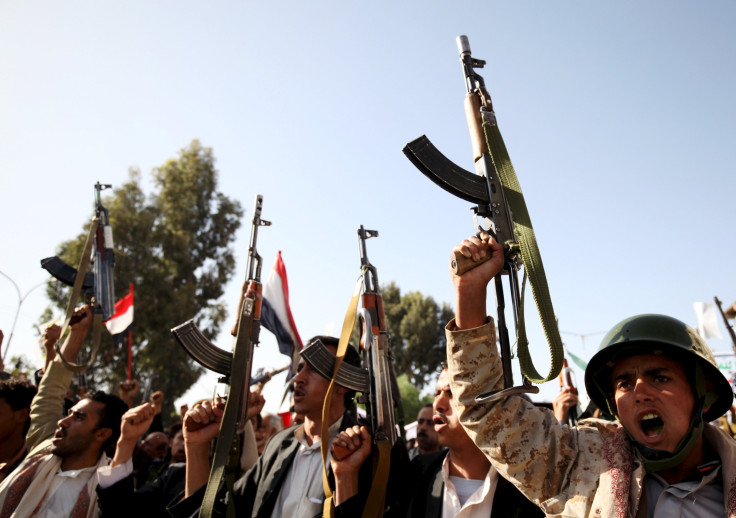 The leader of Yemen's Houthi rebel movement accused Saudi Arabia of plotting to invade and occupy Yemen in a televised speech Sunday. Abdel-Malek al-Houthi also vowed not to surrender in the face of the Saudi-led airstrike campaign that has targeted his Iranian-allied militia in the past three weeks.
Saudi Arabia's goal is "the invasion of this country, its occupation and placing this country again under its feet and hegemony," al-Houthi said in comments reported by Reuters. "It's the right of our people to resist the aggression and face the aggressor by any means," he added, in a rejection of international efforts to reach a compromise to end the violence.
Saudi Arabia and its allies have been bombing Yemen since March 26 to halt the Houthis' offensive. Following their seizure of parts of Yemen's capital in September, the rebel movement's advance culminated in the seizure of power in January, forcing President Abed Rabbo Mansour Hadi to step down. Hadi is currently in exile in Riyadh, Saudi Arabia.
Alongside the Saudi-led bombing campaign are international efforts to achieve a ceasefire by pressuring the Houthis. The U.N. Security Council passed a resolution last week demanding all Yemeni parties, especially the Houthis, end the violence and return to peace talks. The United Nations also slapped an arms embargo on the rebels which, according to Britain's U.N. ambassador, was aimed at "raising the cost" for the Houthis.
Sunni Arab states have accused Iran of backing the Shiite rebels though the Islamic Republic publicly denies this. Despite Iran's denials, it nonetheless sent a small armada of naval vessels toward Yemen last week, in a move that sparked concerns a naval conflict between Iran and regional rival Saudi Arabia could escalate into a full-scale international conflict.
© Copyright IBTimes 2023. All rights reserved.